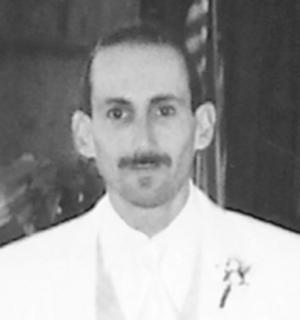 Clifford DeWayne Benbrook, age 45, Paola, Kan., formerly of Pleasanton, Kan., passed away on Saturday, Feb. 25, 2017, at the Miami County Medical Center. He was born on June 30, 1971, at Butler, Mo., the son of Jerry and Fay McCulley Benbrook.
He graduated from Pleasanton High School in the Class of 1990.
He married Theresa Latta on Nov. 22, 1999, at Pleasanton.
He was working at Paola Wal-Mart as a shipping and receiving manager, being employed there 16 years.
Clifford loved his family and enjoyed time playing with the kids. He liked to camp, fish and hunt deer and hogs.
He is survived by his wife Theresa; parents Jerry Benbrook and Fay Benbrook; sons Billy and Cristian Benbrook, and Brandon Jones; two daughters, Tiffany Jones and Jessica Stark; a brother, Quentin Ramsey and Patricia; sister Cristin Fuller and Matt; six grandchildren; an aunt, Kay Phillipson; a niece, Hailie Fuller; and two nephews, Xander Fuller and Little Quentin Ramsey.
Funeral service was held Tuesday, Feb. 28, 2017, at the Schneider Funeral Home, Pleasanton Chapel. The family suggests contributions to Linn County Hunters Safety, c/o Schneider Funeral Home, Box 525, Pleasanton, KS 66075. Online condolences for the family may be left at www.schneiderfunerals.com. Arrangements: Schneider Funeral Home and Crematory, Pleasanton Chapel.
OBITUARIES

Linn County News Published May 24, 2017 Carolyn J. Thompson of Lake Quivira, Kan., passed away on Saturday, May 20, 2017, at the Fort Scott Manor. She was born Sept. 5, 1920, in Kansas City, Kan., the daughter of Clifford and Laura Alexander Addison. For many years she worked... [More]

Linn County News Published May 17, 2017 Shirley Marie Bruner Ball of Garnett, Kan., was born Aug. 9, 1941, on the family farm near Xenia, Kan., and passed away peacefully on Wednesday, May 10, 2017, at the age of 75. She was the seventh of 10 children born to Walter Eberlee... [More]

Linn County News Published May 10, 2017 William Lawrence "Larry" Blair, former long-time Linn County Agricultural Extension agent, passed away with family attending, April 8, 2017. He had been residing in Pratt, Kan. He was 86 years old. Larry was born to Lonnie Earl... [More]
More Obituaries
NEWS

County Attorney James Brun updated the County Commissioners Monday that Victim Coordinator Stephanie Kinsley was no longer employed at the Linn County Attorney's Office, and he was in need of a replacement as well as another employee to oversee the diversion program. He... [More]

In observance of Memorial Day, the Linn County News office will be closed Monday, May 29. Deadlines for all submissions, editorial, advertising or other, for the May 31 edition will be Friday, May 26 by 3 p.m.

Prairie View Unified School District 362 has accepted the retirement of Timothy Weis. As per an agreement discussed during a 15-minute executive session for personnel, the board approved the move at a special meeting May 17. The agreement, to be made public, was not yet available... [More]
More News
SPORTS

The Jayhawk golf team traveled to the 3A State Tournament at Independence Country Club on May 22. The Hawks qualified as a team by placing second at Erie on May 15 and hoped to continue that success at the State Tournament. However, the State Tournament has very good competition... [More]

Pleasanton's Lucas Keeler competed in the 2A State Golf Tournament at Golf Club at Southwind in Garden City on May 22. Keeler was the only golfer the Blu-Jays qualified for state and tied for 61st at the tournament. There were 87 total golfers at the event and Grant Herrenbruck... [More]
More Sports