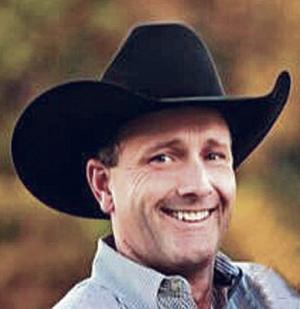 Linn County News
Published May 10, 2017
Douglas Blaine Hazelbaker, age 51, a resident of rural Redfield, passed away early Monday, May 1, 2017, at the Mercy Hospital in Fort Scott. Doug was born May 31, 1965, to Alice and Norman Hazelbaker.
He and his wife, Jana, were married on Aug. 17, 2002, and are the parents of daughters Dylan and Dakota.
In 1983, he graduated from Uniontown High School. While in high school, he competed in the Kansas State High School Rodeo Assoc., and he was the state champion in both calf roping and steer wrestling, and the Reserve All-Around cowboy his senior year. While attending Allen County Community College and Northwestern Oklahoma State University, he competed in both calf roping and steer wrestling, and earned a bachelor's degree in education.
Doug began his teaching career as a fourth-grade teacher and was teaching middle school math at Jayhawk-Linn in Mound City, where he touched the lives of many young people and worked with wonderful friends over the past 25 years.
His passion for calf roping extended well beyond college, and he logged many miles from rodeo to rodeo building great friendships over the years. Some of his accomplishments in calf roping include IPRA rookie of the year, Great Lakes PRCA circuit finals contestant, Cheyenne Frontier Days performance qualifier and IFR qualifier in 1991. In 2016, he qualified for the Interstates Rodeo Assoc. finals, and Dylan wears his jacket from that association. He also competed in the United Rodeo Association for many years, and in the year-end finals for 2016 finished fifth overall in the over 40 calf roping. Dakota is honored to wear his URA jacket, and Dylan proudly wears the belt buckle he won.
Survivors include his wife Jana and daughters Dylan and Dakota of the home; parents Norman and Alice Hazelbaker, Redfield, Kan.; a sister, Carol Camac and husband Joe, Augusta, Kan.; a brother, Mike Hazelbaker and wife Susan, Alma, Kan.; and nieces and nephews Cole, Travis and Lucas Camac, Cole Fowles, Cassidy Anderson, Quincy and Emma Charleston, and Cooper, Colton and Canyon Charleston.
Cowboy Preacher Marty Brock conducted memorial services Friday, May 5, at the Fort Scott Fairgrounds Arena.
In lieu of flowers, the family strongly suggested memorials to the Hazelbaker Girls' Scholarship Fund, which may be left in care of the Cheney Witt Chapel, PO Box 347, 201 S. Main, Fort Scott, KS 66701. Words of remembrance may be submitted to the online guestbook at cheneywitt.com. The family had asked for any special memory or story of Doug to be brought to the service or mailed to Jana Hazelbaker, 1311 Hwy. 54, Redfield, KS 66769. These memories will be used to compile a scrapbook for Dylan and Dakota.
OBITUARIES

Linn County News Published May 24, 2017 Carolyn J. Thompson of Lake Quivira, Kan., passed away on Saturday, May 20, 2017, at the Fort Scott Manor. She was born Sept. 5, 1920, in Kansas City, Kan., the daughter of Clifford and Laura Alexander Addison. For many years she worked... [More]

Linn County News Published May 17, 2017 Shirley Marie Bruner Ball of Garnett, Kan., was born Aug. 9, 1941, on the family farm near Xenia, Kan., and passed away peacefully on Wednesday, May 10, 2017, at the age of 75. She was the seventh of 10 children born to Walter Eberlee... [More]

Linn County News Published May 10, 2017 William Lawrence "Larry" Blair, former long-time Linn County Agricultural Extension agent, passed away with family attending, April 8, 2017. He had been residing in Pratt, Kan. He was 86 years old. Larry was born to Lonnie Earl... [More]
More Obituaries
NEWS

County Attorney James Brun updated the County Commissioners Monday that Victim Coordinator Stephanie Kinsley was no longer employed at the Linn County Attorney's Office, and he was in need of a replacement as well as another employee to oversee the diversion program. He... [More]

In observance of Memorial Day, the Linn County News office will be closed Monday, May 29. Deadlines for all submissions, editorial, advertising or other, for the May 31 edition will be Friday, May 26 by 3 p.m.

Prairie View Unified School District 362 has accepted the retirement of Timothy Weis. As per an agreement discussed during a 15-minute executive session for personnel, the board approved the move at a special meeting May 17. The agreement, to be made public, was not yet available... [More]
More News
SPORTS

The Jayhawk golf team traveled to the 3A State Tournament at Independence Country Club on May 22. The Hawks qualified as a team by placing second at Erie on May 15 and hoped to continue that success at the State Tournament. However, the State Tournament has very good competition... [More]

Pleasanton's Lucas Keeler competed in the 2A State Golf Tournament at Golf Club at Southwind in Garden City on May 22. Keeler was the only golfer the Blu-Jays qualified for state and tied for 61st at the tournament. There were 87 total golfers at the event and Grant Herrenbruck... [More]
More Sports