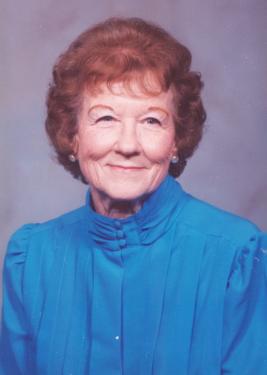 Linn County News
Published Nov. 15, 2017
Gladys J. Demott Millsap, age 97, died peacefully on Wednesday, Oct. 11, 2017, at Celestial Gardens in Anaheim, Calif. Gladys was born on Oct. 30, 1919, in rural Blue Mound township and was the second of five children born to Joseph Daniel Demott and Ruth May Sawyer Demott.
Gladys attended both rural and Blue Mound schools and graduated from Blue Mound High School, class of 1937. Following her high school graduation, Gladys attended Fort Scott Community College for two years, majoring in secretarial skills, and then became the secretary to the Linn County Farm Bureau agent until marriage.
On May 21, 1944, Gladys was united in marriage to James Harold Millsap, a successful farmer in Centerville township. To that union, three sons were born: James Robert, John Harold and Jerome Lee.
In 1958, the family moved to Southern California where her family continues to reside. Gladys found employment with S & W Fine Foods where she worked for 20 years as an executive secretary. Gladys and Harold divorced in 1980, and she remained single for the remainder of her life.
After retirement, Gladys enjoyed visiting many parts of the world including Alaska, Mexico, New Zealand and Costa Rica.
Gladys is preceded in death by one brother, Bobby Joe Demott; and former husband James Harold Millsap.
She is survived by two sisters, Anna "Elberta" Evans (99) and Cleo "Daisy" Burris (90); one brother, Howard Elwood Demott (95); three sons, James Robert (Sandra), John Harold (Jackie) and Jerome Lee; six grandchildren; and nine great-grandchildren.
Gladys' ashes will rest next to her parents Joe and Ruth Demott at Mound City Woodlawn Cemetery. Interment will be on Dec. 11, 2017.
OBITUARIES

Linn County News Published Sept. 19, 2018 James Patrick Souders, age 80, of Centerville, Kan., passed away on Sunday, Sept. 16, 2018, at his home. He was born March 17, 1938, in Kansas City, Mo., the son of Harley H. and Mabel (Duffels) Souders. Jim graduated in... [More]

Linn County News Published Sept. 19, 2018 Curtis Allen Wayne Peters, age 27, Pleasanton, Kan., died Thursday, Sept. 13, 2018. Visitation was held Tuesday evening, Sept. 18, 2018, at the Schneider Funeral Home and Crematory, Pleasanton Chapel followed by a... [More]

Linn County News Published Sept. 19, 2018 Larry D. Capehart, age 79 of La Cygne, Kan., passed away on Wednesday, Sept. 12, 2018, at his home under Hospice care after a long year of battling cancer. He was born Aug. 31, 1939, to George F. and Bertha A. Capehart in... [More]
More Obituaries
NEWS

Mark your calendars for Friday, Oct. 19. Mound City Library will be having a chili supper and chair auction to benefit Concern/Good Buys in Mound City. All money from both will go to Concern. The free-will donation chili supper will start at 4 p.m. Then at 5:30 p.m.... [More]

The organizers of the annual Parker Days celebration have added a new event for this year's lineup – a smoke-off. The event is open to amateurs and requires a $50 entry fee which is nonrefundable. The entry fee must be paid by Sept. 26 by mailing... [More]

A defendant who spent approximately five years in jail following conviction of robbing the Bank of Kincaid on March 6, 2013, was again charged on two counts prior to the statute of limitations including aiding and abetting attempted aggravated battery of LEO (law... [More]
More News
SPORTS

The Prairie View volleyball team traveled to Wellsville on Sept. 11 to play in a triangular against Wellsville and Burlington. The Buffalos started by playing Burlington. They lost in two sets to the Wildcats, 10-25 and 9-25. The team then faced Wellsville and played... [More]

It was a good night for football on Sept. 14 as Pleasanton hosted their rival Jayhawk-Linn for the first time in football for quite some time. The Jays and Hawks have not been able to play each other for a while due to Pleasanton being 8-man and Jayhawk 11-man. However,... [More]
More Sports