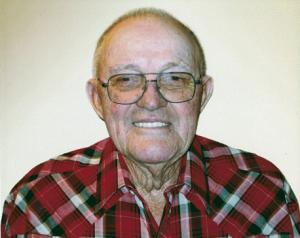 Max Gordon Byerley, age 102, of Parker, Kan., passed away Monday, March 6, 2017, at Hospice House in Olathe, Kan.
"Mick," as he was known to all, was born to William and Louisa Antoinette (Willis) Byerley on Feb. 16, 1915. He was a lifelong resident of Linn County, Kan., and lived south of Goodrich for many years but has called Parker home since 1973.
Mick grew up in a world without electricity or any other modern convenience. He spent his days playing baseball, swimming, hunting and fishing. He and his four older siblings enjoyed having walnut and corn cob fights with their father who was reputedly able to throw a walnut around the corner of the barn.
He married Gertrude Delores Jackson in 1935 and together they had two children, Byron Eugene "Gene" Byerley and Katherine Delores (Byerley) Stanley. Gertrude passed away in 1971 after a prolonged battle with cancer.
Mick married Doris Virginia (Stainbrook) Kehl in 1973, and they enjoyed 39 years together until her death in 2010.
Mick was a farmer and rancher all of his life. He told stories of the "Dirty Thirties" when dust storms killed most of the crops and grasshoppers ate the rest … then they ate the fence posts. He owned cattle until he was well into his 90s when kidney failure forced him to retire in 2008. He then defied the doctor's prognosis, and his kidneys resumed functioning after nearly a year on dialysis.
He loved to play pitch, dominoes, Yahtzee or any other game that gave him a chance to spend time with family and friends. He lived on his own in Parker until congestive heart failure caused his admittance to Hospice House on Feb. 27.
Mick was preceded in death by his parents, William and Louisa; his siblings, Nellie, Harry, John and Warren; his wives, Gertrude and Virginia; his son, Byron Eugene "Gene"; and stepdaughters Anne Shulista and Tracey Kehl.
He is survived by his daughter, Katherine Stanley and husband Charles of Centerville, Kan.; stepsons Larry Kehl and wife Loretta of Parker, and Allen Kehl and wife Cathy of Russellville, Ark.; his grandchildren, Ron Stanley of Centerville, Katherine "Betsy" Hamilton and husband Eli of Stafford, Va., John Byerley of Mesa, Ariz., and Anita Burdge and husband Robert of Paola, Kan.; and six great-grandchildren, two great-great-grandchildren and many other family and friends.
Funeral services were held Friday, March 10, 2017, at Centerville Community Church. Burial followed in the Goodrich Cemetery.
In lieu of flowers, memorial contributions may be made to the Parker (Kan.) Heritage Park or to Hospice House of Olathe, https://www.olathehealth.org/Donations#.WL4J4H9diMV.
You may send your condolences to the family at www.feuerbornfuneral.com.
OBITUARIES

Linn County News Published May 24, 2017 Carolyn J. Thompson of Lake Quivira, Kan., passed away on Saturday, May 20, 2017, at the Fort Scott Manor. She was born Sept. 5, 1920, in Kansas City, Kan., the daughter of Clifford and Laura Alexander Addison. For many years she worked... [More]

Linn County News Published May 17, 2017 Shirley Marie Bruner Ball of Garnett, Kan., was born Aug. 9, 1941, on the family farm near Xenia, Kan., and passed away peacefully on Wednesday, May 10, 2017, at the age of 75. She was the seventh of 10 children born to Walter Eberlee... [More]

Linn County News Published May 10, 2017 William Lawrence "Larry" Blair, former long-time Linn County Agricultural Extension agent, passed away with family attending, April 8, 2017. He had been residing in Pratt, Kan. He was 86 years old. Larry was born to Lonnie Earl... [More]
More Obituaries
NEWS

County Attorney James Brun updated the County Commissioners Monday that Victim Coordinator Stephanie Kinsley was no longer employed at the Linn County Attorney's Office, and he was in need of a replacement as well as another employee to oversee the diversion program. He... [More]

In observance of Memorial Day, the Linn County News office will be closed Monday, May 29. Deadlines for all submissions, editorial, advertising or other, for the May 31 edition will be Friday, May 26 by 3 p.m.

Prairie View Unified School District 362 has accepted the retirement of Timothy Weis. As per an agreement discussed during a 15-minute executive session for personnel, the board approved the move at a special meeting May 17. The agreement, to be made public, was not yet available... [More]
More News
SPORTS

The Jayhawk golf team traveled to the 3A State Tournament at Independence Country Club on May 22. The Hawks qualified as a team by placing second at Erie on May 15 and hoped to continue that success at the State Tournament. However, the State Tournament has very good competition... [More]

Pleasanton's Lucas Keeler competed in the 2A State Golf Tournament at Golf Club at Southwind in Garden City on May 22. Keeler was the only golfer the Blu-Jays qualified for state and tied for 61st at the tournament. There were 87 total golfers at the event and Grant Herrenbruck... [More]
More Sports