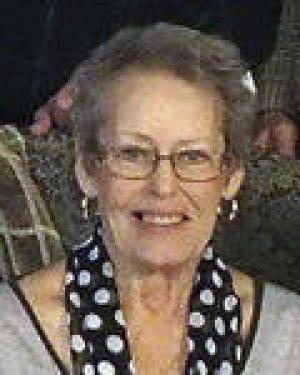 Shirley Ann White
10-28-1942 to 09-04-2016
Linn County News
Published Sept. 14, 2016
Shirley Ann White, age 73, a resident of rural Fort Scott, Kan., died Sunday, Sept. 4, 2016, at the Mercy Hospital in Fort Scott. She was born Oct. 28, 1942, in Fort Scott, the daughter of Ward Shaffer Adams and Anna Josephine Wutke Adams. Shirley graduated from the Fulton High School.
She married Eddie Joe White on July 2, 1961, at Fulton. She began working for the Western Insurance Company which later became American States and then Safeco. She retired as an underwriter after 35 years of service.
She was a member of the Fulton United Methodist Church and the Order of the Eastern Star. In earlier years,
Shirley and Joe enjoyed going on trail rides and volunteering their time for the Pioneer Harvest Fiesta. Shirley loved to spend time with her family, especially when they all gathered around a bonfire.
Shirley battled cancer for four years. She fought this battle one day at a time and always with a positive attitude. Since being diagnosed with cancer she and her family volunteered with Care to Share.
Survivors include two daughters, Susan McBride and husband, Ron, of Arma, Kan., and Debbie White and husband, Leroy, of Grain Valley, Mo.; eight grandchildren, Rachel Craig, Marsha Clark and husband, Mike, Alicia Craig, David Goff, Shelby McBride, Kelsey McBride, Tera Anderson and Spencer Gentry; and seven great-grandchildren, Jordan, Madi and Ryann Thurston, Jayden and Lucas Clark and Kinleigh and Hadleigh Craig. Also surviving are four brothers, Bob Adams and wife, Arlene, of Fulton, Kan., Bill Adams and wife, Donna, of Burlington, Kan., Eddie Adams and wife, Carolyn, of Wellsville, Kan., and Jerry Adams and wife, Judy, of Riverton, Kan.; and her mother-in-law, Laurel White of Prescott, Kan.; as well as numerous nieces and nephews.
Her husband Joe preceded her in death on Jan. 20, 2013. She was also preceded in death by her parents, Ward and Josephine Adams; a great-granddaughter, Lauren; and her father-in-law, Earl White.
Rev. Chuck Russell conducted funeral services Friday, Sept. 9 at the Cheney Witt Chapel. Burial followed in the Barnesville Cemetery. Memorials are suggested to Care to Share and may be left in care of the Cheney Witt Chapel, 201 S. Main, P.O. Box 347, Fort Scott, KS 66701. Words of remembrance may be submitted to the online guestbook at cheneywitt.com.
OBITUARIES

Linn County News Published May 24, 2017 Carolyn J. Thompson of Lake Quivira, Kan., passed away on Saturday, May 20, 2017, at the Fort Scott Manor. She was born Sept. 5, 1920, in Kansas City, Kan., the daughter of Clifford and Laura Alexander Addison. For many years she worked... [More]

Linn County News Published May 17, 2017 Shirley Marie Bruner Ball of Garnett, Kan., was born Aug. 9, 1941, on the family farm near Xenia, Kan., and passed away peacefully on Wednesday, May 10, 2017, at the age of 75. She was the seventh of 10 children born to Walter Eberlee... [More]

Linn County News Published May 10, 2017 William Lawrence "Larry" Blair, former long-time Linn County Agricultural Extension agent, passed away with family attending, April 8, 2017. He had been residing in Pratt, Kan. He was 86 years old. Larry was born to Lonnie Earl... [More]
More Obituaries
NEWS

County Attorney James Brun updated the County Commissioners Monday that Victim Coordinator Stephanie Kinsley was no longer employed at the Linn County Attorney's Office, and he was in need of a replacement as well as another employee to oversee the diversion program. He... [More]

In observance of Memorial Day, the Linn County News office will be closed Monday, May 29. Deadlines for all submissions, editorial, advertising or other, for the May 31 edition will be Friday, May 26 by 3 p.m.

Prairie View Unified School District 362 has accepted the retirement of Timothy Weis. As per an agreement discussed during a 15-minute executive session for personnel, the board approved the move at a special meeting May 17. The agreement, to be made public, was not yet available... [More]
More News
SPORTS

The Jayhawk golf team traveled to the 3A State Tournament at Independence Country Club on May 22. The Hawks qualified as a team by placing second at Erie on May 15 and hoped to continue that success at the State Tournament. However, the State Tournament has very good competition... [More]

Pleasanton's Lucas Keeler competed in the 2A State Golf Tournament at Golf Club at Southwind in Garden City on May 22. Keeler was the only golfer the Blu-Jays qualified for state and tied for 61st at the tournament. There were 87 total golfers at the event and Grant Herrenbruck... [More]
More Sports