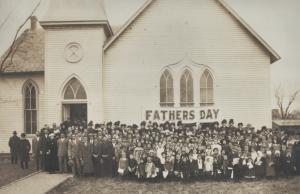 The First Christian Church in Pleasanton will celebrate its 130th anniversary this weekend with an array of events that begin with an old-fashioned ice cream social at 5 p.m. Saturday, Sept. 21, at the church.
Sunday, Sept. 22, will bring Sunday school at 9:30 a.m. and worship service at 10:30 a.m. in which former Pastor David McKinley will give the sermon, and a special anniversary choir will sing "We Will Remember."
Following the worship service there will be a picnic in the church yard with meat, potatoes, drinks and table service provided by the church. Please bring a side dish to share.
At 1:30 p.m. a special anniversary service will be held. The church's history will be presented as will testimonies of God's faithfulness. McKinley will give the sermon again, and there will be special music.
To see the full article, check out this week's edition of the Linn County News or check out the online version
here
COMMUNITY

Submitted by Linn County Historical Society I'm sure everyone can agree that the months of July and August are usually very hot ones! Fortunately, we can now rely on the air conditioner to keep us cool and comfortable. A century or more... [More]

Linda Dudley has been a Commissioned Ruling Elder or CRE in the First Presbyterian Church at Pleasanton for just over a year now. However, she began her journey 20 years ago at the age of 50 when she became a lay pastor for the church. "Several... [More]

Jee Sook Gil came to the United States from South Korea in 2012 and obtained her master's in public health from Emory University in Atlanta, Ga. "I have a passion to help people, especially children, so I prayed to God to please help me... [More]
More Community
NEWS

The corner of Main and Walnut streets served as the home vicinity for two separate patron complaints at Thursday's monthly Parker City Council meeting. One issue addressed by Tony Cole, 338 W. Main St., involved the legality of his solution to prevent large trucks from... [More]

La Cygne will move forward with interviews to find a Class II water plant operator and Class I wastewater operator. That was the verdict expressed by Mayor Robert Sullivan to close a special council meeting last Wednesday, Sept. 11. Following 10 minutes of open-session information,... [More]

During the meeting of the County Commissioners on Monday, Sept. 16, Deputy Scott Polster reported that items either taken by former County Attorney John Sutherland, or purchased by him illegally with county funds, are now being returned to the county by the Federal Bureau of... [More]
More News
SPORTS

Prairie View volleyball struggled last season, but the team is hoping this season they can get a few more wins and so far that seems to be the case. The season started with a triangular at Central Heights on Sept. 5 against Osawatomie and Central Heights. The Lady Buffs were... [More]

The Pleasanton football team had a setback this past week as they fell to league foe Southeast Cherokee, 28-12. The Jays hosted the Lancers on Sept. 13, and things started off right for the Jays as quarterback Dale Gillespie connected with Kasen McKee for a 21-yard touchdown.... [More]
More Sports