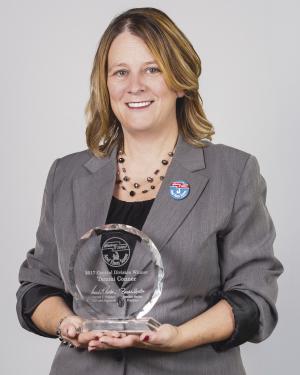 OSAWATOMIE – Tammi Conner, marketing director at Life Care Center of Osawatomie, received Life Care Centers of America's Central Division "Whatever It Takes and Then Some" Award on Wednesday, Aug. 29, for her dedication to customer service.
Executives from Life Care awarded Conner a cash prize during an awards ceremony at the company's headquarters in Cleveland, Tenn. She was chosen from among thousands of associates in the Central Division and was one of only eight associates from Life Care's more than 200 facilities nationwide to receive the award.
While she does her job well daily, Conner was particularly praised for specific acts of caring.
On one occasion, she stayed at the facility overnight with a new resident who was scared to be alone. On another, she opened her home to a former resident who had no family. She also arranged with her church to donate furniture for a patient's apartment so the patient would have a furnished place to move into after completing rehabilitation.
To see the full article, check out this week's edition of the Linn County News or check out the online version
here
COMMUNITY

Students learning French at Prairie View High School (PVHS) traveled to Mound City on Monday, Sept. 17, to meet with a delegation of teachers and students from France who had come to visit the Sacred Heart Catholic Church and the St. Philippine Duchesne shrine site where... [More]

A new shop has opened on Main Street in Mound City, where the café was for several years, offering a variety of handcrafted, consignment and vintage or antique items for sale. The building was recently purchased by Raymond and Melayna Johnson, who then renovated... [More]

Marie Ellington (Stiffler) Anderson is celebrating her 102nd birthday on Sept. 21, 2018. She is the mother of Barbara Welsh of Garnett, Nancy Dodson of Broken Bow, Okla., and Phil Stiffler of Platte City, Mo. Marie and her husband Bill Stiffler owned and operated the Stiffler... [More]
More Community
NEWS

Mark your calendars for Friday, Oct. 19. Mound City Library will be having a chili supper and chair auction to benefit Concern/Good Buys in Mound City. All money from both will go to Concern. The free-will donation chili supper will start at 4 p.m. Then at 5:30 p.m.... [More]

The organizers of the annual Parker Days celebration have added a new event for this year's lineup – a smoke-off. The event is open to amateurs and requires a $50 entry fee which is nonrefundable. The entry fee must be paid by Sept. 26 by mailing... [More]

A defendant who spent approximately five years in jail following conviction of robbing the Bank of Kincaid on March 6, 2013, was again charged on two counts prior to the statute of limitations including aiding and abetting attempted aggravated battery of LEO (law... [More]
More News
SPORTS

The Prairie View volleyball team traveled to Wellsville on Sept. 11 to play in a triangular against Wellsville and Burlington. The Buffalos started by playing Burlington. They lost in two sets to the Wildcats, 10-25 and 9-25. The team then faced Wellsville and played... [More]

It was a good night for football on Sept. 14 as Pleasanton hosted their rival Jayhawk-Linn for the first time in football for quite some time. The Jays and Hawks have not been able to play each other for a while due to Pleasanton being 8-man and Jayhawk 11-man. However,... [More]
More Sports