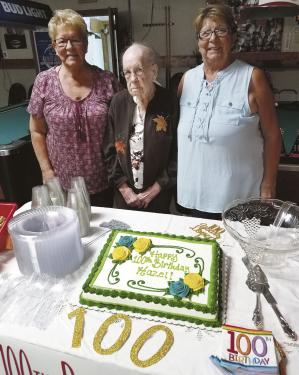 In 100 years, things in this world have changed a lot and Blue Mound resident Hazel Rhynerson has witnessed a lot. Her birth date was Oct. 15, 1917, when Mexico and the United States renewed relations and Germany began torpedoing merchant ships prior to WWI.
She was born in Mayview, Mo., to Lester and Ethel Hoyt but her family soon moved to La Cygne. After that they lived in Boicourt. She married Harold Rhynerson in 1940.
To see the full article, check out this week's edition of the Linn County News or check out the online version here.
COMMUNITY

Photo submitted by Michele Meza Isabel Read recently celebrated her 100th birthday in style, with all the pomp and circumstance a parade could muster. In honor of her special day, her family entered a car in the General Pleasonton Days parade and as the smile on Isabel's... [More]

An assembly held at Pleasanton Elementary School on Friday afternoon, Oct. 6, introduced students to the idea of "Core Essentials." The event itself, shared by Joe Perkins and members of his team, was called "The Big Idea Experience," which focuses on... [More]

The annual General Pleasonton Days celebration, held each year on the first weekend in October, is set for this coming Saturday on Main Street and Sunday at Dunlap Park and Stegge Lake of Pleasanton. The event will kick off with a parade. Lineup begins at 9 a.m. at the First... [More]
More Community
NEWS

Key personnel from JMZ Corp. were on hand during the Monday, Oct. 2, Pleasanton City Council meeting to offer a proposal that would give the residents of Pleasanton and the local area another option for internet services. Zachary Peres, vice president of JMZ Corp. dba KwiKom... [More]

David McNabb and his attorney, Edward Battitori appeared in Linn County District Court on Thursday, Oct. 5, along with State Assistant Attorney General Jessica Domme who is prosecuting the case. The matter set before the court was a competency hearing based on a report filed... [More]

Robby Manthei, project manager for Nabholz Construction, met with the board of USD#344 Monday night and voiced the short punch list his firm is working on to complete the $9 million bond issue for the district. Café and classroom work, canopies for the front of the school,... [More]
More News
SPORTS

The Pleasanton cross country team hosted their home cross country meet at the Pleasanton West Lake on Oct. 5. This is the first year the Blu-Jays hosted their home cross country invitational at the West Lake and runners performed well. Two school records were set in the seventh... [More]
Despite losing battles on both sides of the line and statistically, Jayhawk-Linn had a legitimate chance to win last Friday's seesaw tussle. A last-minute 'Hawk red-zone threat fell short, however, and the Jayhawks lost their first regular-season game in almost two... [More]
More Sports