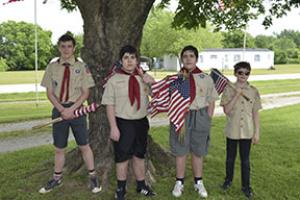 The Pleasanton Scout troop has been meeting since the beginning of the 2019-2020 school year; however, they did not receive their official charter until January of 2020.
"We were just getting started when the coronavirus hit, and we couldn't meet," said Scoutmaster Nathan Meik. "So this year has been crazy, but we do have the okay to meet now but with parameters in place for the safety of the troop members."
The troop currently has five members and is hoping to grow and gain new members as the troop itself grows.
"We can take kids from the beginning of sixth grade through the age of 18," said Meik, "and we are also looking for a volunteer to take on the role of female scoutmaster for any girls who would like to join."
Meik noted there are a few girls who would like to join, but without a female scoutmaster they cannot let them. The female scoutmaster is required for the girls for certain activities and events, and to begin a girls' troop, there would need to be a total of five members who want to join initially then the troop can grow from there.
To see the full article, check out this week's edition of the Linn County News or check out the online version
here
COMMUNITY

Aunesty Janssen began taking photographs 10 years ago as a hobby, but it soon became a profession. "I began learning, working on it," she said. "It gained me more and more jobs until they interfered with my regular job, and from there it... [More]

In late April, a new business opened in La Cygne offering its patrons the supplies and equipment they need for a whole lot of fun. Hook N Deals offers everything an angler needs. The store, which is situated in front of the McElreath storage units on Market... [More]

The staff of the Olathe Health Family Medicine clinic in La Cygne has not only implemented new programs but they've changed the face of healthcare to accommodate those in need during the COVID-19 crisis. "We have an elderly population who are fearful of coming in,... [More]
More Community
NEWS

Holding a special meeting Thursday, May 21, the County Commissioners discussed the Linn County Justice Center and the cost the construction management team River City Construction came up with after receiving electrical bids. After a large increase in electrical bids, the commissioners... [More]

The County Commission and the Local Health Officer of Linn County, Kan., were recently the defendants in a Federal Lawsuit initiated by two Linn County residents and the Kansas Justice Institute, a law firm heavily involved in seeking out publicity through taking on high... [More]

Allen resigns Public Health Officer position By JACKIE TAYLOR Linn County News jackielcn@ckt.net Following the lockdown of Linn County earlier in March due to COVID-19 and subsequent orders to continue the stay-at-home orders by the governor and local authorities... [More]
More News
SPORTS

It is prime fishing time so let's look at the KDWPT fishing reports for Linn County. La Cygne Reservoir Currently channel, blue and flathead catfishing is good at La Cygne. The fish are being caught on sunfish, cut shad, worms, prepared baits and livers.... [More]

The Lady Jays had a rough season last year and only won a couple of games. They were also eliminated in the first round of their regional tournament. However, this season the girls were hoping to make some improvements to put them in a better spot, but they did not get... [More]
More Sports