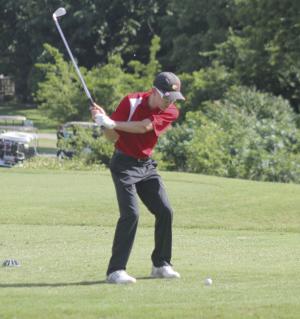 The Jayhawk golf team traveled to the 3A State Tournament at Independence Country Club on May 22.
The Hawks qualified as a team by placing second at Erie on May 15 and hoped to continue that success at the State Tournament.
However, the State Tournament has very good competition and Independence has a tough course, but the Hawks still battled and had a good tournament.
Tyler McCoy led the Hawks placing 19th with an 87. McCoy tied for 19th with two other golfers.
To see the full article, check out this week's edition of the Linn County News or check out the online version here.
SPORTS

Pleasanton's Lucas Keeler competed in the 2A State Golf Tournament at Golf Club at Southwind in Garden City on May 22. Keeler was the only golfer the Blu-Jays qualified for state and tied for 61st at the tournament. There were 87 total golfers at the event and Grant Herrenbruck... [More]

What started as a "let's see how it does" team has blossomed into a large team with lots of good, young participants. "We had a good season," said Coach Jesse Secrest. "We have three kids in the top of the conference. Hunter Secrest is first,... [More]
More Sports
NEWS

Prairie View Unified School District 362 has accepted the retirement of Timothy Weis. As per an agreement discussed during a 15-minute executive session for personnel, the board approved the move at a special meeting May 17. The agreement, to be made public, was not yet available... [More]

County Attorney James Brun updated the County Commissioners Monday that Victim Coordinator Stephanie Kinsley was no longer employed at the Linn County Attorney's Office, and he was in need of a replacement as well as another employee to oversee the diversion program. He... [More]

Linn County Rural Fire stations from across the county were called to the scene of a structure fire on the morning of Friday, May 19, south of 300 Road on Kansas Highway 7. According to Assistant Fire Chief Dee Horttor firefighters arrived on scene to find the attic and the upstairs... [More]
More News
COMMUNITY

After the public learned of plans to move Cox Motor Co. to the new site located north of the new Casey's on Sixth Street in Pleasanton, Cox Motor owner Jesse Secrest said that soil tests came back good and they're ready to proceed with building. "We've... [More]

Three of Linn County's high school seniors received one of the highest honors bestowed on a student graduating from high school, as each were invited to the 34th Annual Governor's Scholar Award Program held on Sunday, May 7, in Topeka. The event took place at Washburn... [More]

MANHATTAN – We make a living by what we get, but we make a life by what we give. – Winston Churchill, former British Prime Minister That is the thinking behind many a volunteer effort in communities across Kansas. For their efforts in improving their communities,... [More]
More Community