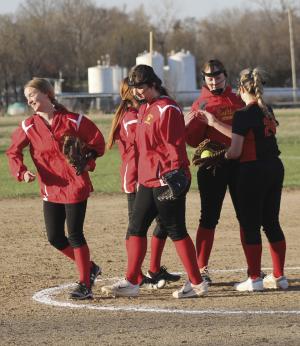 There were no baseball games on April 1 at Jayhawk due to field conditions, but the Jayhawk and Pleasanton softball teams still competed.
The game was the Lady Hawks' home opener, and it was a good one for Jayhawk as they dominated both games 17-2 and 19-1.
The first game started with a bang for the Lady Hawks as they led 8-0 after one inning.
The Lady Hawks scored one in the second to make the score 9-0, but then the Lady Jays got on the board with two runs in the third. This made the score 9-2 after three innings.
To see the full article, check out this week's edition of the Linn County News or check out the online version
here
SPORTS

The annual kids fishing derby was held at the Linn County Fair and Rodeo on the morning of Aug. 10. It was a good crowd this year as over 60 young anglers came out to enjoy some fishing. The competition began around 8:30 a.m. and ended about an hour later.... [More]

Prairie View student Jade Chambers spent his summer competing in youth rodeos and has done quite well. He competed in the National Junior High Finals Rodeo in Huron, S.D., from June 23 to June 29. In this rodeo he competed in ribbon roping, goat tying... [More]
More Sports
NEWS

Unified School District 362 property taxpayers will see a decrease of almost 1.5 mills for the 2019-20 school term. A unanimous vote by its board of education Monday night sets this year's total mill levy at 44.241, down from last year's... [More]

Samantha L. McCoy appeared in Bates County Circuit Court in Butler, Mo., on Wednesday, Aug. 7, with her public defender, Jeff Martin, for an arraignment hearing in front of Judge Julie Highley-Kuetzer on the charge of murder in the first degree,... [More]

A longtime civic leader has announced her resignation from the La Cygne City Council. At the end of the council's regular meeting last Wednesday, Aug. 7, Esther Shields cited an impending relocation to a Paola senior apartment complex... [More]
More News
COMMUNITY

Pastor Joe Perkins and wife Terry are celebrating 25 years of service with First Baptist Church in Mound City. This type of longevity for a pastor is rare. The journey into ministry actually began in Youngstown, Ohio, where Joe grew up the son of a carpenter. Joe worked... [More]

Submitted by Tisha Coleman Administrator Linn County Health Department Linn County Health Department is sponsoring for the 2nd year a "Feeding and Changing Station" for parents, caregivers of infants at the Linn County Fair on August 3-10th, 2019. ... [More]

The New Lancaster General Store is tucked away on a side road just a few miles north by northwest of Linn Valley on the corner of 367th Terrace and New Lancaster Road, but when you make the trip you find you just may have stepped back in time... [More]
More Community