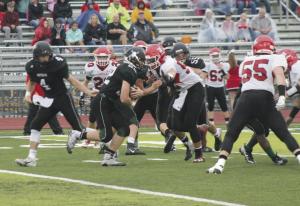 The Prairie View team held their first home football game on Sept. 7 as they hosted Lincoln on a rainy evening.
The rain was an immediate factor in the game as it caused multiple fumbles and balls that should have been caught, not caught by both the offense and defense.
The Buffalos did not start well as running back Hunter Boone fumbled on their first possession on the Lincoln 20 where Lincoln recovered. However, on the next play the Buffalos got the ball back as Gage Bloodgood got an interception and returned it to the Lincoln 38-yard line.
The Buffalos took advantage on the very next play as Hunter Boone ran the ball in for a 38-yard touchdown. The extra point was no good, and the Buffalos were up 6-0.
To see the full article, check out this week's edition of the Linn County News or check out the online version
here
SPORTS

The 2018 cross country season is over and all three county schools saw success and improvement throughout the season. Jayhawk-Linn sent their entire girls' team to State Meet while a couple of their boys' runners just missed state. Prairie View sent Brooke... [More]

An arguably top-five Pleasanton 11-man all-time football campaign came to an abrupt halt last Friday at Olpe. The undefeated Eagles, third-ranked in Class 1-A, handed the Blu-Jays a 52-8 setback in a 1-A regional playoff game. For Dustin Johnson, head coach, the... [More]
More Sports
NEWS

Date Change: The Mound City bell ringing is Sunday, Nov. 11 at 11 a.m. - not on Nov. 12 like listed in last week's paper. Meet at the memorial on the north side of the Courthouse for the 11 a.m. ceremony. All churches in the city will ring their bells at the same time.

A preliminary hearing for charges of aggravated robbery and aggravated battery filed against Joseph Flores in August of this year was held in Linn County District Court on Friday, Nov. 2. Linn County Attorney James Brun called Karysa Johnson to the stand,... [More]

Family members and friends of Leonard and Betty Fyock of Prescott have organized a benefit dinner with a silent auction to follow. The event it set for 5-7 p.m. Saturday, Nov. 10, at City Hall in Prescott. Vegetable soup and chili are on the menu along... [More]
More News
COMMUNITY

The Pleasanton Dinner Theatre will present a production of the long-running Broadway musical "Cats" on Nov. 9 and 10. Based on T.S. Eliot's book, "Old Possum's Book of Practical Cats," and set to the music of Andrew Lloyd... [More]

The Sixth Annual Barn Antiques Holiday Sale and Food Drive is set for Nov. 10 at the Ernie Price Annex on West 13th Street in Pleasanton. The event will run from 9 a.m.-3 p.m. and will include 20-plus vendors. "Last year we helped provide Thanksgiving... [More]

A presentation for adults on the dangers inherent to social media will be held at Jayhawk-Linn at 5 p.m. Sunday, Oct. 21. Students from two of the three high schools will have their own presentation at Prairie View High School (PVHS) at 9:30 a.m. with students... [More]
More Community