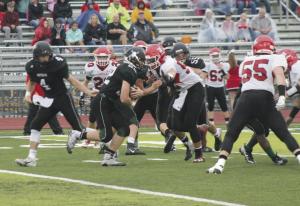 The Prairie View team held their first home football game on Sept. 7 as they hosted Lincoln on a rainy evening.
The rain was an immediate factor in the game as it caused multiple fumbles and balls that should have been caught, not caught by both the offense and defense.
The Buffalos did not start well as running back Hunter Boone fumbled on their first possession on the Lincoln 20 where Lincoln recovered. However, on the next play the Buffalos got the ball back as Gage Bloodgood got an interception and returned it to the Lincoln 38-yard line.
The Buffalos took advantage on the very next play as Hunter Boone ran the ball in for a 38-yard touchdown. The extra point was no good, and the Buffalos were up 6-0.
To see the full article, check out this week's edition of the Linn County News or check out the online version
here
SPORTS

Try as they might, a basketball team's intra-squad practices can't replicate an interscholastic game. For that reason, Marc Ballinger, Prairie View first-year head coach, welcomes this week's three games in four nights at the Linn County... [More]

The Jayhawk wrestling team traveled to Caney Valley on Dec. 1 to compete in the KanOkla tournament. The Hawks only took two wrestlers to this very challenging tournament in Corbin and Brody White. Both White brothers performed well as the Hawks placed 15th out of 19... [More]
More Sports
NEWS

Christopher S. Casey appeared in Linn County District Court on Tuesday, Nov. 27, for sentencing in Case 2016-CR142, in which he was charged with criminal discharge of a firearm, aggravated battery, possession of a firearm while under the influence, possession... [More]

Aeneas T. Smith, Pleasanton, appeared in Linn County District Court on Tuesday, Nov. 27, for a no-go preliminary hearing in Case 2018-CR-176. Smith is charged with one count of indecent solicitation of a child; persuade child (over 14 but under 16) to a secluded... [More]

Following the pursuit that took place on Monday, Nov. 26, when Linn County sheriff's deputies assisted Johnson County with a warrant execution in the Linn County Park and Marina, two of the four subjects pursued are currently incarcerated and one is still... [More]
More News
COMMUNITY

In an extension of the Light Up Pleasanton initiative started by Danny McCullough and Carlee Campbell, the two along with other community members have scheduled a Light Up Pleasanton Festival from 6-8 p.m. Saturday, Dec. 15, in the grassy lot at Ninth and Main... [More]

A fundraiser is set for 5 p.m. Friday evening, Nov. 30, to help Lindsay Murillo, a fifth-grade teacher at Parker Elementary, with expenses being incurred as she seeks treatment for cancer. The fundraiser will be held in the Parker Elementary School and will include... [More]

On Nov. 8 and 9 Connie Ball of rural Blue Mound had the privilege of traveling to Washington, D.C., with the SCC Honor Flight program to visit the war memorials. This was the 15th Honor Flight put together by the Southern Coffey County (SCC) High School.... [More]
More Community