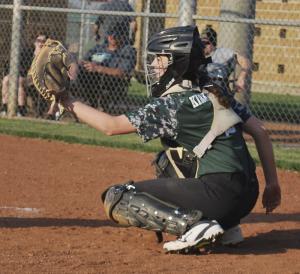 Prairie View ball teams won single-game home contests April 18 against Archie, Mo., the baseball team rallying from five runs down for a 9-8 walk-off win, the softball team winning in business-like fashion, 11-4.
Next up for both Buffalo teams will be non-league home doubleheaders against Eudora at 4:30 p.m. Thursday. Eudora's girls, 2-6, split a home doubleheader last Thursday against Wellsville, winning 8-5 behind Kyla Etter's 14 strikeouts before losing the nightcap, 7-5. Eudora boys, 5-3, most recently lost an April 18 Frontier League home doubleheader to Spring Hill, 7-6 and 15-4.
To see the full article, check out this week's edition of the Linn County News or check out the online version here.
SPORTS

The Jayhawk track team held its home invitational on April 24 and did very well as both the boys' and girls' teams placed first at the event. The boys' team placed first with 162 points. The boys were followed by Northeast, 105 points, Central Heights, 71 1/2... [More]
The Prairie View track team traveled to Pleasanton on April 11 to compete in the Pleasanton Invitational. The Buffalos did very well in the meet as both the boys and girls teams placed first at the meet. The boys won their meet with a score of 171 points while the girls won their... [More]
More Sports
NEWS
Replacement "no parking" signs are needed along the south side of La Cygne's Linn County Drive (Linnco Drive) at the Industrial Park. So stated Dan Nasalroad, fire chief, at La Cygne's regular City Council meeting last Wednesday, April 19. Nasalroad said... [More]

Linn County deputies arrested Wesley D. Mull, 46, of Mapleton for an alleged rape that occurred between Oct. 1 and April 9. Mull was arrested on April 9 with charges of rape, sexual intercourse without consent and use of force. He also has aggravated criminal sodomy and aggravated... [More]

After many months of negotiation, decisions are being made by both the county and city of Pleasanton concerning the current and new Cox Motor Co. locations. Last week Wednesday, April 19, the Pleasanton City Council held a 20-minute executive session for land acquisition followed... [More]
More News
COMMUNITY

Nick Thompson is the technology director for the Pleasanton USD 344 school district. But in addition to the duties of installing and maintaining new computers, software, printers and anything technological in general, he also teaches one particular class, which recently went... [More]

The New Lancaster United Methodist Church, Paola, will be hosting a Bike Blessing Breakfast and Fundraiser on Saturday, May 20, which is also Armed Forces Day. The trustees' breakfast will be held from 7-9 a.m. with a freewill donation. The menu includes homemade biscuits... [More]

The La Cygne Community Prayer Breakfast is set for 7 a.m. Thursday, May 4, in the Swan Room at the La Cygne Library. The event is held in honor of, and on, the National Day of Prayer, which was declared in 1952 through a joint resolution signed by Congress and President Harry... [More]
More Community