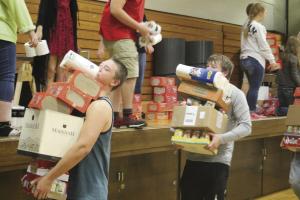 Thanksgiving is a time of thanks and giving of thanks, but the students of Prairie View High School have also made it a time of giving.
Led by the Prairie View Student Council the high school held a Day Out Canned Food Drive on Nov. 21.
The Day Out Canned Food Drive has students collect food for the food pantries in La Cygne and Parker, but with the idea that if they collect enough food to block a classroom door then they will not have that class that day when the drive is completed, hence the "day out."
To see the full article, check out this week's edition of the Linn County News or check out the online version here.
SPORTS

Cross country season is over, and all the runners from all three Linn County schools, Jayhawk, Pleasanton and Prairie View, ran hard this past season. However, this article will look at and recognize the top runners from each school for boys and girls. Pleasanton Kai Sombatchareun... [More]

None of the Linn County high school volleyball teams had great seasons this year, but all the girls played hard and put forth the effort to make the most of their season. A few girls stood out from the rest and are being recognized as being a member of the Linn County News'... [More]
More Sports
NEWS

Monday, Nov. 20, was the date of the annual Linn County Republican Women's picnic held in Blue Mound. Those attending got to partake of barbecued meat and a host of other tasty food dishes. President Jane Wade brought the meeting to order, and after Karl Kempinger said... [More]

Forgoing a jury trial, Jason L. Jones pleaded guilty to two counts in Linn County District Court following his arrest April 24 by Linn Valley Police Officer Joe Rogers. Count I was: distributing marijuana; 450 grams-30 kilograms. Court documents read that Jones feloniously and... [More]

Consultants to address sewer, answer infrastructure project questions La Cygne will host a public town hall meeting on future city-improvement infrastructure concerns this Monday evening. Directed by the City Council and primarily organized by Carla Snow, deputy city clerk,... [More]
More News
COMMUNITY

It all started with a simple goal: Be the first competitive squad. Coach Erika Gilbert set the goal into motion with her squad of 25. The first step was getting her girls on board. This was perhaps the easiest step in the process. Next, it was time to get the support of the parents... [More]

Meghan Stewart, Linn County Zoning Administrator, opened the door to a big discussion on "tiny houses" at the County Commissioners' meeting on Monday. "People are living in storage containers and 300-feet-or-less housing," said Stewart. She questioned... [More]

LA CYGNE – Mercy Hospice honored the military service of Charles "Ed" Rhynerson earlier this month with his family at a ceremony in his rural home in La Cygne. Tech. Sgt. Rhynerson served in the U.S. Army from 1943 through 1946 during World War II. He served... [More]
More Community