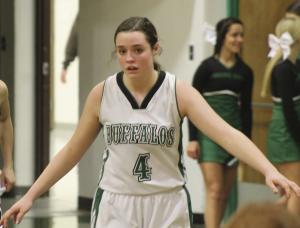 The Prairie View basketball team hosted a non-league contest against the Frontenac Raiders on the evening of Jan. 5.
The Buffalos just got off big losses to Baldwin and were hoping to play better against the Raiders. Both teams did play better against Frontenac, but at the end the Buffalos still lost both the boys' and girls' games. They lost the girls' game 59-40, and they lost the boys' game 69-50.
Despite the scores, both games were much closer through most of the game than what the final score indicated, and in both games Frontenac had a big fourth quarter to put the game away.
To see the full article, check out this week's edition of the Linn County News or check out the online version here.
SPORTS

The Jayhawk basketball teams traveled to Oswego on Jan. 5 for a league contest. The Hawks had no troubles with the Indians as the girls and the boys won both games big. The girls won their game 53-32 while the boys won their game 70-19. The girls continue to win by good play... [More]

It was Business Appreciation Night as the Blu-Jays hosted league foe Chetopa on Jan. 2. The teams showed their appreciation by treating the home crowd to a pair of wins. The girls won their game 36-29 while the boys won their game in a rout, 60-39. In the girls' game... [More]
More Sports
NEWS

The majority of people living in the United States have no dealings with the court on the criminal side, but when they do there are certain phrases that come into play that are important rulings for how law enforcement and attorneys deal with those accused. The ruling... [More]

Chris Seagren and his attorneys, Robb Edmonds and Burton Harding, appeared in Linn County District Court on Thursday morning, Jan. 4, on a motion to dismiss charges filed by Edmonds on Seagren's behalf. The hearing began with Judge Terri L. Johnson of the 6th... [More]

WINNESHIEK COUNTY, Iowa – A Kansas Bureau of Investigation (KBI) investigation has led to the arrest of a former Linn County sheriff's deputy. On Thursday, Jan. 4, at approximately 1:30 p.m., David Allen Huggins, 45, of La Cygne was arrested with the assistance... [More]
More News
COMMUNITY

The Pleasanton High School (PHS) Cheer Clinic is an event that a great number of elementary school students look forward to each year. From the very first day of school elementary students are trying to guess when it might take place – during football season or basketball.... [More]
ADAM HOLT | Linn County News This year's JES Spelling Bee winners are first place Zachary Knemeyer (right), second place Celeste Schneider (left), and third place Aubrey Mayhugh (middle).

The first thing one must know when learning ice safety is that ice is never completely safe. Unseen or unknown conditions can make activities on the ice, such as ice fishing or skating, become extremely dangerous in a matter of moments. The first order of business... [More]
More Community