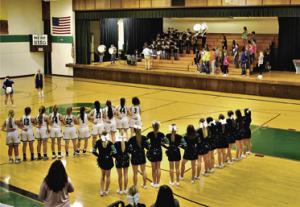 Changes are coming to Prairie View High's main gymnasium.
School board members hope to be more apprised of potential renovations when they meet for their regular 7 p.m. monthly meeting Jan. 14.
Of most concern now is how to deal with an uneven – either height or composition – activity surface once a proposal to take out the south-side elevated stage area is enacted, particularly in creating two north/south regulation volleyball courts rather than the current east/west layout that allows room for only one.
At Unified School District 362's regular Dec. 10 meeting, Robert Hansen, architect of Hansen Design Architects LLC, Topeka, revealed that, once the stage is removed, its current concrete pad is at the same level as the hardwood activity floor.
To see the full article, check out this week's edition of the Linn County News or check out the online version
here
SPORTS

The Jayhawk and Prairie View JV wrestling teams competed at the Burlington JV Invitational on Feb. 9. This was a very large tournament with 32 teams, and the tournament was divided into brackets according to weight class with four to five wrestlers in each bracket.... [More]

The Buffalo wrestling team competed in the Pioneer League tournament at Burlington on Feb. 9. The tournament was originally scheduled for Feb. 7 at Iola, but bad weather had the tournament rescheduled and relocated. The Buffalos placed fourth with... [More]
More Sports
NEWS

Concerned Citizens of Linn County held an informational meeting on Feb. 2 at the Centerville Community Center. Over 50 Linn County citizens and landowners joined opponents of a German-owned company's planned wind farm development on this day to discuss the impact... [More]

Choices include semester-long English, auto tech Prairie View High juniors and seniors will have additional course options beginning next school year. As approved by the Unified School District 362 board of education at their monthly meeting Monday,... [More]

A Mound City man, Dennis J. Gentry, age 64, was fatally injured at 1:25 p.m. last Tuesday, Feb. 5, on U.S. Highway 169 near 355th Street in Miami County when, according to the Kansas Highway Patrol crash log, his 2002 Chevy Silverado was southbound on... [More]
More News
COMMUNITY

The American Legion was first founded in Paris, France, by members of the American Expeditionary Force in March 1919. It was chartered by the United States Congress on Sept. 16 of that same year. This year that institution is 100 years strong. Linn County is home to three American... [More]

rn Charley Johnson has been selected as Prescott's person of the year. He will be officially recognized during the "Reach Out" Charity Auction and Chili Feed on March 2. rn Through his charity auctions, Johnson has touched the lives of many people... [More]

Mark Hough opened the Linn Valley Lake Shop in December and says the business is going well, and he has plans for the future. "I had looked at the store and played with the idea of buying it once it was for sale," said Mark. "It became available,... [More]
More Community