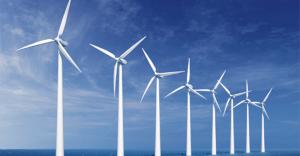 Anyone driving west on I-70 is familiar with the sight of wind farms. Linn County could become more familiar with the sight as the Linn County Commissioners were approached to allow research to begin for the purpose of building a wind farm on up to 30,000 acres surrounding Blue Mound.
Garrett Ketchen, Wind Development manager for E.ON Climate & Renewables North America, LLC, spoke to the commissioners Monday morning, March 12, stating, "We are scouting to find good sites. The Blue Mound area is a good area for a wind farm, and we'd like to do feasibility studies."
He told the commissioners that there are three pillars required for a wind farm including wind, transmission capacity and a positive relationship with the community.
Commissioner Mike Page told Ketchen that he needed a lot more education on the idea and asked about timing of the project.
To see the full article, check out this week's edition of the Linn County News or check out the online version here.
NEWS

A one-vehicle accident on Robertson Road on Monday, March 12, resulted in the driver being taken by helicopter to Research Medical Center. Daren J. Shackelford, age 31 of Joplin, Mo., was traveling southbound on Robertson Road north of Kansas Highway 152 when his vehicle left... [More]

Esther E. Shields is a La Cygne City Council member after all. At the council's regular meeting last Wednesday, March 7, Shields accepted Mayor Robert Sullivan's nomination and the council's 4-0 approval. Jerome Mitzner motioned to approve the nomination, with... [More]

On Friday afternoon, March 2, several students reported to administration at the Pleasanton schools that a student was making comments about plans to shoot up the school. Pleasanton police officers were called to the school. The student was taken into custody, and several students... [More]
More News
SPORTS

The Prairie View Student Council hosted the third annual Donkey Basketball at the PVHS (Prairie View High School) gym on the evening of March 12. Dairyland Donkey Ball brought the game to PVHS where all three county high schools participated. Proceeds from the game went to the... [More]

The Three Rivers League announced their 2017-2018 boys' Three Rivers All League basketball team, and two Jayhawks and two Blu-Jays made the team. Jayhawk finished a good season going 16-5 and losing in the second round of the sub-state tournament against Osage City. Pleasanton... [More]
More Sports
COMMUNITY

Several years ago I attended the Kansas Library Association's annual conference in Kansas City. In addition to keynote speakers, the conference committee schedules numerous sessions to inform and inspire us. That year one of the last sessions they held was about a way... [More]

Perhaps you've heard of the science guy who performs his demonstrations at Silver Dollar City near Branson, Mo. Doc Gizmo is 85 now and he retired at the end of last year, but as a friend of USD 344 teacher Jake Burkholder he came out of retirement to do one last show for... [More]

The Linn County Dance and Cheer (LCDC) Academy in Mound City took 11 members of their Elite dancers to perform at the Pittsburg State University Dance Showcase on March 5. Twenty-four members of the Jazz I and Jazz II dance teams also attended the showcase to watch their fellow... [More]
More Community