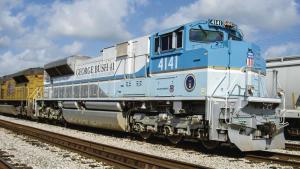 The trademark blue decorated locomotive that took President George H.W. Bush to his final resting place was a plan in the making for many years. The locomotive was actually unveiled by Union Pacific in 2005.
Www.omaha.com reported, "Scott Moore, a senior vice president and spokesman for UP, said the train's light and dark blue colors derive from the colors of Air Force One at the time Bush was the nation's chief executive. It is one of UP's 16 commemorative locomotives."
Gerry Shrum, Pleasanton resident and Union Pacific engineer for 25 years, was one of the four train crews that had the honor of being a part of the funeral following Bush' death Friday, Nov. 30.
To see the full article, check out this week's edition of the Linn County News or check out the online version
here
NEWS
With Chairman Grant Goodison leading the Mound City Planning and Zoning Commission last Tuesday night, Dec. 4, four new members took their seats on the board, including Lorna Turley, Paul Myers, Al Hurt and Beverly Read. As part of their yearly housekeeping duties, the board... [More]

The house formerly at the southeast corner of Market Street and Industrial Road is gone. In the aftermath, La Cygne leaders now face decisions on the lot's near-term cleanup and future use. Joe Turpen, Lincoln-Scott Township Medical Board president, appeared at the regular... [More]

Christopher S. Casey appeared in Linn County District Court on Tuesday, Nov. 27, for sentencing in Case 2016-CR142, in which he was charged with criminal discharge of a firearm, aggravated battery, possession of a firearm while under the influence, possession... [More]
More News
SPORTS

Pleasanton hosted the Linn County Tournament on Dec. 4, 6 and 7, and it did not lack any excitement, especially from the boys' side of the tournament. There were four teams in the tournament: Pleasanton, Jayhawk-Linn, Prairie View and Osawatomie. Jayhawk went 0-3 in the... [More]

It has not happened very often and it has not happened in 21 years, but the Lady Jays' basketball team won the 2018 Linn County Tournament. The tournament was hosted by Pleasanton this year and held on Dec. 4, 6 and 7. The Lady Jays made their way to the championship by... [More]
More Sports
COMMUNITY

2006 Pleasanton High School graduate Sarah (Woody) Herring has come home to live and open a new business – a homeopathic herbal medicine business – based on her knowledge gathered through a degree from Northwest Missouri State University in biology and a Ph.D. earned... [More]

SUBMITTED PHOTO The Linn County Fair and Rodeo is recognized as the Small Rodeo of the Year at the annual Women's Professional Rodeo Association's Star Celebration in Las Vegas on Thursday, Dec. 6. Longtime Linn County Fair and Rodeo Board member John Teagarden... [More]

In an extension of the Light Up Pleasanton initiative started by Danny McCullough and Carlee Campbell, the two along with other community members have scheduled a Light Up Pleasanton Festival from 6-8 p.m. Saturday, Dec. 15, in the grassy lot at Ninth and Main... [More]
More Community