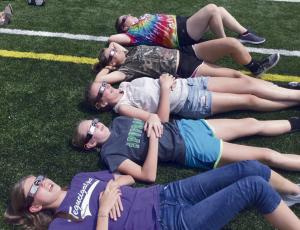 Linn County gazers of Monday's Great American Eclipse never experienced totality, as did watchers 70 miles to the north.
Still, the total solar eclipse was the closest to Linn County since one passed on a northeastward arc from Wichita through Kansas City on June 18, 1806, the same summer Lewis and Clark retraced the Missouri River to the east.
In the interim, total solar eclipses crossing Kansas include Nov. 30, 1834, on a southeastward arc through Wichita, and June 8, 1918, over the state's southwest corner on a path from Denver through Oklahoma City, according to maps compiled by the National Aeronautics and Space Administration's (NASA) Goddard Space Flight Center.
To see the full article, check out this week's edition of the Linn County News or check out the online version here.
NEWS

David McNabb appeared in court on Monday, Aug. 21, with his attorney, Edward Battitori, in front of 6th Judicial District Judge Mark Ward for the purpose of hearing multiple motions prior to the preliminary hearing, which is set for Sept. 5 and 6 in which McNabb is accused of... [More]

The Linn County Sheriff's Department received word from the Miami County Sheriff's Department early Tuesday, Aug. 22, that Robert Dean Schoenhals, 56, of Pleasanton, was killed early Tuesday morning after his car drove through flood waters and was swept into deep... [More]

Prairie View Unified School District 362's annual budget hearing is set for 6:30 p.m. Aug. 24 following resolution action at Monday night's monthly board of education meeting In total, the current proposed district budget levy is slated to decrease by almost a mill... [More]
More News
SPORTS
The high school fall sports season is upon us, and all three county schools are getting ready for football, volleyball and cross country seasons. It will be exciting to watch all the kids and all the teams this season, but several athletes should have big years barring injury... [More]

Kansas Department of Wildlife, Parks and Tourism (KDWPT) held their annual fishing derby on the morning of Saturday, Aug. 12, at the Linn County Fair and Rodeo. There were over 30 kids present at the event and in one hour's time they caught over 100 fish. There were three... [More]
More Sports
COMMUNITY

Working to make sure concrete recently poured behind the Pleasanton Food Fair building was level, Danny McCullough checked instruments to ensure the job was done well – just one of the many jobs he handles as new owner of what is now Mid-States Restoration. "The purchase... [More]

When you enter Mound City from the east on Kansas Highway 52, a sign on the right-hand side of the road advertises a portable welding and sandblasting service. This business, JRK Portable Welding, is owned and operated by J.R. Kerr. Kerr, a local resident, knew while a teenager... [More]
When you enter Mound City from the east on Kansas Highway 52, a sign on the right-hand side of the road advertises a portable welding and sandblasting service. This business, JRK Portable Welding, is owned and operated by J.R. Kerr. Kerr, a local resident, knew while a teenager... [More]
More Community