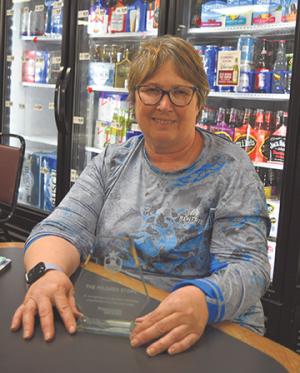 At the end of February, Regena and Loren Lance, owners of the Mildred Store in Mildred, Kan., just south of the Linn County's southwestern corner, traveled to Las Vegas, Nev., to be presented with a national award by Progressive Grocer.
The award was for being one of the top 25 outstanding independent grocers in the United States and, according to Regena, the experience was a once in a lifetime event.
The Mildred Store was founded by Charlie and Lucille Brown 107 years ago and was originally known as Charlie Brown's. Regena and Loren purchased the store in 2014 and it then became the Mildred Store.
"When I first got the notification we had won I thought it was a hoax and threw it all away," said Regena; "then I got a request for our logo and who would be accepting the award, and I thought I better take a closer look at it all."
Once she had assured herself it was real , Regena began reaching out to her community through Network Kansas and the Rural Grocers Community out of K-State for directions and each one pitched in to help get the Lance's to La Vegas and cover the cost of the convention.
To see the full article, check out this week's edition of the Linn County News or check out the online version here
COMMUNITY

On Saturday, March 11, Raymond and Melayna Johnson, Mound City, opened their newest business venture, Maynerd's, a food truck that will be located in the open area next door to their antique-flea market shop, 517 Vintage, on the south side of Main Street, that location... [More]

Over the past few months, those traveling down Main Street in Mound City may have noticed new activity at the Mound City Historical Park. Last summer, the historical society was revived, and new efforts implemented in restoring all of the existing structures of the park. Work... [More]

The USD 344 school board was invited to attend a Kansas Entrepreneurship Challenge (KEC) Tuesday in Pleasanton at the Community Center. High School Principal Sarah Conley said the venture is sponsored by the Linn County Economic Development Board and others and explained the... [More]
More Community
NEWS

During the latter part of the meeting on Monday, March 27, Linn County Commissioners discussed the walk-through on Wednesday, March 22 at the former Memaw's Kitchen located at 6th and Main Streets in Pleasanton. Economic Development Director Jessica Hightower read notes... [More]

"Positive ramifications" for the city Following a 15-minute legal session called by Linn Valley Mayor Cindy Smith at their Monday meeting, the mayor announced a preliminary agreement with Rural Water District #1 for water rights in Linn Valley. Smith... [More]

Possible April vote would make nepotism additions A vote may occur next month on broadening a Unified School District 362 nepotism policy as urged by its superintendent. At the monthly board of education meeting earlier this month, Rex Bollinger, Ed.D., laid out... [More]
More News
SPORTS

The Prairie View Buffalos competed in the State Powerlifting meet on March 25. The meet had 285 total lifters and the Buffalos took 16 boys and nine girls to the event. Prairie View had two lifters place second in their respective weight divisions at the meet. Rhett Jackman,... [More]

The Jayhawk baseball and softball teams opened their 2023 season at home against Southeast Cherokee on March 27. Both softball and baseball teams played a double header and the boys split while the girls swept the Lancers. Baseball won their first game 3-0 but lost the second... [More]
More Sports