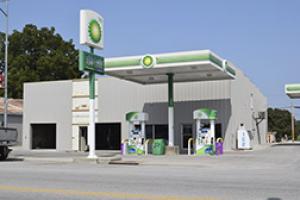 Harlow's Oil at 414 Main St. in Mound City is getting a new look as owner Phil Harlow has the exterior of the long-time business updated.
"We're just trying to make it look nicer," said Harlow.
Roy Wade Remodeling began work last week on the addition of metal siding on the exterior of the building.
"They put boards on the building first to have something to screw the tin to," explained Harlow, who also noted the business is getting new doors.
"There will be two new roll-up doors going in on the front of the shop and two on the back as well as one walk-in door to the shop," said Harlow. "The existing doors have been on this building for 25-plus years."
"We've been talking about it for a long time and finally did it," he added.
"Mostly we wanted to make the building look more uniform," he said, explaining, "in places, such as where we had added on the shop to the original building, the block was different. This gives the whole building a nice appearance."
After reviewing samples with the contractor, Harlow settled on a gray color for the metal siding.
"White gets so dirty so fast, where the gray will not," he added.
To see the full article, check out this week's edition of the Linn County News or check out the online version
here
COMMUNITY

A tribute to a community icon I pulled what I'm sure are just a couple of many tributes on Facebook to a man that spent his lifetime building a family, a successful business and a community. Each of us that live in Linn County, or Pleasanton specifically, go to work,... [More]

Haven Conner, a junior, and Taryn Poole, a freshman, were recently named to the UCA All American Cheer Squad for the 2021 London Tour. According to Coach Wendi Baldwin auditions for the squad were done virtually due to the yearly UCA cheer camp being cancelled due to COVID-19... [More]

Perhaps you've admired Leone Hammar's quilting prowess and David Hammar is your rock or mowing guy. You probably know them both as neighbors, friends and pillars in the local Baptist church. However, beneath the surface of these Pleasanton salt-of-the-earth folks... [More]
More Community
NEWS

A complaint was called into the Linn County Sheriff's Department Monday after several Democratic candidate signs were taken from behind a barbed-wire fence on private property this weekend. Sheriff Kevin Friend said the party where the signs were stolen put them up Saturday,... [More]

After 53 years of service on the State Board of Education and a total of more than 60 years in education, Dale Dennis retired effective Sept. 30. Dennis was born and raised in the Linn County area, graduating from Blue Mound High School before attending Pittsburg... [More]

Following the submission of a new contract from ambulance service provider American Medical Response (AMR), the County Commissioners at their Monday regular meeting approved the five-year contract, 3-0, with a word from Commissioner Rick James that he appreciated AMR coming in... [More]
More News
SPORTS

The Pleasanton cross country team is small and the majority of the team is junior high, but the Blu-Jays did well in the Ramsey Invitational at Prairie View on Sept. 24. The Jays had three runners in the seventh grade boys' two mile race. Gage McGinnis led the... [More]

The Jayhawk football team was originally scheduled to play a district contest against Wellsville on Sept. 25 but the Eagles had to cancel due to COVID and for a while it looked as the Hawks would go two weeks without a football game. Their game was cancelled the week before with... [More]
More Sports