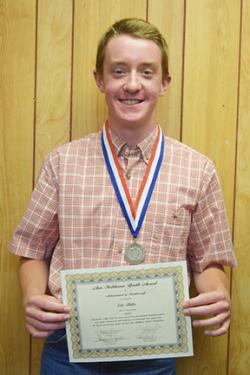 In the sixth grade, at the age of 12, Cole Holler took a class on leather working and found something he loved.
Now 16, Cole was recently named the winner of the Ann Stohlman Youth Award in leatherworking at the Rocky Mountain Leather Trade Show in Sheridan, Wyo.
"My grandpa is friends with Randy Cornelius and he was going to do a leather working class for beginners," recalled Cole. "Grandpa got him to let me in the class but Dad said Randy was a little reluctant to let me in at first because I was only 12."
Since then Cole has been honing his craft and turning in unique pieces for fair each year.
To see the full article, check out this week's edition of the Linn County News or check out the online version here
COMMUNITY

Regina's Rescues of Parker is putting an outreach program to aid pet owners into place for Pleasanton and Parker. "Basically, people are struggling and I know dog food is expensive," said Regina McClellan who owns and operates Regina's Rescues. "With... [More]
Pleasanton's Assembly of God Church said their goodbyes to Pastor Cary Coffey and his family on Sunday, June 12, as he preached his last sermon for a church that has been his family for six years. Pastor Coffey and his family came to Pleasanton in June of 2016 and at... [More]

At the age of 10, Taylor Mosley baked and decorated her very first cake and from there she was hooked and determined to learn all she could. "I wanted to make a special cake for my mom for her birthday," said Taylor of that very first attempt, "it was my present... [More]
More Community
NEWS

The City of Mound City is holding a grand opening for the new Splash Park this Saturday, July 9. The Splash Park is located just north of the sports complex on Nickell Road and offers kids of all ages a place to cool off and have some fun. There will be food, Dippin'... [More]

The community of La Cygne will hold their Swanfest and Blast in the Park celebration on Saturday July 9, from 6-9 p.m. in the City Park on south end of town. The event will feature food trucks, craft vendors, a cake walk hosted by the Park Board, along with kids' activities... [More]

COLUMBIA, Mo. – The MFA Oil Foundation has awarded a grant to the Friends of the Library District 2 of Linn County – La Cygne to assist with purchasing reusable lunch containers. The MFA Oil Foundation provides support to nonprofit organizations that are working to... [More]
More News
SPORTS

The weather is hot right now but find a spot with some good shade or a nice breeze, and the fishing can be, too. Here are some of the recent fishing reports from KDWP in Linn County. All the reports were last updated on June 27. La Cygne Lake Fishing at La Cygne Lake looks... [More]

Jayhawk has new classification change for 2022 football BY ADAM HOLT LINN COUNTY NEWS holtadam82@yahoo.com High school football season will be here soon and as for one of Linn County's high school football teams there will be a change to classification. Jayhawk-Linn... [More]
More Sports