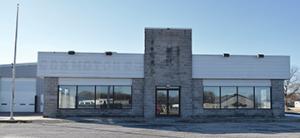 STARS, which stands for Southeast Technical Academy for Rural Students, is working toward their goal of opening for the 2022-2023 academic year.
"STARS is a dream that actually started seven or eight years ago," explained USD 344 Superintendent Travis Laver.
"It was at that time we first started talking to FSCC (Fort Scott Community College), about how this would work and how we could get one in county," he added.
The academy will be available to students from Pleasanton USD 344, Jayhawk USD 346, Prairie View USD 362 and Louisburg USD 416.
According to Laver, several students from other districts as well as students from Hume, Amoret and Amsterdam, Mo., have expressed an interest in attending.
"We did not have the funding option available for students that we do now," stated Laver, who added that a new law will allow the state to cover tuition costs for Kansas students to attend the technical academy.
COMMUNITY

At the December meeting of the Jayhawk USD 346 board of education Curt Toll, Hawk Project leader and interventionist for USD 346, spoke to the board about the project and the difference it is making for students at the high school level in the district. In a subsequent interview,... [More]

Jayhawk USD 346 adopted a research-based social-emotional learning program in 2020 called 7 Mindsets Academy, which is currently under the direction of Denise Umphenour, elementary school counselor, who has been implementing it once per month since they purchased it. "This... [More]

Greg Christiansen will tell you that, when it comes to soil, where the action occurs year-round lies below the surface. "More goes on underneath the soil than above," he said. "It's unbelievable." By implementing winter cover crops on his 1,800-2,000 acres of... [More]
More Community
NEWS

Property involved is at Industrial Park La Cygne has annexed 12.5 acres of Linn County property. At their regular meeting last Wednesday, Jan. 19, the city's council voted 4-0, with Thomas Capp not present, to adopt Ordinance No. 1498 that makes the Industrial... [More]

Question comes with recusal of council member on wife's contract The first meeting of the year was held On Jan. 3 with three Pleasanton council members present: Joe Whitaker, Jake Mattingley and Melanie Staton. As recorded in notes from that meeting in the Jan.... [More]

Defendant may be on 160 acres, but no driving A Parker man charged with the second-degree vehicular murder of his mother will be allowed to access a 160-acre contiguous square residential plot in Franklin County as part of a bond condition. At a state's motion... [More]
More News
SPORTS

The Pleasanton basketball teams hosted their Midseason Tournament this past week as six teams competed: Pleasanton, Jayhawk, Osawatomie, Oswego, Northeast (Topeka) and Heritage Christian. The Jays started on Jan. 17 against Jayhawk. The girls won their game 47-17 while the... [More]

Prairie View's boys' and girls' basketball teams traveled to Uniontown this past week to compete in the Kenny Holt Memorial Tournament. The tournament featured four teams, Uniontown, Prairie View, Kansas City Christian (KCC) and Altoona Midway. Both the boys'... [More]
More Sports