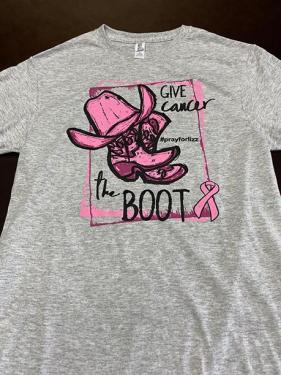 Anyone who has ever had the pleasure of meeting or dealing with Lizz Nation, either through her position at Farmers and Merchants Bank, Mound City, or through her position as Linn County Fair Board secretary, quickly learned that she is all heart, willing and able to serve and help in any way she possibly can.
Recently, Lizz was diagnosed with stage 3 triple-negative breast cancer, a diagnosis that shattered her world and quickly escalated to stage 4 as she began her chemotherapy treatments in mid-July.
Triple-negative breast cancer is a cancer that tests negative for estrogen receptors, progesterone receptors and excess HER2 proteins.
These results mean the growth of the cancer is not fueled by the hormones estrogen and progesterone, or by the HER2 protein. So, triple-negative breast cancer does not respond to hormonal therapy medicines or medicines that target HER2 protein receptors.
Lizz is facing a total of 12 rounds of chemotherapy, and of those has already undergone three treatments. In an effort to see her through this time period, many of those who know and love her have started fundraisers to help Lizz and her family through this difficult time.
Jill Nation is selling T-shirts (pictured here) that promote giving cancer "the boot."
Shirts are $20 each on a pre-order basis with shipping available for sizes as small as 3T and upward. You can reach Jill at 620-224-3386 to order one.
Treva Broyles and Kyla Carbon are working together to sell wristbands for breast cancer awareness that can be purchased at Headlines by Kyla, Mound City, or by contacting either lady involved. All proceeds from both will go to help Lizz and her family with meal and travel expenses.
To see the full article, check out this week's edition of the Linn County News or check out the online version here
COMMUNITY

The Marais des Cygnes Wildlife Area on Vail Road has been under new management for the last six months with Assistant Manager Jacob Coulter taking the helm. Coulter has been employed at the area for nine years as the assistant manager, but stepped into the role of area... [More]

The United Methodist Churches make new appointments for their pastors each year, and while some are left in place, others are moved to new churches to serve new communities. The Pleasanton and Prescott communities and the Mound City and Blue Mound communities both welcomed new... [More]

Around the first of June a literally cool new business opened in La Cygne. Ashton's Shaved Ice, owned and operated by 17-year-old Ashton Howard of La Cygne, opened on the southwest corner of East Market and 4th streets as summer first began, providing cold sweet... [More]
More Community
NEWS

Discussing that city employees were able to keep the pool open for the season, City Administrator Teresa Whitaker at the Pleasanton City Council's Monday meeting said they think they've finally figured out that the problem at the pool is in the filter causing an air... [More]

Angel Cushing of the city of Allen, a concerned citizen, spoke before the Linn County Commissioners on Monday, Aug. 2, asking them to adopt a resolution that opts the county out of Freedom's Frontier and the National Heritage Area. Cushing went on to explain that Senate... [More]

City to discount water bills by $30 this month Following what was described as an organized calling effort by the public to complain about brown water, the Pleasanton City Council addressed the problem and possible fixes at their meeting on Monday. City Superintendent Casey... [More]
More News
SPORTS

The 2020 Olympics in Tokyo is underway, and everyone is enjoying cheering on Team USA and watching sports they only watch once every four years. One of the primary things we do when engaged in the Olympics is keep track of the medal count. We want our country to have the most... [More]

Kyle Carstens, a Fontana native and 2006 Prairie View graduate, is ready to compete in the Linn County Fair and Rodeo's Outlaw Truck & Tractor Pull taking place on the evening of Aug. 8. Carstens just recently started competing with tractors in pulling events but... [More]
More Sports