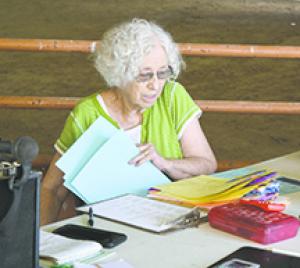 Twenty-three years ago, in 1997, Marcella Troth of Prescott first got involved with the Dog Show at the Linn County Fair when her son, David, joined 4-H and began showing dogs.
Over the years, her knowledge about the show and what needed to go into it grew and so did her desire to make it better and better.
"I grew up showing dogs in 4-H, so when David turned 7 and he joined 4-H, it was natural for him to do the Dog Show," she explained.
Her mother raised Corgis, and eventually that became a part of the 4-H Dog Show as well with her mother donating a pup each year, before she passed, to the winner of an essay contest designed for those who participate in the Dog Show.
"When David and I first started, all they did was obedience, and as David grew and began doing other spring shows with dogs, we learned agility and I worked to get that incorporated into the Dog Show at fair," said Marcella.
It finally happened during David's senior year in high school, his last year to show at fair.
"I got them to buy a small amount of agility equipment, and we added to it from there," she stated.
Marcella was also instrumental in getting the Rally-O (short for Rally-Obedience) introduced at the fair as well.
To see the full article, check out this week's edition of the Linn County News or check out the online version
here
COMMUNITY

During the months of April and May, educators across Kansas took on the responsibility of teaching online full-time. The pedagogical shift followed Gov. Laura Kelly's March 17 executive order to shutter all state school buildings for the remainder of the 2019-20 school... [More]

Not long ago a private group appeared on Facebook called the Linn County Kansas Sprinkle Group, and since its inception on June 30, the group has been busily spreading moments of joy and happiness across Linn County. "We are living in such a negative time," said... [More]

Linn County Health Department personnel teamed up with Catholic Charities, Food Fair of Mound City and the Hewitt-New American Legion Post 248 to host a COVID-19 Recovery Drive on Wednesday, July 1, at the fairgrounds. During the event those volunteering their time handed out... [More]
More Community
NEWS

The Kansas Department of Transportation (KDOT) will close a section of K-7 in Linn County on Tuesday, Aug. 18, to replace a crossroad pipe. K-7 will be closed between county roads 1700 and 1800 the entire day, reopening in the evening. Traffic should use... [More]

Selling the Mound City Lake west of Mound City is not a new thought for councils. At their regular City Council meeting Monday evening the idea was broached again with discussion of how the money from the sale could be used to improve the city. After tabling an agenda item... [More]

The Pleasanton USD 344 board of education held a special meeting on Monday, Aug. 3, to discuss and take action on the negotiations with staff and the learning environment guidelines for the opening of schools. The board opened the meeting and approved the negotiations as presented... [More]
More News
SPORTS

Cable Wareham of Whiting captured the National High School Rodeo championship during the National High School Rodeo Finals in Guthrie, Okla., from July 17 to July 23. Wareham, who is related to the Leisure family here in Linn County, competed in bronc riding at the rodeo and... [More]

Let's continue our series on this week in baseball history. We will look at one historic event per day for the upcoming week in baseball. A full list for historic events in baseball for each day can be found at Nationalpastime.com. Walter Johnson sets pitching milestone... [More]
More Sports