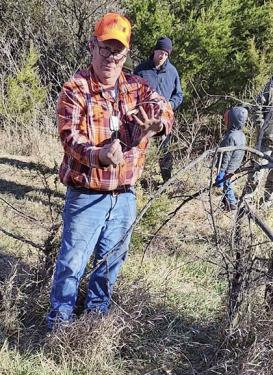 It was one of those random emails you get because your interest lies in certain areas; well, the Kansas Trapping & Fur Harvester class entered my inbox and that was all it took.
About a month ago the email came explaining that Kansas Department of Wildlife, Parks and Tourism (KDWPT) would be doing a one-day class at Ottawa State Lake. Me, being a skim-reader, didn't notice that Ottawa State Lake is not near Ottawa, Kan., its north of Salina, Kan.
I sent in my reservation for the free eight-hour class hosted by the Kansas Department of Wildlife, Parks and Tourism and thought it was a bonus that they were supplying elk burgers for lunch.
Time went on, I searched directions for Ottawa State Lake and discovered it was 3.5 hours away and I'd be leaving at 4:15 a.m. to reach my destination by 8 a.m.
Not being shy to joining outdoors events and being the only female in the activity, I figured the fur harvester class wouldn't be any different. Contrary, the class had approximately 22 signed up with seven of the adults being men and five women. The others in the class were kids with their parents.
I have to say, the Wildlife Biologists from KDWPT were extremely versed in what they were teaching us. The class started off with displaying and demonstrating various traps and what they would be used on. Obviously, they stressed safety with the traps and some of the Wildlife crew showed thumbs with oddly shaped fingernails.
Besides traps from those that could catch a muskrat to larger versions for beavers and coyotes, we learned ethics of trapping. Officers mentioned that trappers need to be very cognizant of perception and make sure things are done correctly and humanely.
A lot of conversation went on concerning where to and not to trap. They were adamant that even though it is not against the law to trap around a homestead; it was probably not prudent unless you want to take a chance on trapping FiFi or Twinkles the kitty.
A portion of the class entailed a Wildlife Law Enforcement officer updating us on laws concerning trapping and what is necessary to actually harvest fur.
I need to say that the reason I took the class was not necessarily to trap coyotes, though they are getting closer and closer to my back door. It was to learn to be able to use a snare for survival techniques. I like to fish and hike; and, I've been lost in the woods as a kid. Needless to say, that was scary and no fun, and I figured knowing how to survive with a snare might save my life someday.
So we learned snare setup, how to set water traps for beaver, otter and muskrats, and how to set various traps for raccoon.
In all instances, animal comfort and ethics was always a priority in any discussion.
Following lunch, we carpooled to the lake where we saw demonstrations of how to set a trap for muskrat, beaver and raccoon. Despite howling winds from the north and 20-degree wind chills, lots of questions were answered and information was dispelled.
The last part of the class entailed skinning. Needless to say, I learned a lot. I've skinned squirrel, deer, rabbits and birds before but a lot of what I learned was by watching YouTube or other educational platforms. The Wildlife Biologist was a trapper and also sold his pelts. He demonstrated what tools would be needed, how and where to make cuts, and how to hold the animal so you would get the best pelt possible.
A muskrat, raccoon and beaver had been recently trapped and the three were skinned and hides processed in approximately 1.5 hours.
I went from wanting to learn how to snare rabbits to understanding that I could set a trap for a coyote; and efficiently skin it so nothing went to waste.
I don't really need another hobby; but, I do believe that I will begin dabbling in fur harvesting – that is after I study for the online fur harvester test that I need if I want to trap anywhere but my place.
Though fur prices have fallen drastically from what they were in the "good old days," there is still a market for fur. Beyond that, it is never too late to learn another skill; you never know when you might get lost looking for that trophy trout.
OUTDOORS

We can't help but be thankful that it was such a mild fall, but I refuse to be happy about the cold that has whacked us in November. But then, I am happy to see a good number of ducks arriving from up north as of yet. I can't see how anyone would not be happy... [More]

When you can provide someone with a good laugh and it lasts all day, you have really accomplished something. And here is how I did it. Dennis Whitesides, an old friend who I have fished and hunted with since college days, showed up at my place with nothing to do,... [More]

Well, there went August. When I woke up the other morning it was September. Now it is dove season, and one of the very best months to fish lies ahead. I am more interested in the fishing. Dove hunting is fairly easy, and it isn't high on my list of things to... [More]
More Outdoors
NEWS

NOTICE: There will be a blood drive at the Catholic Hall in Mound City from 1 to 5 p.m. on Tuesday, Dec. 13

In a sentencing hearing set for Friday, Dec. 2, Robert Woody III appeared in Linn County District Court in front of Judge Andrea Purvis, but instead of sentencing being handed down, the defense requested a continuance. Defense counsel Craig Cole noted his client had just brought... [More]

Discussions at Monday's Linn County Commissioner's meeting turned to the landfill issue and the fact that, as it currently sits, the landfill is only a year and half out from closing. During Monday's discussions, Linn County Public Works Administrator Shaun... [More]
More News
COMMUNITY

Synthetic dyes are used as colorants in many of the foods we ingest, but until recently no one had ever looked at the connection between those synthetic dyes and behavioral issues. In 2018, the California legislature funded a report that contained conclusions linked to the... [More]

Have you ever watched as your child's mood seemed to "flip" and they suddenly went from mellow to maniac? Or perhaps you have watched as they grew and wondered from time to time if they have ADHD but yet their symptoms aren't consistent enough to have... [More]

Thursday, Dec. 1 * Pleasanton Elementary Winter Concert - Art Show in the south gymnasium begins at 6:30 p.m. concert in the north gymnasium at 7 p.m. Saturday, Dec. 3 * Judging begins on the Prescott Christmas Lights and Decorating Contest and will run through... [More]
More Community