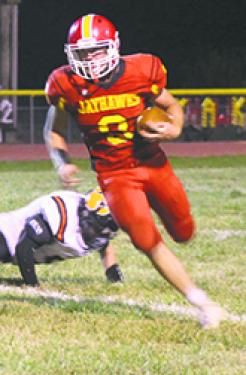 The 2020 high school football season is over and once again it is time for the All Linn County football team.
All three teams competed and played hard this season but some had more success than others.
Prairie View was once again a very good football team as they finished the year with an 8-2 record and once again reached the Sectional round in the playoffs.
Pleasanton finished their season strong to make the playoffs but were defeated by Wabaunsee in the first round. The Jays finished with a 3-6 record.
Jayhawk-Linn was the only team in the County not to make the playoffs this season but the Hawks battled and improved throughout the season. The Hawks finished with a 2-6 record.
2020 All County Offense
Damien Kline - Prairie View and Dale Gillespie - Pleasanton - Quarterback
It was hard to choose between these young men so I decided to put both on here. Both these quarterbacks were leaders on their respective teams and both were one of the most athletic on their respective teams.
Kline and Gillespie both have great arm talent when called to throw and they are also very effective at running the football. Gillespie made first team TRL at quarterback while Kline made second team All Pioneer at quarterback.
Otis Jacobs - Prairie View, Cade Kellstadt - Jayhawk-Linn and Karsten McKee - Pleasanton - Running Back
Once again the Linn County high school football teams featured good running backs.
Jacobs was one of the best players for the Buffalos in all phases of the game but especially at running back. The senior ran the ball hard and improved throughout the season. He was a first team All Pioneer selection at running back.
To see the full article, check out this week's edition of the Linn County News or check out the online version here
SPORTS

The 2020 high school cross country season is over and all three local high schools, Jayhawk-Linn, Pleasanton and Prairie View, competed hard all season. There were a few runners that stood out though and this article will take a closer look at some of those runners. Gavin... [More]

The Jayhawk-Linn and Pleasanton football seasons are over and the annual Three Rivers All Teams are out. The Hawks and Jays had multiple members make the first team and honorable mention team. Jayhawk had Trace Compton make the first team offense at wide receiver while Cade... [More]
More Sports
NEWS

The USD 344 Board of Education met for a special meeting on Monday, Nov. 30, to discuss the order set forth on Nov. 9 that placed all junior high and high school students on remote learning as a precaution beginning Monday, Nov. 16. Prior to the meeting, Superintendent Travis... [More]

On Monday, Nov. 30, Linn County Sheriff Kevin Friend asked commissioners for permission to order a voice-over IP dispatch console system that will provide a major upgrade to the Linn County Sheriff's Communication Division. "The last several months I've been... [More]

A special meeting of the Linn Valley City Council concerning the city's upcoming sewer improvements project was held via webinar on Monday, Nov. 23, 2020. The online meeting was opened by Mayor Cindy Smith at 7 p.m. with all council members present, as well as City Attorney... [More]
More News
COMMUNITY

Dress up the table and your holiday meals with a centerpiece of fresh herbs. You and your family will enjoy snipping a few fresh sprigs to season your meal to your own taste. Purchase plants so they will be ready to harvest for the holidays. Many garden centers now carry herb... [More]

Pleasanton Elementary School recently took the opportunity of the general election to teach their students about the election process. Under the direction of teachers Kim Shroyer and Derek Brown, the school put together a voting booth and chose two candidates for the election,... [More]

For more than 65 years Don and JoAnn LeNeve, owners of LeNeve's Appliances at 4 N. Delaware St., have been providing customers in the Butler, Mo., area with prompt, reliable customer service and an array of appliances that cannot be matched by other stores. The store was... [More]
More Community