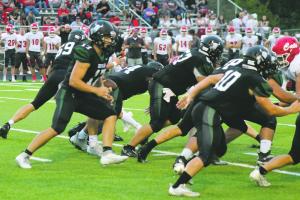 The Prairie View football team hosted Burlington on Sept. 22 for their Homecoming game. Homecoming is so much better with a win and the Buffalos provided that as they fought their way to a 44-19 victory.
One of the things that won this game for the Buffalos were big runs by Parker Schwarz and this is how Prairie View got its first touchdown as Schwarz scored on a 52 yard run. The extra point was no good and the Buffalos were up 6-0. Schwarz did it again this time a 76 yard touchdown run. The two point conversion from quarterback Gabe Murillo to Josh Goodwin was good and the Buffalos were up 14-0. Burlington scored on a 56 yard touchdown run before the first quarter ended to make the score 14-6 after one quarter.
The second quarter consisted of a touchdown for both teams and some nice defensive plays for the Buffalos. Goodwin ran in a nine yard touchdown for the Buffalos, the two point conversion was no good and Prairie View was up 20-6. Burlington got closer as they scored on a 14 yard touchdown run to make the score 20-12.
To see the full article, check out this week's edition of the Linn County News or check out the online version here
SPORTS

The Pleasanton cross country team traveled to Prairie View to compete in the Humboldt Invitational on Sept. 19 and then the Ramsey Invitational at Prairie View on Sept. 21. Both junior high and high school runners competed for the Jays at the Humboldt Invitational. Kei-Mahni... [More]

The Jayhawk Linn cross country team traveled to Prairie View on Sept. 21 to compete in the Ramsey Invitational. The Hawks did well in the competition in both the junior high and high school races. Martin Shillito won the seventh grade boys' two mile race with a time of... [More]
More Sports
NEWS

Letter from KDWP discussed during meeting During the public comment segment of the commissioner's weekly meeting on Monday, several people in the audience again spoke regarding the current zoning regulations for commercial solar farms. Public comment... [More]

Move solves one of three financial issues Monday night's Unified School District 362 approval at a special meeting of the sale of a vocational-education construction house in La Cygne has solved what appeared to be an impending financial concern. However, two... [More]

Approved pair will buy skid steer, delete proposed RV permit registration Two items thoroughly debated and tabled after a Sept. 6 regular meeting have now been passed by La Cygne city leaders. At their regular meeting last Wednesday, Sept. 20, the council cast a... [More]
More News
COMMUNITY

On Saturday, Sept. 23, Don Epps, Superintendent of USD 344, traveled to Wichita, Kan., to give a two-hour presentation at the Dale Dennis Teacher of the Year Banquet at the Kansas State Department of Education conference. According to Epps, approximately 90 to 130 nominations... [More]

The gospel music quartet, The Missourians, will be in concert at the Mound City Christian Church on Sunday, Sept. 24. The concert will begin at 2:30 p.m. and free will donations will be accepted with all proceeds going to the Mound City Historical Park to fund repairs and improvements.... [More]

Last week, Mason Barron and Morgan Barron completed their Eagle Scout projects for the city of Pleasanton. Mason Barron refurbished two park benches and installed them downtown on Ninth Street just east of Main Street. These benches are the first stage in an improvement... [More]
More Community