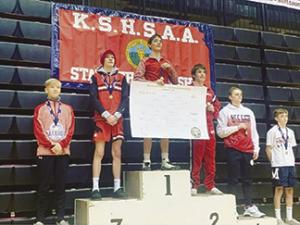 The Jayhawk-Linn wrestling team only took one wrestler to the 3-1A State tournament in Hays on Feb. 27 but this year was about quality over quantity.
Corbin White became the first wrestling State champion for the Jayhawk wrestling high school program going 3-0 in the tournament to win the 106 weight bracket.
White's first place finish gave the Hawks 25 team points, which gave them a good team placing in the tournament. Jayhawk placed 16th as a team. Fellow Three Rivers League school Uniontown was right behind the Hawks with 24 team points. The Eagles also had one wrestler at State in Bryce Eck and he won a State championship for Uniontown in the 152 weight class. Hoxie won the State tournament with 154 team points.
To see the full article, check out this week's edition of the Linn County News or check out the online version here
SPORTS

The Prairie View girls' wrestling team traveled to the State tournament in Salina on Feb. 26. This year the Lady Buffalos took two wrestlers to State in Alyssa Page and Whitley Cox-Halliburton. As a team Prairie View only scored four team points which tied them for... [More]

The Prairie View girls' wrestling team traveled to Anderson County on Feb. 19 to compete in the Girls' Division II Sub-State tournament. The Buffalos brought four girls to the tournament and the team tied for 15th with Tonganoxie with 25 team points. Baldwin won... [More]
More Sports
NEWS

~ Senate Bill 88 provides relief for cities facing utility price spikes due to extreme cold temperatures ~ TOPEKA – Wednesday night, Governor Laura Kelly signed a bill to protect Kansas cities from potential price surges in electricity bills caused by extremely cold temperatures... [More]

Like any natural disaster, a relatively short-term event can result in long-term pain. Such is the case economically from the bitterly cold extended federal holiday weekend of Feb. 13-16. Electricity customers in Blue Mound and Prescott, along with natural gas customers at... [More]

The city of Prescott called a special meeting for Friday, Feb. 26, to discuss and take action on the state of emergency concerning the looming electricity bill associated with the unprecedented cold weather from Feb. 12-17. Temperatures reached subzero readings similar... [More]
More News
COMMUNITY

There are four basic and distinct types of bullying: physical, verbal, social and reactive. Physical bullying can involve hitting, kicking, pinching or pushing. It can also manifest as tripping, spitting or making rude hand gestures or otherwise attacking others and can sometimes... [More]

Bullying is defined as unwanted, aggressive behavior that involves a real or perceived power imbalance, a behavior which has the potential to be or is repeated over time. Bullies use their power, such as physical strength, access to embarrassing information, or popularity,... [More]

My Power of One is part of Sue Vicory's 501c3 non-profit organization that was founded with Heartland Films, Inc., and each year the organization strives to carry out as many Random Acts of Kindness as they can. The group is kicking off 2021 with the gathering of donations... [More]
More Community