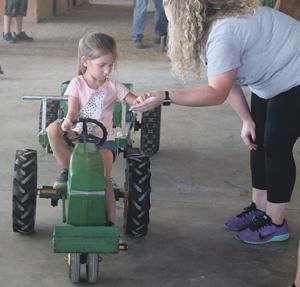 The Linn County Farm Bureau Association hosted the annual pedal pull for kids age 4 to 12 at the Linn County fairgrounds on the evening of Aug. 12.
Trophies were given to the top three pullers in each age group along with the opportunity to compete in the Kansas State Pedal Pull at the Kansas State Fair in Hutchinson starting Sept. 9.
In the 4-year-old age group River Schidler took first with a pull of 17'8". Aurora Walker was second with a pull of 14'3" while Wade Christansen placed third with a pull of 13'3".
Koda Brownback led the five-year-olds with a first place pull of 25'4". Bristol Castle placed second with a pull of 24'10" while Gayson Schwartz placed third with a pull of 21'4".
To see the full article, check out this week's edition of the Linn County News or check out the online version here
SPORTS

Kansas Department of Wildlife and Parks fish biologist Don George once again assisted with hosting the annual fishing derby at the Linn County fairgrounds on the morning of Aug. 13. Like in the past, the derby was divided into three age groups, 4-7, 8-10, and 11-16. Awards... [More]

The Linn County Fair and Rodeo started this past week with the traditional demolition derby. There were two nights of demo derby action as team derby, modified and figure eight races took place on Aug. 5 while the compact, semi-modified and bone stock took place on the evening... [More]
More Sports
NEWS

Two of three rodeo horses were killed or had to be put down following an accident early Saturday morning. Undersheriff Bobby Johnson said that rodeo performer Donald Culpepper, Poulan, Ga., had made a make-shift electric fence for his horses at the Linn County Fairgrounds.... [More]

The city of Parker will be contacting Linn County about concrete surfacing assistance at an intersection that receives heavy truck traffic. At last Thursday's monthly council meeting, Mayor Cody Adams responded to a patron complaint that asphalt surfacing at the intersection... [More]

Approves a change to the tax incentive program The Pleasanton City Council took several policies and policy changes under consideration at their Aug. 15 meeting. The first of these policies is the Neighborhood Culvert Replacement Program (NCRP) which would grant... [More]
More News
COMMUNITY

Faith Chapel of Pleasanton, formerly the Assembly of God Church, has a new pastor. Pastor Mathew Young joined the Pleasanton church on July 30 and has been a part of our community for two weeks now. Pastor Young was born in Stillwater, Okla., but spent his childhood in the... [More]

The Linn Valley Community Church will hold a clothing giveaway on Friday and Saturday, Aug. 12-13, with new back-to-school clothes for children in grades kindergarten to 12th. On Aug. 12, from 5 to 8 p.m. the event is open to residents of Linn Valley only. On Aug. 13... [More]

The goal of summiting nine peaks in Colorado's Grenadier Range in one week was a lofty goal; but staying alive became a bigger goal for Mound City rock climber Mike Meyer when a summer storm buffeted the peak he was on. Meyer is an accomplished climber; owner of the White... [More]
More Community