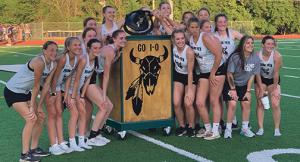 The Prairie View track team hosted the Pioneer League track meet on May 12.
If you have been keeping up with Prairie View track this season you would know that the girls' team is very good always placing top three and more often than not winning the meet. In this meet, the girls won their first league meet since 1995 and did it in convincing fashion. The Lady Buffs won the meet scoring 194 points while the second place team, Burlington, only had 120 points. The boys' team placed seventh scoring 10 points.
Running events are the strength of this Prairie View girls' team and that showed once again this meet. Kinley Baker placed third in the 100 meter dash with a time of 13.59 seconds. Kelsey Konitzer was fifth, 13.95, while Jessica Petric was seventh, 14.04.
To see the full article, check out this week's edition of the Linn County News or check out the online version here
SPORTS

The Pleasanton track team competed in the Three Rivers League meet at Uniontown on May 12. The Jays did well as the boys team placed second with a score of 117 points and the girls placed third with a score of 79 points. Isaiah Bates won three different events for the... [More]

The Jayhawk baseball and softball teams traveled to Crest on May 12 to finish out their regular seasons. The baseball team played Crest in a double header and lost both games, 4-14 and 2-9. The first game saw Crest get out to an early lead as they scored four runs in the... [More]
More Sports
NEWS

The Prescott City Council opened their special meeting for Monday, May 16 with the Pledge of Allegiance. Ron Roberts was unable to attend. Jesse Willard introduced Lamont Cook, Bruce Bird, and Michael Hammond from Mid-America Healthcare Management Company (HMC) so they could... [More]

After requesting that KwiKom Communications and Peoples Telecommunications sharpen their pencils and get the best bid back to the county for fiber optic cable installation, both bidders showed up Monday and learned the commissioners will decide the program in three weeks. Peoples... [More]

Hoping to get a decision for a permanent location for the Pleasanton Senior Meals program, K-State nutrition assistant Melanie Grote spoke to the commissioners Monday. She said in the four years she's been in the position, she's seen the Pleasanton meals program... [More]
More News
COMMUNITY

Stalking and harassment can happen between strangers or in relationships, where the abusive partner or ex demands your time even after you make it clear you do not want contact. The Merriam Webster online dictionary defines stalking as the act or crime of willfully and... [More]

As we learned in the last installment of this series, domestic violence and abuse go beyond the normal scope that one first imagines when you hear the term but it goes beyond the physical scope as well and often begins with an emotional rollercoaster that becomes an ingrained... [More]

On March 20 Indiana Bishop Doug Sparks set out on a walk that would take him through four states over the course of the next 43 days before finally arriving at his destination on May 1. As part of his posting with the diocese in Indiana, Spark was given a three month sabbatical... [More]
More Community