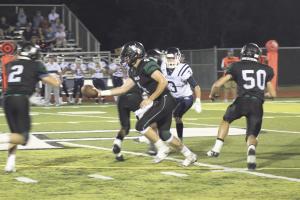 Last season the Buffalos only had one regular season loss, and that loss was against a very good Galena football team.
This season, Galena is still a good football team, but if the Buffalos do lose in the regular season, it will not be against Galena because the Buffalos took care of business this past Friday at home and defeated the Bulldogs, 28-0.
The game started out with fumbles for both teams as both teams had trouble holding onto the football, especially in the first half.
Otis Jacobs lost the ball for the Buffalos first, and Galena recovered on their 41-yard line. However, the Buffalos got the ball right back as Jacobs recovered a Galena fumble on the Buffalos' 44-yard line.
To see the full article, check out this week's edition of the Linn County News or check out the online version
here
SPORTS

The Prairie View girls' wrestling team traveled to Paola on Feb. 14-15 to compete in the East Regional to determine who would go to the girls' State Tournament in Salina on Feb. 27. The Buffalos took five wrestlers to the tournament, and two of... [More]

The Pleasanton basketball teams hosted their Senior-Parent Night against Oswego on Feb. 11. It was a good night for the Jays as both the boys and girls won their respective games. The girls won 34-24 while the boys won their game 69-47. The girls' game... [More]
More Sports
NEWS

At issue is access authority at scrapyard site Parker city leaders tabled a question of roadway authority and access at the council's monthly meeting last Thursday. At question is the non-platted South Walnut Street south of South Street that... [More]

County discusses other departments needing the software After a long discussion last week that the County Commissioners wanted to see County Attorney James Brun in the county more, he told them this week that he is purchasing Westlaw, an online legal... [More]

Grade 8-12 offerings will enable more certifications, gain extra funding Numerous courses, mainly at Prairie View High, will be renamed or initiated in action taken by the Unified School District 362 board of education at their Feb. 10 monthly meeting.... [More]
More News
COMMUNITY

By BARBARA PROFFITT Linn County News Reporter reporterlcn@ckt.net As shown last week, the cost of just one semester at a college or university can run into thousands of dollars, and a degree at a four-year institution can become very costly when adding in all the... [More]

The cost of undertaking higher education, especially in rural areas such as ours, can be prohibitive to high school graduates continuing their education. As tuitions rise and fall, so does the number of students able to attend college as well as the choice of schools available... [More]

An Underground Railroad quilt is on display at the Linn County Museum in Pleasanton this month in honor of Black History Month. The quilts, such as this one, were hung out at farms and homes along the slaves' northern route to guide them where to go next or what... [More]
More Community