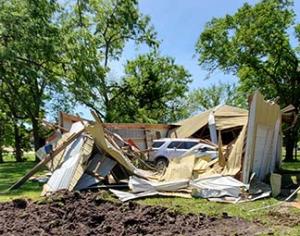 Friday, June 11 started off like a typical late spring day but once afternoon hit, it was no typical day. Blue Mound experienced what locals estimated to be 80 to 90 mph straight-line winds, four to six inches of rain in 20 minutes and the ensuing damage created from the quick moving storm.
Fritz and Penny Johanning were busy Monday morning raking what was left of a four-feet in diameter pecan tree that toppled next to their home taking two large maple trees with it.
Fritz said the storm blew in Friday at around 6 p.m. from the northwest. "I've never seen wind blow that hard," he said. "The rain was like a hurricane – it was blowing straight across."
Penny said, "The sirens went off, but we waited it out. We have a brick fireplace that protected us. It lasted 20 to 25 minutes."
The couple looked at the stump of what was a very old pecan tree that toppled. Fritz said that Blue Mound resident Dusty Rhynerson volunteered to lift the stump back up and put it back in the hole, then cut the stump off at ground level.
To see the full article, check out this week's edition of the Linn County News or check out the online version here
NEWS

Linn County Commissioner Rick James announced during the meeting of the county commissioners on Monday, June 14 that he had spoken with Larry Goldberg of the Goldberg Group in regards to the $196,000 change order that had been discussed at several meetings. Change Order No.... [More]

Parker city leaders are scheduled to decide at next month's 7 p.m. July 8 meeting their plan for chip seal maintenance of city streets. At their monthly meeting last Thursday, Mayor Cody Adams said two factors need to be decided prior to next month's meeting, the... [More]

On the evening of May 30 Linn County sheriff's deputies and first responders were called to 20290 E. 600 Road of rural Pleasanton for shots fired where they found a victim of a gunshot wound to the head. During the course of that incident, the victim Edward W. Theel Sr.... [More]
More News
SPORTS

Once again the Linn County high schools had a good track season and each school sent multiple athletes to the State track meet in Wichita. In this article we will look at some of the top high school track athletes from Pleasanton, Prairie View and Jayhawk-Linn. Isaiah Bates... [More]

In Linn County high school sports there are several teams that stand out. The track and wrestling teams usually send multiple people to State. Both Prairie View softball and Jayhawk softball have been very good the past few seasons, and the football teams have had some good years,... [More]
More Sports
COMMUNITY

On Saturday, June 12, Pleasanton will be the site of Thunder on the Street, a bike rally and event hosted by Soldiers for Jesus Motorcycle Club Kansas Chapter, a donation-funded ministry that is a registered 501c(3) nonprofit organization. The club began in California,... [More]

Two school districts in Linn County have received awards through the Kansans Can Star Recognition Program, which honors schools working toward specific goals, such as higher graduation percentage or better social-emotional growth. Jayhawk USD 346 is one of seven districts across... [More]

The Get'n Place opened for business in Prescott approximately one month ago, and business is picking up as word of the shop spreads. Owner Trenton Wood and his partner, father Kevin Wood, purchase loads of items on pallets from liquidation brokers and resell the items... [More]
More Community