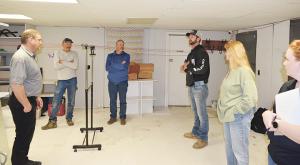 During the latter part of the meeting on Monday, March 27, Linn County Commissioners discussed the walk-through on Wednesday, March 22 at the former Memaw's Kitchen located at 6th and Main Streets in Pleasanton.
Economic Development Director Jessica Hightower read notes from construction consultant Randy Page into the record, which listed several items that would need to be remodeled or added, such as a second restroom, making the restrooms ADA compliant, issues with the wall around the electrical meter, and the need to install a kitchen with a dishwasher. Page also noted a broken window that would need to be replaced and some cosmetic issues inside and outside of the building.
Several patrons of the current meal site joined county officials for the walk-through; they noted their thoughts that the site would work for them with adjustments made, as discussed, because it kept them close to downtown and senior housing, a concern for those who walk to get to the meal site.
Commissioner Jason Hightower noted that currently the meal site has an industrial-size dishwasher; however, after speaking with representatives of East Central Kansas Area Agency on Aging, it was determined a regular dishwasher would suffice.
To see the full article, check out this week's edition of the Linn County News or check out the online version here
NEWS

Governor Laura Kelly issued a verbal declaration of disaster emergency this morning, March 31, due to the potential for wildland fires and severe storms in the state. The declaration will allow the state to preposition assets for a quicker response to any fires... [More]

"Positive ramifications" for the city Following a 15-minute legal session called by Linn Valley Mayor Cindy Smith at their Monday meeting, the mayor announced a preliminary agreement with Rural Water District #1 for water rights in Linn Valley. Smith... [More]

Possible April vote would make nepotism additions A vote may occur next month on broadening a Unified School District 362 nepotism policy as urged by its superintendent. At the monthly board of education meeting earlier this month, Rex Bollinger, Ed.D., laid out... [More]
More News
SPORTS

The Prairie View Buffalos competed in the State Powerlifting meet on March 25. The meet had 285 total lifters and the Buffalos took 16 boys and nine girls to the event. Prairie View had two lifters place second in their respective weight divisions at the meet. Rhett Jackman,... [More]

The Jayhawk baseball and softball teams opened their 2023 season at home against Southeast Cherokee on March 27. Both softball and baseball teams played a double header and the boys split while the girls swept the Lancers. Baseball won their first game 3-0 but lost the second... [More]
More Sports
COMMUNITY

At the end of February, Regena and Loren Lance, owners of the Mildred Store in Mildred, Kan., just south of the Linn County's southwestern corner, traveled to Las Vegas, Nev., to be presented with a national award by Progressive Grocer. The award was for being one of... [More]

On Saturday, March 11, Raymond and Melayna Johnson, Mound City, opened their newest business venture, Maynerd's, a food truck that will be located in the open area next door to their antique-flea market shop, 517 Vintage, on the south side of Main Street, that location... [More]

Over the past few months, those traveling down Main Street in Mound City may have noticed new activity at the Mound City Historical Park. Last summer, the historical society was revived, and new efforts implemented in restoring all of the existing structures of the park. Work... [More]
More Community