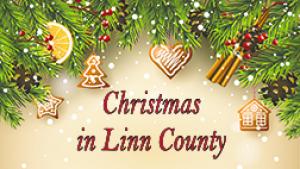 Saturday Dec. 5
Santa Comes to Parker, 1 to 3 p.m. in Heritage Park. Photos with Santa, cookies and hot chocolate and a live nativity by the Cadmus 4H Club.
Sunday, Dec. 6
Blue Mound Christmas Shopping Spectacular, 12 to 4 p.m. at 303 N. 3rd in Blue Mound. Local crafters and vendors will be there.
Christmas on Broadway in La Cygne, 4-6 p.m. at Thayer Park. Christmas tree lighting, pictures with Santa, hot chocolate and more.
Saturday, Dec. 12
Mound City Holiday Mart – 9 a.m. to 3 p.m. at the 4H Building on the Fairgrounds. Come shop local vendors and finish up your Christmas shopping.
Santa visits Prescott -2 p.m. at City Hall.
Mound City Christmas Tree Lighting at 7 p.m. at the amphitheatre on Main Street.
Saturday, Dec. 19
La Cygne Christmas Grab and Go Dinner – For La Cygne area residents, from 4 to 6:30 p.m. pickup at the United Methodist Church, 402 Chestnut. Call 913-481-2034 by Dec. 13 to reserve your dinner.
Light Up Pleasanton parade, 6:30 p.m. on Main Street.
If you have an event you would like to have added to this list, please email details to reporterlcn@ckt.net.
NEWS

The USD 344 Board of Education met for a special meeting on Monday, Nov. 30, to discuss the order set forth on Nov. 9 that placed all junior high and high school students on remote learning as a precaution beginning Monday, Nov. 16. Prior to the meeting, Superintendent Travis... [More]

On Monday, Nov. 30, Linn County Sheriff Kevin Friend asked commissioners for permission to order a voice-over IP dispatch console system that will provide a major upgrade to the Linn County Sheriff's Communication Division. "The last several months I've been... [More]

A special meeting of the Linn Valley City Council concerning the city's upcoming sewer improvements project was held via webinar on Monday, Nov. 23, 2020. The online meeting was opened by Mayor Cindy Smith at 7 p.m. with all council members present, as well as City Attorney... [More]
More News
SPORTS

The 2020 high school football season is over and once again it is time for the All Linn County football team. All three teams competed and played hard this season but some had more success than others. Prairie View was once again a very good football team as they finished... [More]

The 2020 high school cross country season is over and all three local high schools, Jayhawk-Linn, Pleasanton and Prairie View, competed hard all season. There were a few runners that stood out though and this article will take a closer look at some of those runners. Gavin... [More]
More Sports
COMMUNITY

Dress up the table and your holiday meals with a centerpiece of fresh herbs. You and your family will enjoy snipping a few fresh sprigs to season your meal to your own taste. Purchase plants so they will be ready to harvest for the holidays. Many garden centers now carry herb... [More]

Pleasanton Elementary School recently took the opportunity of the general election to teach their students about the election process. Under the direction of teachers Kim Shroyer and Derek Brown, the school put together a voting booth and chose two candidates for the election,... [More]

For more than 65 years Don and JoAnn LeNeve, owners of LeNeve's Appliances at 4 N. Delaware St., have been providing customers in the Butler, Mo., area with prompt, reliable customer service and an array of appliances that cannot be matched by other stores. The store was... [More]
More Community