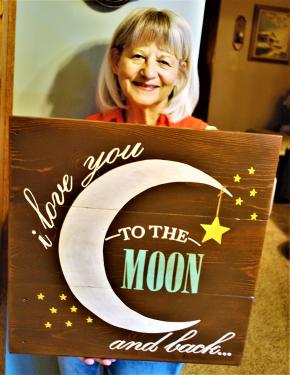 Rescuing old wood and turning it into salable art is the focus of Rosalee Bures' crafting.
For the fourth straight year--two now on either side of 2020's pandemic-cancelled Sugar Mound Arts and Crafts Festival--the rural Richmond woman and her crafts can be found this weekend in the indoor arena dubbed the "Sunflower Barn" on the Linn County Fairgrounds.
A stay-at-home partner in the family's farming and livestock operation southwest of Scipio, Bures first began to answer her calling to create in 2004.
"I've always wanted to do crafts and show," she said.
Jewelry was her first step, followed by such crafts as gnomes in cloth and paintings on landscape bricks, a craft utilizing outdoor paint and varnish she still does today.
Her primary art now, wood-backed paintings, came from a friendly prodding by her sister to "do boards with words and sayings."
Her wood sources began with industry palettes but have now expanded to utilize lumber salvaged from barn granaries and old cabinets.
Another wood-based craft is the use of decorative small-tree slices, but those creations might be short-lived now.
"My husband would cut them for me," said Bures about her mate who now suffers from a chronic respiratory ailment. "My grand-nephew has been doing it for me, but I don't know for how much longer."
After this weekend's show at Mound City, Bures will be at the Ottawa show during Veteran's Day weekend Saturday and the Burlington show the Saturday following. As well, she said she would participate in two or three "little" shows during the autumn at Garnett's St. Rose Philippine Duchesne School and Holy Angels Catholic Church and School
CAPTION:
Rosalee Bures displays one of her artistic creations applied onto a rescued portion of an old barn granary.
COMMUNITY

Have you ever watched as your child's mood seemed to "flip" and they suddenly went from mellow to maniac? Or perhaps you have watched as they grew and wondered from time to time if they have ADHD but yet their symptoms aren't consistent enough to have... [More]

Thursday, Dec. 1 * Pleasanton Elementary Winter Concert - Art Show in the south gymnasium begins at 6:30 p.m. concert in the north gymnasium at 7 p.m. Saturday, Dec. 3 * Judging begins on the Prescott Christmas Lights and Decorating Contest and will run through... [More]

For many in the La Cygne area, the community Thanksgiving Dinner is an opportunity to reconnect with folks they don't see every day; to visit and catch up with friends they haven't seen in awhile. This year meant just that for many who attended the event since the... [More]
More Community
NEWS

Request options be brought to next meeting During the meeting on Monday, Nov. 28, Linn County Commissioners heard from Landfill Manager Al Doan regarding multiple issues with the Solid Waste Department ranging from the current contract with Arcadia for hauling from... [More]

The Pleasanton City Council reviewed and approved a new trespass policy as provided by City Attorney Burton Harding during the Nov. 28 meeting. The policy sets out parameters for what is considered to be trespassing, as well as appropriate reactions. It notes specifically... [More]

Market Street is a proposed path between La Cygne coal, Wolf Creek nuclear plants Representatives from a Kansas City engineering firm last week presented plans for an Evergy underground conduit-cased fiber optics cable preliminarily proposed to run through La Cygne.... [More]
More News
SPORTS

The 2022 high school football season concluded and it is time for the annual All Linn County football team. The team is decided by stats and watching the boys play. I also try to make the number of boys between schools as even as I can. This season was tough in deciding as... [More]

Ten days prior to their Linn County state border counterparts (including Valentine's Day opponent Pleasanton), Hume began another promising basketball season Nov. 22 with a split decision at Appleton City. The Lady Hornets outscored their hosts in the first three quarters,... [More]
More Sports