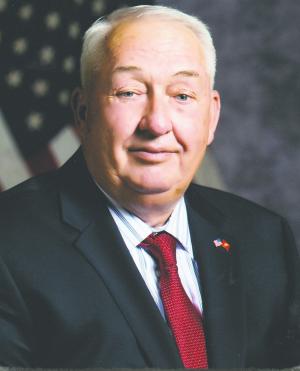 Former Sheriff Paul Filla passes away
Many kind words were spoken Monday by elected officials and others following word that former Sheriff Paul Filla passed away unexpectedly Saturday evening.
Following a prayer for comfort for Filla's wife, Lynne, County Commissioner Rick James told attendees, "Paul Filla, former county sheriff – as well as chief of police, and more importantly to me, U.S. Marine for over 25 years – passed away.
He continued that "our hearts and prayers go out to Lynne and his family."
The county will be following protocol with the Governor's Office to be able to lower flags to half-staff.
AMR Operations Manager Capt. Galen Anderson gave condolences to the family of Paul Filla stating, "We worked side-by-side with Mr. Filla for years. He was a friend, and it is a great loss."
The Linn County Sheriff's Office issued a statement that said, "The Linn County Sheriff's Office is saddened to hear of the passing of Sheriff Paul Filla. Sheriff Filla served in law enforcement beginning in 2001 as a deputy sheriff; he served in that capacity until January 2009 when he was appointed as the La Cygne, Kan., chief of police in the spring of 2009. Sheriff Filla was then elected to the office of the Linn County Sheriff and began his term on Jan. 14, 2013; Sheriff Filla proudly served until his retirement in September of 2019. Sheriff Filla touched many lives throughout his career and was considered a friend and mentor to all. Prior to his career in law enforcement, Sheriff Filla was a proudly serving U.S. Marine; he brought a vast amount of leadership to his position as a law enforcement officer. Sheriff Filla will be sadly missed by all at the Linn County Sheriff's Office. We offer our thoughts and prayers to his family."
La Cygne Mayor Debra Wilson said,"On behalf of the City of La Cygne, I would like to express our condolences to the family of Paul Filla. Paul served as the Police Chief for our community from 2010 until 2012. He performed his duties to the fullest and held in his heart the best interests of the citizens of our community at all times. We were thankful to have had the opportunity for Paul to represent our city Police Department. He will be sorely missed!"
Funeral service will be 10 a.m. Friday, April 15, at the Rinehart Christian Church, Richards, Mo. Burial service will be 1:30 p.m. at the Fort Scott National Cemetery. Visitation will be held from 5-7 p.m. Thursday, April 14, at the Schneider Funeral Home and Crematory, Mound City Chapel. Memorial contributions are suggested to the Rinehart Christian Church or the Mound City American Legion Post, c/o Schneider Funeral Home, P.O. Box J, Mound City, Kan. 66056.
NEWS

A full room greeted seven of nine members of the Linn County Planning and Zoning Commission last Tuesday at their normally scheduled meeting. The crowd attended in response to apparent contracts being circulated through locations in the county asking landowners to lease property... [More]

Field questions from local residents on regulations Following an executive session for legal matters, County Counselor Gary Thompson explained to the commissioners and those attending the meeting that he had reached out to three different attorneys who have extensive... [More]

Parker city leaders have given its police force the go-ahead to purchase two body camera/taser systems. The 3-0 vote, with Kandice Higgins and Jerry Summers not present, came during last Thursday's monthly council meeting but only after city leaders agreed that this year's... [More]
More News
SPORTS

The Jayhawk Linn football team is now 3-0 after a 56-0 thrashing of Uniontown on the evening of Sept. 15. It was all Jayhawk in their home opener as the Hawks dominated in all three phases of the game. The first offensive play from scrimmage resulted in points as Jayhawk quarterback... [More]

The Pleasanton volleyball team was certainly busy this past week as the team hosted Rich Hill on Sept. 11, hosted a Three Rivers League quad on Sept. 12, and traveled to Humboldt for a tournament on Sept. 16. The Lady Jays played a best out of five matchup against Rich Hill... [More]
More Sports
COMMUNITY

The gospel music quartet, The Missourians, will be in concert at the Mound City Christian Church on Sunday, Sept. 24. The concert will begin at 2:30 p.m. and free will donations will be accepted with all proceeds going to the Mound City Historical Park to fund repairs and improvements.... [More]

Last week, Mason Barron and Morgan Barron completed their Eagle Scout projects for the city of Pleasanton. Mason Barron refurbished two park benches and installed them downtown on Ninth Street just east of Main Street. These benches are the first stage in an improvement... [More]

Recently Wesley Teagarden opened his own business, an ice cream trailer that features homemade waffle cones and Artisan Bliss ice cream. Wesley, age 13, is the son of Scott and Baylee Teagarden, La Cygne, and a member of the Cadmus 4-H Club and is currently dividing his time... [More]
More Community