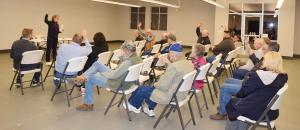 Applicant pulls out; Harding rescinds resignation
The Linn County Republican Central Committee held a required convention on the evening of March 2 for the purposes of appointing a new county attorney. The convention was set up following the announcement by current County Attorney Burton Harding of his intentions to resign his elected position effective the end of March and that his assistant attorney, Justin Meeks, would be leaving the office the first week of April.
Committee Chairperson Jackie Taylor convened the meeting at 6 p.m. and spoke briefly on the events that brought them to the point of holding a convention. Taylor explained that once Harding had tendered his resignation the Republican Central Committee was required by Kansas Attorney General Opinion 90-1 to hold a convention and appoint someone to that position within 21 days or the appointment would be made by the District Court Chief Judge. Taylor then turned the floor over to Harding so that he could better explain the reasons behind his decision to resign.
Harding again cited the more intense work schedule than when he had begun and a need to be available for his family. He went on to note that when he started after his election the job entailed two and half to three days a week of hearings, preparation and meetings and had escalated into a five to six day a week position due to there being more judges and another courtroom, a heavier workload, corresponding to more time required for the position.
Taylor then explained to the precinct people and a few onlookers gathered in the audience that following a request for applications, one person, Tiana McElroy, who is currently serving as appointed County Attorney for Bourbon County, Kan., had submitted her application only to rescind it on Thursday morning prior to the convention.
"She told me she felt that staying where she currently is was a better choice for her right now," explained Taylor.
Taylor then explained that once that happened, Harding had agreed to rescind his resignation and remain in office, pending approval by the county commissioners to hire a new assistant, through the end of his term rather than leave the county in a lurch.
She then asked Harding to speak on that decision and Harding addressed the crowd, noting it was not his intention to leave the county in a vulnerable position and would agree to stay on for the remainder of his term and hire a new assistant attorney to work part-time to help cover the case load, again noting that that commissioners would need to approve the hiring of an assistant.
Senator Caryn Tyson then asked about the salary increase that commissioners had recently approved and Harding replied that he would stay at his current salary without the increase throughout his term.
"You keep saying 'if commissioners approve;' what happens if they don't?" asked Robin Spencer on more part-time help.
Harding then explained he could be put in a position to sue, and explained that the commission has no legal right to obstruct his office's ability to complete its duties. Harding further explained that the county already has a part-time assistant attorney and he would simply be adding another part-time person.
He said Miami County has four attorneys and Bourbon County three and he's trying to run his department with one and one-half.
Following clarifications from Taylor and Harding, Taylor then opened the floor to nominations and Chris Martin nominated Harding to fill the county attorney position. That motion was seconded by Don George and carried on a unanimous vote.
Caryn Tyson then moved to suspend the rules on voting by written ballot and instead vote by acclamation or the raising of hands. Tysons's motion was seconded by Robert Suppenbach and approved unanimously.
A motion was then made by Karl Kempinger to approve Harding as the candidate and seconded by Stacy Fromdahl and carried on a unanimous vote.
A motion was then made and carried to cease all nominations and the convention adjourned shortly thereafter.
Taylor will submit all proper forms to the governor of Kansas and Harding will remain in office throughout his term.
NEWS

During the weekly meeting of the Linn County Commissioners on Monday, Dec. 4, Rich Morrell and Charlene Sims with the Linn County Planning Commission each addressed the commissioners in regard to the moratorium and the request to create a committee to work on Section 14. ... [More]

Linn County Clerk David Lamb presented the commissioners with documents to be signed by the commission chair during their weekly meeting on Monday, Dec. 4, in regard to the bond sale last Wednesday to refinance a portion of the original bond for the jail project. Lamb... [More]

Linn County Public Works Director Shaun West noted he had reached out to the fiber installers south of the power plant in reference to questions the commissioners had concerning undone road work. West stated he learned the connection comes into the project from the west and moves... [More]
More News
SPORTS

The Pleasanton basketball team hosted their home opener against Kansas City Christian (KCC) on Dec. 1. The Jays split the varsity games with the girls falling in their game 20-29 and the boys winning big in their game, 78-44. The girls' game started well as the Lady... [More]

Sophomore Brea Dawson scored 12 of her game-high 18 points in the fourth quarter, paving the way for Jayhawk Linn's girls to claim a 43-38 season-opening win at Cass-Midway, Mo., Friday night. Despite a game-high 23 points from junior Braeden Nation, the 'Hawk boys... [More]
More Sports
COMMUNITY

USD 344 will host the first ever Blu Jay Winter Clothing Exchange on Saturday, Dec. 9 from 8 a.m. to 4 p.m. at the Ernie Price Annex located at 309 W. 13th Street. The clothing exchange is open to anyone in need of warm winter clothes, not just USD 344 families. Those who... [More]

Raymond and Melayna Johnson, who own and operate Maynerd's Food Truck and 517 Vintage in Mound City, have begun an initiative to help provide food for Linn County families in need. "We just know that so many are struggling right now and if everyone would give just... [More]

Southeast Kansas Mental Health Centers Mental Health First Aid Department has partnered with the Veteran Access Support Team (VAST) to support Veterans in southeast Kansas. Their goal is to create 100 backpacks filled with essential items that will be distributed among the veterans... [More]
More Community