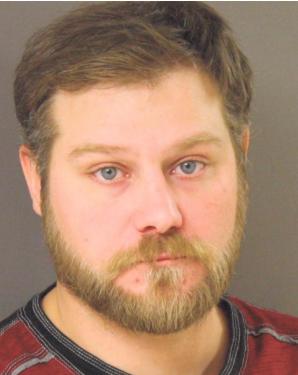 Revelation that direct contact concerning a plea agreement had not yet been made with the alleged minor victim has delayed a Pleasanton man's plea.
In Linn County District Court Aug. 17, upon questioning by Judge Terri L. Johnson, 6th Kansas Judicial District, Justin Meeks, assistant Linn County attorney, expressed "some difficulty" in making direct contact with the victim of felonies charged against Lonnie Shane Martin, 32.
Alluding to an amended complaint information filed with the court Aug. 13, defense counsel W. Scott Toth, Olathe, said Martin was prepared to plead guilty to aggravated endangering a child, a severity level 9 person felony punishable by 5-17 months with the Kansas Department of Corrections and a maximum $100,000 fine.
In return, Toth said a second count under Case 2019-CR-210, aggravated criminal sodomy of a child less than 14 years old, an off-grid felony, would be dismissed.
The amended complaint replaces the original filed Dec. 17, 2019, which listed counts of rape of a child less than 14 years old, an off-grid felony punishable by life in prison, and the aggravated criminal sodomy count.
Prior to Martin signing the plea petition to be presented to the bench, Johnson allowed Meeks opportunity for its review.
Then Johnson asked, "Has the alleged victim been notified?"
Responded Meeks, "Not yet" in characterizing the situation as "a long story." Expressing difficulties since his January appointment in locating the victim and family, Meeks said the alleged victim is currently in Colorado's equivalent to Kansas' Department for Children and Families but that the victim's father had been contacted.
"The mother is definitely aware of the hearing," Meeks said. "It's complicated because the mother is currently with the defendant."
Meeks admitted that Toth was "probably not going to like my instinct to set over the case for 30 days for absolute contact with the victim."
Toth said the alleged victim is a child in state custody and "can't make a decision because she's a minor." He said the decision is "left up to the parents."
Toth said their children have gone "from foster care to foster care." The father, who he said has been "in and out of jail," was advised of the plea agreement a week earlier and was supposed to return a call.
"It's been almost a week, and we've not heard back," Toth said. "He's aware this hearing was going to take place. As an officer of the court, everything's been done to notify the victim."
Toth said the alleged victim's mother "is my client's wife. She's aware of the agreement."
Meeks then asked to allow an off-the-record bench consultation between the attorneys and the court.
Returning on-the-record after 27 minutes, Johnson said the conference regarded notification to the alleged victim, as well as registration issues. She told Martin that "both need to assure the registration form is completely filled out with correct statute numbers. It causes all kinds of problems when those aren't exactly right."
Johnson set Martin's next no go non-evidentiary preliminary hearing for a 2 p.m. Sept. 10 special setting after Meeks indicated a two-week set-over to correspond with a Colorado state case worker and Toth said his position was not to object to a short continuance.
Martin appeared last week for a third straight Tuesday setting.
On Aug. 3, Meek's unavailability coupled with the case being a conflict for Burton Harding, Linn County attorney, caused a week's postponement.
On Aug. 10, Toth said a plea agreement was ready, but Johnson said it was "not on file."
Asked Toth, "Would the court entertain a plea without the written documentation?"
Responded Johnson, "I won't. You need to see the written document. That's my standard."
The judge suggested a Monday (Aug. 23) special setting but scheduled last week's hearing when Toth said Martin, free on a $250,000 cash surety bond, would be on vacation then.
NEWS

In a sentencing hearing set for Friday, Dec. 2, Robert Woody III appeared in Linn County District Court in front of Judge Andrea Purvis, but instead of sentencing being handed down, the defense requested a continuance. Defense counsel Craig Cole noted his client had just brought... [More]

Discussions at Monday's Linn County Commissioner's meeting turned to the landfill issue and the fact that, as it currently sits, the landfill is only a year and half out from closing. During Monday's discussions, Linn County Public Works Administrator Shaun... [More]

Charges amended to one count of leaving the scene of an accident James Rocky Allen appeared in Linn County District Court on Tuesday, Nov. 29 for what was slated to be a preliminary hearing in case LN-2020-CR-000240 in which he was charged with second degree murder;... [More]
More News
SPORTS

The Prairie View wrestling team traveled to Pleasant Hill on Dec. 2 and 3 to compete in the Steve Leslie Invitational. The boys' team had three wrestlers place in the top four while the girls' team had two wrestlers place in the top four. Kimmy Eastwood wrestled... [More]

Pleasanton basketball teams began their season Friday with a split varsity decision at Prairie Village-Kansas City Christian (KCC), the girls winning 39-19 while the boys took a 60-31 loss. Both teams now have two games upcoming at this week's early-season round-robin... [More]
More Sports
COMMUNITY

Synthetic dyes are used as colorants in many of the foods we ingest, but until recently no one had ever looked at the connection between those synthetic dyes and behavioral issues. In 2018, the California legislature funded a report that contained conclusions linked to the... [More]

Have you ever watched as your child's mood seemed to "flip" and they suddenly went from mellow to maniac? Or perhaps you have watched as they grew and wondered from time to time if they have ADHD but yet their symptoms aren't consistent enough to have... [More]

Thursday, Dec. 1 * Pleasanton Elementary Winter Concert - Art Show in the south gymnasium begins at 6:30 p.m. concert in the north gymnasium at 7 p.m. Saturday, Dec. 3 * Judging begins on the Prescott Christmas Lights and Decorating Contest and will run through... [More]
More Community