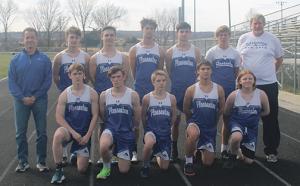 The Pleasanton track team traveled to Lyndon on May 19 to compete in their 2A Regional.
The top four places in each event qualify for the State tournament and the Jays did very well as they qualified multiple athletes for State in multiple events. As a team, the boys claimed their first Regional title since 1987 as they won the meet with a score of 75 points. The girls placed 13th with 15 points and combined they were fifth overall with a score of 90 points.
Landry George was the only Lady Jay to qualify for State. She qualified in the 100 meter dash by placing third with a time of 13.81 seconds. George came close to qualifying in other events as well. She was fifth in the 800, 2:44.92, and sixth in the pole vault, 7'6".
Other placers for the Lady Jays in the meet were Telleah Gratton and Shiloh Skipper. Both girls tied for fifth in the high jump clearing 4'6". Rees Chapman placed sixth for the Lady Jays in the discus, 66'11".
Now for the Regional Champion boys' team it will come as no surprise that Isaiah Bates won both the 100 and 200 for the Jays. Bates won the 100 with a time of 11.32 and then won the 200 with a time of 22.93.
Bates was also on the 4x100 meter relay team that qualified for State. The team also consisted of Dale Gillespie, Tony Gillespie and Judah Skipper. The 4x100 team placed second with a time of 45.00.
Dale Gillespie qualified for State in two other events as he won the high jump with a jump of 6' and placed third in the triple jump with a jump of 38'9".
Tony Gillespie qualified for State in pole vault as he won the event clearing 10'6". Doniphan Meik also qualified for State by placing second in the pole vault and clearing 10'6". Both were season highs for the boys.
Judah Skipper qualified for State in both the long and triple jumps. He placed third in the long jump with a jump of 19'9 1/4" and fourth in the triple jump, 38'2 1/2".
Other placers for the Jays but not qualifiers for State include Dale Gillespie in the 100 who was sixth with a time of 12.25, Meik who was sixth in the 800, 2:15.92, and Nate Johnson in the 110 hurdles, 19.76.
The State Track Meet is at Cessna Stadium in Wichita on May 27-28.
State Qualifiers
Isaiah Bates - 100 meter dash, 200 meter dash, 4x100 relay
Dale Gillespie - High Jump, Triple Jump, 4x100 relay
Tony Gillespie - Pole Vault, 4x100 relay
Judah Skipper - Long Jump, Triple Jump, 4x100 relay
Doniphan Meik - Pole Vault
Landry George - 100 meter dash
SPORTS

The Jayhawk Wrestling Club went to the kid's State wrestling tournament this past weekend, March 10-12, in Topeka. The team did very well taking seven wrestlers and five placing in the competition. Maggie Earnest, 8U Girls 70, placed second and scored 20 team points.... [More]

The Linn County Twisters wrestling team took 13 wrestlers to the kid's State wrestling tournament in Topeka March 10-12. The Twisters had five of their 13 wrestlers place in the tournament. Taryn Mills, HS Girls 130, was eliminated after two matches in the tournament.... [More]
More Sports
NEWS

During the tail-end discussion amongst commissioners at Monday's meeting regarding wage increases, Commissioner Jason Hightower noted a plan presented by County Clerk David Lamb for a $1 per hour across the board raise rather than a percentage based raise, which some county... [More]

Commissioner Danny McCullough opened a discussion on the Pleasanton Senior Meals site during the March 13 meeting with a slideshow of photos he had taken of various issues in the current site. The photos showed a variety of issues that McCullough said he took from the viewpoint... [More]

Parker city leaders may consider a future action to establish a legal truck route within the city. Tim Griffin, past councilman, broached the topic at last Thursday's monthly council meeting in asking for a follow-up to his truck-route question from the January council... [More]
More News
COMMUNITY

On Saturday, March 11, Raymond and Melayna Johnson, Mound City, opened their newest business venture, Maynerd's, a food truck that will be located in the open area next door to their antique-flea market shop, 517 Vintage, on the south side of Main Street, that location... [More]

Over the past few months, those traveling down Main Street in Mound City may have noticed new activity at the Mound City Historical Park. Last summer, the historical society was revived, and new efforts implemented in restoring all of the existing structures of the park. Work... [More]

The USD 344 school board was invited to attend a Kansas Entrepreneurship Challenge (KEC) Tuesday in Pleasanton at the Community Center. High School Principal Sarah Conley said the venture is sponsored by the Linn County Economic Development Board and others and explained the... [More]
More Community