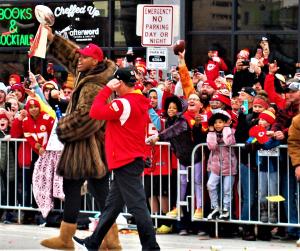 Wednesday's Super Bowl LVII Parade from the east side of the 1800 block of Grand Avenue in Kansas City, Mo.
An experience shared by father, Tony Furse, and son, Antony Furse, with a front row view has resulted in capturing this year's celebration.
And where three years ago, we didn't get some of the faces of Kansas City Chiefs our readers might want to see, this year we did--Coach Andy Reid, MVP Patrick Mahomes, kicking hero Harrison Butker, potentially a series
of three with record-setting Travis Kelce leading cheers toward OUR side of the street, etc.
Check out the next couple weeks of the Linn County News for pictures as space warrants.
Featured here: Orlando Brown Jr carrying the Lombardi trophy
SPORTS

The Pleasanton basketball team hosted their home opener against Kansas City Christian (KCC) on Dec. 1. The Jays split the varsity games with the girls falling in their game 20-29 and the boys winning big in their game, 78-44. The girls' game started well as the Lady... [More]

Sophomore Brea Dawson scored 12 of her game-high 18 points in the fourth quarter, paving the way for Jayhawk Linn's girls to claim a 43-38 season-opening win at Cass-Midway, Mo., Friday night. Despite a game-high 23 points from junior Braeden Nation, the 'Hawk boys... [More]
More Sports
NEWS

During the weekly meeting of the Linn County Commissioners on Monday, Dec. 4, Rich Morrell and Charlene Sims with the Linn County Planning Commission each addressed the commissioners in regard to the moratorium and the request to create a committee to work on Section 14. ... [More]

Linn County Clerk David Lamb presented the commissioners with documents to be signed by the commission chair during their weekly meeting on Monday, Dec. 4, in regard to the bond sale last Wednesday to refinance a portion of the original bond for the jail project. Lamb... [More]

Linn County Public Works Director Shaun West noted he had reached out to the fiber installers south of the power plant in reference to questions the commissioners had concerning undone road work. West stated he learned the connection comes into the project from the west and moves... [More]
More News
COMMUNITY

USD 344 will host the first ever Blu Jay Winter Clothing Exchange on Saturday, Dec. 9 from 8 a.m. to 4 p.m. at the Ernie Price Annex located at 309 W. 13th Street. The clothing exchange is open to anyone in need of warm winter clothes, not just USD 344 families. Those who... [More]

Raymond and Melayna Johnson, who own and operate Maynerd's Food Truck and 517 Vintage in Mound City, have begun an initiative to help provide food for Linn County families in need. "We just know that so many are struggling right now and if everyone would give just... [More]

Southeast Kansas Mental Health Centers Mental Health First Aid Department has partnered with the Veteran Access Support Team (VAST) to support Veterans in southeast Kansas. Their goal is to create 100 backpacks filled with essential items that will be distributed among the veterans... [More]
More Community