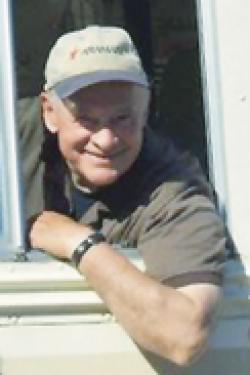 Bob Vaughn, 68, died unexpectedly at his home Oct. 29, 2014 in Fairbanks, Alaska. He was born Dec. 26, 1944, in Prescott Kan. to Raymond and Mildred Vaughn. Growing up in southeast Kansas, he enjoyed riding horses, hunting, fishing, and working on the family farm.
He graduated from Prescott High School in 1962, then attended Fort Scott Community College, Emporia State University, and the University of Alaska. His areas of study were Biology and Organic Chemistry. He was awarded an all-expenses-paid scholarship to study the growing habitat of moss in Point Barrow, Alaska in the summer of 1970. He fell in love with Alaska that summer and returned the following spring to live in Fairbanks, where he called home.
He enjoyed the life of a bachelor living in his cabin out in the woods, reading and working on his books. His professional life was as varied as his interests. He fought forest fires in California in the 1960s and worked as a mechanic in his uncle's shop. In Fairbanks, he worked tracking satellites for the European Space Agency and later Gilmore Creek. He was a commercial fisherman in Cordova and worked for the Crisis Line, counseling people in crisis. In his later years, he worked for Aramark as a tour bus driver in Denali National Park which gave him an opportunity to show off Alaska's wildlife. He volunteered at the literacy council, the native mission, and was active in the McGrath Baptist Church of Fairbanks. He enjoyed hiking on his days off with his younger coworkers. Getting up at 5 a.m., he would arrive at the Hamme pool in Fairbanks and swim a mile every day, gaining the nickname "Backstroke Bob" from his friends. With these same friends, he often would enjoy playing practical jokes, talking about his work at Denali, his grandchildren, and what book he was working on at the time. He never knew a stranger, often spending hours visiting with friends, family and coworkers. He was an avid reader, history buff, and writer. He loved animals especially dogs, but cats found him particularly interesting.
He was married briefly to Mary Ann (Leamon) Childers. He was preceded in death by his parents; one brother, Eugene; two great-nephews, Mathew Cubley and Levi Watt; and great-niece Hailey Watt. He is survived by brothers, Glenn and his wife Jean Vaughn of Prescott, Kan. and Jimmy and Wanda Vaughn of Urich, Mo.; sister, Arlene and husband Bob Seitz, of Chugiak Alaska; several nieces and nephews; his daughter, Michele Lyon and husband Kevin; and his grandsons, Daniel, Jarrett and Andrew of Fort Scott.
Friends and family are invited to a memorial service at Prescott United Methodist Church at 2 p.m., Dec. 26, 2014.
A memorial service was previously held at the Independent Baptist Church in Anchorage Nov. 9, 2014, with burial Nov. 10, 2014 at His Servants Haven of Rest Cemetery on the grounds of the Independent Baptist Church youth camp in Palmer, Alaska. Services were conducted by Pastor Stan Roach.
OBITUARIES

Linn County News Published Aug. 10, 2022 Merle A. Beckman, age 86, Mound City, Kan., passed away Wednesday, Aug. 3, 2022. He was born in rural La Cygne, Kan., on Oct. 5, 1935, the son of Charles and Neeva (Neal) Beckman. He graduated from La Cygne Rural High School... [More]

Linn County News Published Aug. 10, 2022 Mary Jo Spencer, age 83, of Mound City, Kan., passed away on Aug. 6, 2022, at Louisburg Healthcare, Louisburg, Kan. She was born Nov. 13, 1938, in Terrell, Texas, to James Downing and Claudie Flower. Mary Jo moved to Lubbock, Texas,... [More]

Linn County News Published Aug. 10, 2022 Larry Sumners, age 68, of Centerville, Kan., passed away on Monday, Aug. 1, 2022, at the Overland Park Regional Medical Center in Overland Park, Kan. Laurence A. Sumners was born on Aug. 16, 1953, at McPherson,... [More]
More Obituaries
View All Obituaries
NEWS

What was a dream a year ago has come to fruition with a ribbon cutting and open house scheduled for Friday, Aug. 12 at 10 a.m. The Southeastern Technical Academy for Rural Students (STARS) is now a reality located in the former Cox Motor Company building at Laurel and 17th Streets... [More]

With the ribbon cutting and open house of the new STARS Technical Academy in Pleasanton slated for Friday, Aug. 12, the staff and instructors at the school opened up recently about their roles and what the program means to them. Phil Mitchell, who will be teaching Construction... [More]

After sending the Linn County Commissioners an email explaining county real estate compliance with state values, the commissioners visited with Linn County Appraiser Kathy Bridges Monday. After initial conversation on the 2021 final ratio study concerning commercial and residential... [More]
More News
SPORTS

The Linn County Fair and Rodeo started this past week with the traditional demolition derby. There were two nights of demo derby action as team derby, modified and figure eight races took place on Aug. 5 while the compact, semi-modified and bone stock took place on the evening... [More]

Linn County has a new competitive softball team, Total Effect Softball, which will be based out of Mound City. Jayhawk-Linn head softball coach Kris Holt started the team and will be the head coach of Total Effect. Holt had multiple reasons on why he wanted to start a competitive... [More]
More Sports

OBITUARIES POLICY
• May be mailed, e-mailed, faxed or hand delivered.
• Must be received by 9 a.m. on Tuesday morning in order to appear in that week's edition.
• Full obituaries submitted by individuals are required to be paid in advance.
• Obituaries submitted by funeral homes will be billed to the funeral home.
• Cost: $30 for 300 words or less. Each additional word over 300, 10¢. Photograph $5.
Call Barbara at 913-352-6235 or e-mail linncountynewsreporter@gmail.com