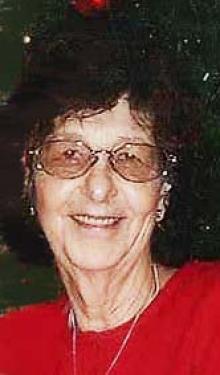 Carol Lea Hoaglan, age 75, of Kansas City, Mo., formerly of Gardner, Kan., passed away in the early morning hours of Aug. 13, 2016, at her home.
Carol Lea was born Jan. 25, 1941, in Parker, Kan. She was the second of seven children born to Harold Eugene and Ruth (Bledsoe) McDougal Sr.
As a child, during her grade school years, her family moved several times, living in places like Blue Mound, Mound City, Parker and Lane. The family then settled in Olathe in the early 1950s where she attended high school.
In June 1958, Carol Lea married her first husband, who was in the military and they moved to Georgia for a short time. The couple then moved back to Kansas, settling in Olathe where they had a daughter Gail Ann. After the marriage ended she worked a few jobs, one of them being at Sunflower ammunition plant.
Carol Lea remarried in 1967. Her second husband was also in the military. The small family of three first moved to Okinawa. After four years the family was then transferred to Minnesota for a few months, where her second child Timothy Marvin was born in Northfield. The family of four was then transferred to Alaska where they became a family of five, when Tabatha June "Abby" was born at Elmendorf Air Force medical facility. While recuperating in the hospital, Carol Lea was diagnosed with breast cancer. After having a radical mastectomy to remove all of the cancer she became a cancer survivor. The family of five was then transferred to Texas. After a year and a half they were transferred back to Alaska for two and a half years, then on to Washington for a year and a half. After the marriage ended Carol returned to Olathe as a single mother to raise her three children.
She worked in the manufacturing industry to support her growing children until she retired in 2004 and moved to Kansas City, Mo., with her son. Her hobbies included crocheting, sewing, making jewelry, researching her family's genealogy and buying that winning lottery ticket! But the thing she enjoyed most was searching for treasures at garage sales, flea markets and antique shops. A passion she shared with her children and grandchildren. Her grandkids especially loved going with their grandma when they were little to help find the treasure. Her other favorite past time was finding beautiful rocks, especially the time when she went on a four-state rock hounding trip with her eldest daughter, Gail, which included a visit to her younger daughter, Abby, in Oregon.
Carol Lea was preceded in death by her parents and sisters Marilda Anne "Sis" Howard and Barbara June Harris.
Survived by children Gail Ann (Steve) Foster of Moline, Kan., Timothy Marvin and Paula Hoaglan of Kansas City, Mo., and Tabitha June "Abby" Meyer of Bend, Ore.; brothers Harold E. "Gene" (Mary) McDougal Jr. of DeSoto, Kan., Randolph "Randy" McDougal of Gardner, Kan. and Jeffrey W. "Jeff" McDougal of Olathe, Kan.; one sister Bonnita "Bonnie" Lay of Gardner, Kan.; seven grandchildren Amanda (Jason) McKenney, Kalab Broden, Kasey Borden, Klayton (Chandler) Borden, Ryan (Niki) Hoaglan, Matthew Hoaglan and Andrew Hoaglan; and three great-grandchildren Blaize, Ace and Wyatt; along with other family and friends.
Graveside service: 2 p.m., Thursday, Aug. 18, 2016, at Quaker Cemetery, Lane, Kan. Memorials are to the Miami County Cancer Foundation, send in c/o Eddy-Birchard Funeral Home, P.O. Box 430, Osawatomie, KS 66064.
OBITUARIES

Linn County News Published March 29, 2023 Debra Dale Wolf, age 68, Linn Valley, Kan., passed away Wednesday, March 22, 2023. Graveside funeral service will be held 2 p.m. Wednesday, March 29, 2023, at the Trading Post Cemetery. Memorial contributions... [More]

Linn County News Published March 29, 2023 Jessica Erin Cox, beloved daughter, and granddaughter, passed away at her home in Lawrence, Kan., March 20, 2023. Jessica was born Nov. 15, 1979, at the University of Kansas Medical Center. She was a graduate of Shawnee... [More]

Linn County News Published March 29, 2023 Larry Ray Oliver, age 69, Pleasanton, Kan., passed away on Wednesday, March 22, 2023. Funeral service will be at 6 p.m. on Saturday, March 25, 2023, at the Schneider Funeral Home and Crematory, Pleasanton Chapel. Visitation... [More]
More Obituaries
View All Obituaries
NEWS

During the latter part of the meeting on Monday, March 27, Linn County Commissioners discussed the walk-through on Wednesday, March 22 at the former Memaw's Kitchen located at 6th and Main Streets in Pleasanton. Economic Development Director Jessica Hightower read notes... [More]

"Positive ramifications" for the city Following a 15-minute legal session called by Linn Valley Mayor Cindy Smith at their Monday meeting, the mayor announced a preliminary agreement with Rural Water District #1 for water rights in Linn Valley. Smith... [More]

Possible April vote would make nepotism additions A vote may occur next month on broadening a Unified School District 362 nepotism policy as urged by its superintendent. At the monthly board of education meeting earlier this month, Rex Bollinger, Ed.D., laid out... [More]
More News
SPORTS

The Prairie View Buffalos competed in the State Powerlifting meet on March 25. The meet had 285 total lifters and the Buffalos took 16 boys and nine girls to the event. Prairie View had two lifters place second in their respective weight divisions at the meet. Rhett Jackman,... [More]

The Jayhawk baseball and softball teams opened their 2023 season at home against Southeast Cherokee on March 27. Both softball and baseball teams played a double header and the boys split while the girls swept the Lancers. Baseball won their first game 3-0 but lost the second... [More]
More Sports

OBITUARIES POLICY
• May be mailed, e-mailed, faxed or hand delivered.
• Must be received by 9 a.m. on Tuesday morning in order to appear in that week's edition.
• Full obituaries submitted by individuals are required to be paid in advance.
• Obituaries submitted by funeral homes will be billed to the funeral home.
• Cost: $30 for 300 words or less. Each additional word over 300, 10¢. Photograph $5.
Call Barbara at 913-352-6235 or e-mail linncountynewsreporter@gmail.com