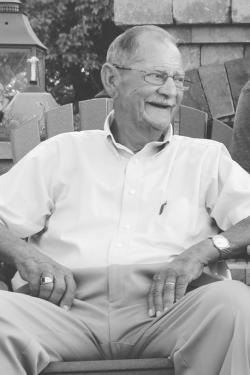 Cecil W. Blevins of La Cygne, Kan., age 80, passed away peacefully at his home on Thursday morning, Nov. 3, 2016, with his loving family by his side.
Cecil loved old country music and enjoyed spending hours listening to his massive album collection. He loved going to garage sales and was known for his sales four times a year. He looked forward to the Friday night auctions in Jaudon, Mo., and tried to never miss these.
He also loved traveling in his RV and looked forward to his annual trips with his brother and sister-in-law spending the winter months in Texas and making spring trips to Colorado. He was proud to have conquered the Alaskan Highway during his summer-long trip to Alaska in the RV several years back.
His biggest pleasure in life was his family. His loving wife, Clariece, was the center of his world. His children, grandchildren and great-grandchildren were his pride and joy. He was the family storyteller and jokester. Cecil always looked forward to his annual family reunion (a tradition he started) each October in Oneida, Tenn. He was the center of attention and life of the family gathering each year. His love for and commitment to family was so strong that he had not missed a reunion in more than 25 years. Everywhere Cecil went people were drawn to him. He loved investing in people.
Cecil celebrated his relationship with Christ and was baptized in October 2016 in La Cygne.
Cecil worked hard all his life beginning at the age of 13 hauling lumber out of the Tennessee mountains where he was born and raised. He moved to Kansas City, Kan., in 1958 where he worked and owned several gas stations. In the early 1970s, Cecil founded International Flameproofing and spent the next 35-plus years traveling a 200-mile radius cleaning and flame-proofing restaurant exhaust systems. At the age of 70, Cecil retired for a few years before taking the job of mowing the Oaklawn Cemetery. He took great pride in keeping the local cemetery looking beautiful and continued his work there through the final days of his life.
Cecil is survived by his loving wife, Clariece, of 54 years; and his four children, Teresa Clay and husband, Don, of Cleveland, Mo., Beverly Kimzey and husband, Jody, of Fontana, Kan., Robert (Bob) Blevins and wife, Chrissy, of Kansas City, Kan., and Alice Moore and husband, Chris, of McLouth, Kan. He will be dearly missed by his 10 grandchildren, 12 great-grandchildren, two brothers and three sisters and many cousins.
Cecil rests in peace with his mother, father, brother and our Lord Jesus Christ.
Visitation was held on Monday, Nov. 7, at Calvary Baptist Church in La Cygne. Funeral service immediately followed. Burial was at Oaklawn Cemetery in La Cygne.
In lieu of flowers, the family suggests donations to ABW through Calvary Baptist Church, Linn County Care to Share program or La Cygne Christmas Fund for Children. Online condolences for the family may be left at www.schneiderfunerals.com. Arrangements: Schneider Funeral Home and Crematory, La Cygne Chapel.
OBITUARIES

Published in the Linn County News Karen Joyce Hughes Kidwell, 73, of Linn Valley, Kan. passed away September 10th at her home. She was born Sept. 9, 1948 in Kansas City, Kan. She was a graduate of Shawnee Mission North High School, Bethany Hospital... [More]

Linn County News Published Sept. 15, 2021 Leota Vondell Burris, age 85, Mound City, Kan., passed away on Thursday, Sept. 9, 2021. She was born in Marceline, Mo., on Aug. 30, 1936, the daughter of Thomas B. and Estel A. Watson Adams. She... [More]

Linn County News Published Sept. 15, 2021 Janet (Brown) Maschino, 64, of rural Pleasanton and Parsons, passed away peacefully at 3:13 a.m. Thursday, Sept. 9, 2021, at her daughter's home in Erie. Janet's story starts on March... [More]
More Obituaries
View All Obituaries
NEWS

By JACKIE TAYLOR Linn County News jackielcn@linncountynews.net Consumers beware as President Biden's $3.5 trillion spending package advances through Congress as much of the cost will come from new oversight on personal checking accounts. The oversight... [More]

Former Cox Motor Co. building, potential site for school By JACKIE TAYLOR Linn County News jackielcn@linncountynews.net Entering executive session for data relating to partnerships, the Pleasanton City Council spent 50 minutes discussing a partnership... [More]

A hearing at Linn County District Court for 2019-CR-000210, State of Kansas versus Lonnie Shane Martin, was held Friday afternoon for a no go preliminary where Assistant County Attorney Justin Meeks informed District Judge Terri Johnson that the state was withdrawing... [More]
More News
SPORTS

It's been a bumpy start to the 2021 season for Jayhawk-Linn's football team. A roster with 19 underclassmen (freshmen and sophomores) among its 32 members missed both their Aug. 27 home jamboree with Pleasanton and Erie because of COVID-19 and its scheduled... [More]

BY ADAM HOLT LINN COUNTY NEWS holtadam82@yahoo.com The Prairie View cross country teams traveled to Fort Scott on Sept. 9 to compete in the Fort Scott Invitational. The Buffalos again performed well as the varsity girls won as a team. Head Coach Marcie Caldwell... [More]
More Sports
OBITUARIES POLICY
• May be mailed, e-mailed, faxed or hand delivered.
• Must be received by 9 a.m. on Tuesday morning in order to appear in that week's edition.
• Full obituaries submitted by individuals are required to be paid in advance.
• Obituaries submitted by funeral homes will be billed to the funeral home.
• Cost: $30 for 300 words or less. Each additional word over 300, 10¢. Photograph $5.
Call Barbara at 913-352-6235 or e-mail reporter@linncountynews.net