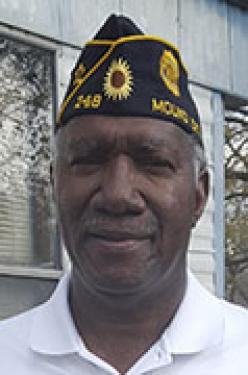 Linn County News
Published March 25, 2020
Charles Edward Pollard was born on Nov. 15, 1954, in Tuskegee, Ala., to the late Charlie and Sarah Pollard.
Charles spent his childhood in Tuskegee, Ala., and attended Chehaw School and Washington Public School. He graduated from Tuskegee Institute High School in 1973 and immediately went to work for Southern Bell Telephone Company.
In 1983, Charles enlisted in the United States Army and earned his jump wings at the 82nd Airborne Unit in Fort Bragg, N.C. As a Field Comsec Equipment Operator he served in several operations, such as Grenada, Honduras, and Desert Storm. After an honorable discharge from the Army, Charles spent over 25 years in the telephone industry working for various companies, including Sprint and Google Fiber. After retiring from Google Fiber in 2016, Charles started his own business called Pollard's Handyman, where he worked until his untimely passing on March 17, 2020.
Charles, or "Butch" as he was known to many of his family and friends, had an infectious personality and a laugh that would fill up a room. He had a passionate love of music and spent many years as a musician and deejay. He was a diehard Chiefs fan who never missed a game and was known around the community as a "fix-it" man. Charles genuinely loved to help anyone in need and would often make time to do so. He was loved by many and a friend to everyone and will be dearly missed.
Charles is survived by his loving wife of 30 years, Anna Pollard. He had six daughters: Pamela Pollard Tuck (Keith) of Montgomery, Ala., Felicia Eddings Canady of Tallassee, Ala., Laqwanda Eddings Haygood (Daron) of Wetumpka, Ala., Elizabeth Pollard McBee (Ross) of Belton, Mo., Sarah Pollard of Fresno, Calif., Mary Pollard Keller (James) of Albuquerque, N.M.; two sons, Charles Christopher Pollard of Montgomery, Ala., Kevin Charles Drayton of Killeen, Texas; three brothers, Tony Pollard of Mound City, Kan., Robbin Pollard of Mount Airy, Ga. and Gerald Pollard (Audrey) of Tuskegee, Ala.; five grandchildren, and a host of nieces, nephews and cousins, who loved him dearly.
OBITUARIES

Linn County News Published September 20, 2023 Daniel Glen Needham took the long way home on Sept. 6, 2023, after fighting a long battle against cancer. We are sure he had to stop along the way and check out all the new fishing holes and visit with everyone he met... [More]

Linn County News Published September 20, 2023 Phyllis Irene Best, age 75, Grain Valley, Mo., passed away Thursday, Sept. 14, 2023. A graveside funeral service will be held 11 a.m. Wednesday, Sept. 20, 2023, at the Curry Cemetery. Visitation will be... [More]

Linn County News Published September 20, 2023 Jean Frances Patterson (nee Ward) 86, of St. Louis, Mo., passed away Monday Sept. 11, 2023 in Mercy Hospital. She was a resident of St. Louis for 60 years but remained loyal to her native Kansas where she was born... [More]
More Obituaries
View All Obituaries
NEWS

A full room greeted seven of nine members of the Linn County Planning and Zoning Commission last Tuesday at their normally scheduled meeting. The crowd attended in response to apparent contracts being circulated through locations in the county asking landowners to lease property... [More]

Field questions from local residents on regulations Following an executive session for legal matters, County Counselor Gary Thompson explained to the commissioners and those attending the meeting that he had reached out to three different attorneys who have extensive... [More]

Parker city leaders have given its police force the go-ahead to purchase two body camera/taser systems. The 3-0 vote, with Kandice Higgins and Jerry Summers not present, came during last Thursday's monthly council meeting but only after city leaders agreed that this year's... [More]
More News
SPORTS

The Jayhawk Linn football team is now 3-0 after a 56-0 thrashing of Uniontown on the evening of Sept. 15. It was all Jayhawk in their home opener as the Hawks dominated in all three phases of the game. The first offensive play from scrimmage resulted in points as Jayhawk quarterback... [More]

The Pleasanton volleyball team was certainly busy this past week as the team hosted Rich Hill on Sept. 11, hosted a Three Rivers League quad on Sept. 12, and traveled to Humboldt for a tournament on Sept. 16. The Lady Jays played a best out of five matchup against Rich Hill... [More]
More Sports
OBITUARIES POLICY
• May be mailed, e-mailed, faxed or hand delivered.
• Must be received by 9 a.m. on Tuesday morning in order to appear in that week's edition.
• Obituaries submitted by funeral homes will be billed to the funeral home.
• Full obituaries submitted by individuals are required to be paid in advance.
• Cost: $40 for 300 words or less. Each additional word over 300, 10¢. Photograph $5.
Call Barbara at 913-352-6235 or e-mail linncountynewsreporter@gmail.com