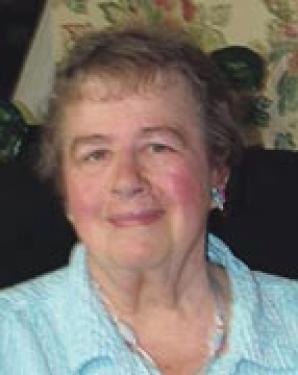 Linn County News
Published Aug. 18, 2021
Our beloved Charline Louise Klopfenstein left us far too soon. Peacefully, on Monday, Aug. 9, 2021, she went to be with our Lord. Our lives are richer because she was a part of us; she will be greatly missed.
Charline was born June 19, 1936, to Charles and Aline Eichelberger in Pueblo, Colo. She married Willis Eugene Klopfenstein on May 25, 1958. Will died in an accident in 1984; Charline never stopped longing for him. Now they will always be together.
Starting at a young age, Charline worked in her family's greenhouse, learning the business of raising and marketing plants and her flower arrangements. Later she joined the U.S. Treasury Department where she was employed in both Denver and Kansas City.
When she and Will moved back to his hometown, they made their home on the Klopfenstein farm northeast of Pleasanton. Their house burnt one night when they were at a school basketball game. Charline always spoke fondly of how her adopted community helped them in the dark days following that tragedy. They made their new home in a building Will had erected on the property; Charline continued to live there with all her fond memories her entire life until just this past May.
She gave up working outside the home when she and Will started their family. She continued to give to the Pleasanton community as a leader of the local Girl Scout troop and as a member of the First Christian Church. Along with Stephen Johnson and Kenton Bell, she played a major role in designing and installing the Civil War scenes that are still on display at the Linn County Historical Museum.
She joined the staff of the Pleasanton School District in the late 1970s as assistant librarian in both the junior high/high school and the elementary school. An excellent listener and a kind friend, she enriched many lives, both adults and children.
Her biggest regret was that she had no formal education beyond the eighth grade; as an adult she earned her GED. Anyone who knew her, however, would attest that she was far smarter and more talented than any degree could have made her. Far too modest to admit it, Charline was a gifted artist who never hesitated to lend her skills to anyone who needed them. Her self-learned knowledge of nature and her willingness to share that knowledge drew many people to seek her help. Her story of raising and taming a pair of orphaned possum joeys was just one example of the diverse relationships she had with wild and domesticated animals; she taught many Girl Scouts the joy of making hollyhock ladies and other magical nature projects. Her love of reading led her from Smithsonian Magazine to most of the children's books in the school library to news feeds on the computer. Life never left Charline behind.
Now she is with her parents and her husband Will. Left to give testimony of the impact she made on our lives are daughters Karen Reynolds (Mark) of Ottawa, Kan., and Jeni Klopfenstein (Rob) of Joplin, Mo.; sisters Marguerite Sieggen of Golden, Colo., Marie Eichelberger of Pueblo, Colo., and Frances Marshall of Westerville, Ohio; grandchildren Stormi Potts (Wyatt), Hunter Potts (Taylor), Hannah Monholland (Berry), Cameron Reynolds (Brooklyn), Taylor Reynolds, and Brandon Reynolds; niece Fawn Brunn (Carrie); nephew Bowen Marshall (Tyler); cousin Michael Beck; and many more family and friends who are better people for having known Charline.
We promised you we would be brave like you. But we are broken. We know you are no longer suffering from the pain in your body or the frustration of what your life had become; we are crying for ourselves, how lost we will be without you. Be at peace, Mama; we'll see you again one day.
Donations may be made in remembrance of Charline to Angels Care Home Health, 318 S. Main, Ottawa, Kan. 66067.
OBITUARIES

Linn County News Published Nov. 24, 2021 Kristina Diane Roth, age 43, of Hesston, Kan., entered her heavenly home on Sunday, Nov. 21, 2021. Kris was born March 11, 1978, the daughter of Robert (Bob) and Diane Burnett in Garnett, Kan., and lived with her family in... [More]

Linn County News Published Nov. 24, 2021 Neta Lee Leonard, age 69, of Pleasanton, Kan., passed away Friday, Nov. 19, 2021. She was born on July 2, 1952, at Lincoln, Kan., the daughter of Dee and Delores Hall Montgomery. Neta was a nurse over the years. She enjoyed doing genealogy,... [More]

Linn County News Published Nov. 24, 2021 George Herbert Eaton, age 83, La Cygne, Kan., passed away Thursday, Nov. 18, 2021. He was born on April 18, 1938, in El Reno, Okla. He graduated from El Reno High School and attended Johnson County Community College obtaining certification... [More]
More Obituaries
View All Obituaries
NEWS

City clerk asks in preparation for 2022 mobile home park licenses Broaching whether to contact Linn County or Linn Valley about building-inspector help for upcoming La Cygne mobile home park license renewals dominated the city clerk's report at the Nov. 17 La... [More]

Defense expects to file motion opposing Dec. 23 Zoom setting A "no return of service" on a subpoena to an alleged crime victim prompted prosecution to request a continuance for a scheduled evidentiary preliminary hearing. At a scheduled half-day go hearing... [More]

Deputy Tanner Ogden joined on a chase initiated by the Garnett Police Department after it crossed county lines on Wednesday, Nov. 24, on the western edge of Linn County. Ogden followed the vehicle, a white van being driven by Daniel R. Evans, on 2200 Road past Iliff then the... [More]
More News
SPORTS

The 2021 high school football season for the three Linn County schools has concluded, and so it is time to announce the 2021 All County football team. This season was not as successful for the teams as it has been in the past. Both Prairie View and Pleasanton were eliminated... [More]

The 2021 high school football season has concluded, and the three Linn County high school football teams had multiple players make their respective All League football teams. The Prairie View Buffalos had multiple players on this year's All-Pioneer League team. Colton... [More]
More Sports

OBITUARIES POLICY
• May be mailed, e-mailed, faxed or hand delivered.
• Must be received by 9 a.m. on Tuesday morning in order to appear in that week's edition.
• Full obituaries submitted by individuals are required to be paid in advance.
• Obituaries submitted by funeral homes will be billed to the funeral home.
• Cost: $30 for 300 words or less. Each additional word over 300, 10¢. Photograph $5.
Call Barbara at 913-352-6235 or e-mail reporter@linncountynews.net