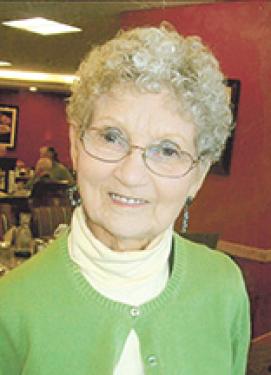 Linn County News
Published Aug. 31, 2022
Clara B. Swann Shaull, age 89, formerly of La Cygne, Kan., passed away Aug. 24, 2022, in Topeka with her daughters at her side.
She was born April 19, 1933, near Wheeling, Mo., the daughter of Carl and Evelyn Cleo Anglen Swann. Clara spent her early years in rural Missouri and Kansas City. She attended Northeast High School until her senior year when the family moved to La Cygne where she graduated with the class of 1951. On April 28, 1951, she married Scotty Shaull in Eureka Springs, Ark.
At age 19, while Scotty served in the Korean Conflict, Clara worked as a secretary in Kansas City and purchased the couple's first piece of farmland. She was a true business partner in the Shaull's farming operation that spanned more than six decades. In addition to her role in the family business, Clara worked several years at Miami County Hospital retiring in 1998.
Clara claimed Jesus as her Lord and Savior, honored His teachings, and spoke of His love and promises to others, especially her family. A devoted wife and mother, she considered family to be God's precious gift and responsibility. She lovingly cared for her parents and sisters throughout their lives; and, most importantly, she cherished and nurtured her two daughters and their children. Clara set a family standard for having a strong work ethic, success in school, generosity, and delight in the simple things of life. She marveled at God's creation, especially animals, and always had a special kitty to love and spoil. Cherished in return, her family will always remember her faith, love, devotion, wit, intelligence, passion for watching her favorite sports teams play, and (of course) her pies and rolls.
Her husband; parents; brothers Vincent, Billy, Ernest, and Paul Swann; and sisters Yvonne Walz and Maxine Ross preceded her in death. Clara is survived by daughters Karen Good (Richard) and Patti Jamison; four grandchildren, Jeffrey Elliott (Josie), Andria Zimmerman (Lance), John Scott Jamison and Laura Jamison; 12 great-grandchildren; eight nieces and nephews; and many friends in the La Cygne and Topeka communities.
Arrangements under the direction of Penwell-Gabel Funeral Home of Topeka, Kan. Visitation will take place Saturday, Aug. 27, at 9 a.m. at Northland Christian Church, 3102 NW Topeka Blvd., in Topeka, to be immediately followed by a Celebration of Life at 10 a.m. Graveside services will follow at 3 p.m. at Oaklawn Cemetery, La Cygne, Kan. Memorial contributions are suggested to Northland Christian Church of Topeka.
OBITUARIES

Linn County News Published Sept. 28, 2022 James Randel "Randy" Leach, age 58, Mound City, Kan., passed away Sunday, Sept. 25, 2022. He was born in Iola, Kan., on Jan. 15, 1964, the son of James Paul and Sharon Leigh(Henson) Leach. He attended grade school... [More]

Linn County News Published Sept. 28, 2022 Kristina Dawn Weers-Colin, 42, of Parker, Kan., passed away Thursday, Sept. 22, 2022, at Advent Health Medical Center, Shawnee, Kan. Graveside services will be held at 11 a.m., Thursday, Sept. 29, 2022, at Bucyrus Cemetery, Bucyrus,... [More]

Linn County News Published Sept. 28, 2022 Norma Jane Johnson Surbaugh, age 80, of La Cygne, Kan., passed away on Monday, Sept., 26, 2022, in Louisburg, Kan. She was born the only child of Norman Everett and Alberta Frances Reed Johnson on Jan. 19, 1942, at the Trinity... [More]
More Obituaries
View All Obituaries
NEWS

General mid-term election, ballot set for Nov. 8 Advance voting will begin Oct. 25 and precinct polling locations will be open from 7 a.m-7 p.m. Nov. 8 for this year's mid-term general election. Oct. 18 is the in-person, online, and postmark if by mail deadline... [More]

During their meeting on Oct. 3, the Mound City Council discussed several water bill issues. The lead discussion was the water bill at 619 Main. City Clerk Shelby Murray stated that the property owner had rented it out and the tenant had left a bill of almost $500 and the owner... [More]

UPDATE: The original number for Linn County Veterinary Clinic has been restored. The staff there thanks everyone for their patience. The phone number for Linn County Veterinary Clinic has been compromised and they are awaiting new service. In the meantime,... [More]
More News
SPORTS

After the Jays' first loss of the season to Olpe last week, the Jays got back on track with a dominant performance against Southeast Cherokee. Pleasanton hosted Southeast on Sept. 30 for their Homecoming and had zero problems with the Lancers as they won the... [More]

The Prairie View football team hosted Girard on Sept. 30 for a district game against a very good Girard team. The Buffalos were outmatched by the Trojans and lost the game 41-8. Girard established their dominance early with a 21 point first quarter. The Trojans scored on... [More]
More Sports

OBITUARIES POLICY
• May be mailed, e-mailed, faxed or hand delivered.
• Must be received by 9 a.m. on Tuesday morning in order to appear in that week's edition.
• Full obituaries submitted by individuals are required to be paid in advance.
• Obituaries submitted by funeral homes will be billed to the funeral home.
• Cost: $30 for 300 words or less. Each additional word over 300, 10¢. Photograph $5.
Call Barbara at 913-352-6235 or e-mail linncountynewsreporter@gmail.com