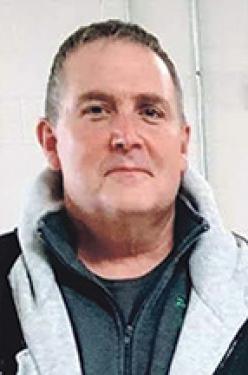 Linn County News
Published Jan. 26, 2022
Douglas Leonard Whitcraft, son of the late Donald Francis Sr. and Bernice Rose (Benson) Whitcraft, was born on Dec. 5, 1958, in Cleveland, Mo., and began his eternal journey with his Lord and Savior, Jesus Christ, on the evening of Sunday, Jan. 16, 2022, while at the Hospice House in Olathe, Kan., with his loving family by his side having attained the age of 63.
Doug attended Living Proof Church in Paola, Kan. He was passionate about the gospel of Christ and wanted everyone to come to know Jesus as their Savior but also their Lord – living their lives in a relationship with Him, not being religious. He believed in "letting the Spirit drive" – turning everything over to God and following Him unashamedly.
Doug and Susie met in third grade. They had an on again, off again relationship throughout high school until their senior year when it stuck. They both gave their lives to Christ and to each other and never looked back. They were married over 44 years and blessed with four amazing children whom they raised in the 100-plus-year-old home Susie's dad helped Doug to remodel.
Doug graduated from Cass Midway High School in 1977. While there he played football for the Midway Vikings where they had a perfect season his senior year going 13-0 and won MO 1-A championship. Doug was the season MVP.
He then attended Evangel University with a double major in social sciences and physical education and a concentration in Bible. He graduated with the honors of summa cum laude and Most Outstanding Physical Education graduate. He later completed his master's in education administration at Pittsburg University, needing just his dissertation to receive his doctorate.
Doug grew up in Freeman, Mo., living there until he married Susie Woodall on July 16, 1977. The happy couple then moved to Springfield for college. They later moved to Kansas City, Kan., where Doug taught at Piper High School for six years. He and Susie then moved to La Cygne, Kan., where he taught history and weight training. He also coached basketball and track for 30 years. During most of his teaching years you could find Doug on the football field coaching high school football, something he was also passionate about as he felt it taught so many life skills to young men as it did him. Doug also taught respect, trust, loyalty and excellence, pushing young adults to be the best at everything they sought out to achieve in life.
Doug leaves behind to cherish his memory, his beloved wife Susie Whitcraft of the home; four children, Krista and Shad Edwards of Dadeville, Mo., Jeriah and Amory Whitcraft of Spring Hill, Kan., Caleb and Molly Whitcraft of Paola, Kan., and Anna "Annie" and Adam Oursbourn of Richland, Mo.; and his five beloved grandchildren, the apple of their grandfather's eye, Alexa, Haylee, Hagan, Ashton and Jacob. Later in life, Doug was blessed with bonus children. Those include Karrie and Jared Oxford and Tylor and Katie Hermanson. Also surviving are three brothers, Donald Whitcraft of El Reno, Okla., David Whitcraft of Ashville, N.C., and Dean Whitcraft of Neosho, Mo.; two sisters, Donice Parker of Virginia Beach, Va., and Debbie Morrow of Virginia Beach, Va.; and several nieces, nephews and a host of other relatives and friends.
Doug will be missed beyond words and leaves a lasting legacy for those who knew and loved him. However, his final wishes are for you to have a personal relationship with God just as he did. Doug wants you to have the assurance as to where you will be spending eternity. God is in the forgiving and cleansing business. He wants you to come just as you are! Won't you seek out a pastor or someone today who can show you how to come into the presence of our living God?
In lieu of flowers, the family requests memorial contributions to be made in memory of Doug Whitcraft, to The Living Proof Church for The Good News Scholarship Fund, which may be given to or mailed directly to The Living Proof Church at 32401 Harmony Road, Paola, Kan. 66071.
OBITUARIES

Linn County News Published May 11, 2022 Rosamay Dixon, age 79, Pleasanton, Kan., passed away Monday May 9, 2022. She was born in Kansas City, Kan., on Dec. 9, 1942, the daughter of Robert Lee Miller and Myra Edith Sawyers. She worked in customer service in the retail sector... [More]

Linn County News Published May 11, 2022 Dale L. Castleberry 89 of Garnett, Kan., died April 30, 2022, at St. Luke's Hospital. Services were May 5-6 at Eddy-Birchard Funeral home in Osawatomie. Burial at Osawatomie Cemetery.

Linn County News Published May 4, 2022 Ian Craig Ginther, age 36, Blue Mound, Kan., passed away Tuesday, April 26, 2022. He was born March 1, 1986, in Kansas City, Mo., the son of Fred Ginther and Kimberly McGee. He was preceded in death by his paternal grandmother,... [More]
More Obituaries
View All Obituaries
NEWS

Monday, May 16, the Kansas Department of Transportation (KDOT) will close Somerset Road south of K-68. The closure is expected to take place around 9 a.m. Monday and remain in effect until June 1, weather permitting. A detour will be signed along K-68, Woodland... [More]

Ask that sheriff and superintendents meet and form a plan The Commissioner's meeting room was packed with approximately 40 people comprised of city mayors, council people from countywide and citizens concerned with one of four subjects discussed last week –... [More]

Pleasanton Fire Chief Rob Dent spoke to the council and said they have no available firefighters to shoot off fireworks July 2. His explanation, the same people have been doing it for 22 years and they're tired and want to spend the holiday with family around the barbecue.... [More]
More News
SPORTS

The Prairie View softball team played Osawatomie and Girard this past week. They hosted Osawatomie in a league doubleheader on May 3 and traveled to Girard for a single game on May 6. The Lady Buffs swept Osawatomie, 16-2 and 10-0, and won the single game against Girard, 9-7.... [More]

The Jayhawk track team traveled to Northeast Arma on May 6 to compete in the Northeast Arma Invitational. The meet was originally scheduled for May 5 but was moved to May 6 due to weather. The Hawks did well at the meet as the girls placed second with 85 team points. The boys... [More]
More Sports

OBITUARIES POLICY
• May be mailed, e-mailed, faxed or hand delivered.
• Must be received by 9 a.m. on Tuesday morning in order to appear in that week's edition.
• Full obituaries submitted by individuals are required to be paid in advance.
• Obituaries submitted by funeral homes will be billed to the funeral home.
• Cost: $30 for 300 words or less. Each additional word over 300, 10¢. Photograph $5.
Call Barbara at 913-352-6235 or e-mail linncountynewsreporter@gmail.com