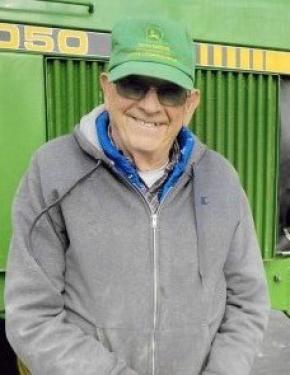 Linn County News
Published Feb. 2, 2022
David Kent Hammar, age 83, Pleasanton, Kan., passed away Thursday morning, Jan. 27, 2022. He was born in Storm Lake, Iowa, the youngest son of Rev. William Paul Hammar and Hildur Marie Johnson Hammar. David graduated from Cambridge High School, Cambridge, Minn., in 1956 and went on to serve his country in the U.S. Navy Seabees. David married Leone Reck on Sept. 2, 1960, and five daughters were born from their union.
Though David enjoyed John Deere tractors, trucks and farming, his life's priority was honoring Jesus Christ. David loved God first and foremost. He loved his wife and family. He loved God's word, the church and his church family. He sought to honor Jesus Christ and make Him known whether teaching Sunday school, making time for people, mowing pastures or hauling rock.
David loved his wife and family deeply and desired nothing more than that Christ be magnified in and through his family. David served the church faithfully serving in many capacities from deacon, Sunday school teacher, alternate preacher, nursing home minister and lawn service provider. Though David has left us, there is no question that he's in heaven now. Because as a young boy, he placed his faith in Jesus Christ's sacrifice for his eternal redemption, his eternal destiny was secure. He is more healthy, happy and free today than his best day on earth.
David's vocation was farming and driving truck. He owned and operated his own farm and his own trucking company and drove for Consolidated Freightways and Wal-Mart. He also owned and operated Mine Creek Custom Mowing until the time of his passing.
David was preceded in death by his parents, Rev. William Paul Hammar and Hildur Marie Johnson Hammar; and his brothers, Wendell Phillip Hammar and Jonathan Albert Hammar. He was also preceded in death by his infant daughter, Alice Ann Hammar, and grandson Matthew Caleb Romang.
He is survived by his wife of 61 years, Leone Reck Hammar. He is also survived by his four daughters and their families: Cindy Hammar Woody, her husband Bob Woody and their family, Elizabeth Woody Foster, Chad Foster, Alex Foster, Hayden Foster and Harley Foster, Robby Woody, Sarah Woody Herring, Laramie Herring, Eli Herring and Sophie Herring, all of Pleasanton; his daughter, Alisa Hammar Bonham, her husband Joel Bonham and their family, Kara Sheppard, Mike Sheppard, Olivia Kaminsky, Sawyer Kaminsky, Jennifer Adams, Chris Adams, Jackson Adams, Jameson Adams and Reilly Bonham, all of the Austin, Texas, area; his daughter, Donna Hammar Hicks, and her husband Don Hicks, Garden City, Mo., and their family, David Sowards, Rita Sowards, Peculiar, Mo., Melanie Sowards, Topeka, Kan., and Lacey Sowards, Mission, Kan.; and his daughter, Paula Hammar Romang, her husband Mark Romang and their son, Luke Romang, Liberty, Mo.
Because of David's profound respect for the Bible as God's word, the family requests memorial donations to First Baptist Church, Pleasanton, Kan., David Hammar Memorial Fund for Bearing Precious Seed Ministries. Bearing Precious Seed is a ministry committed to printing and distributing the Scriptures to unreached people around the world.
Visitation will be held from 2-4 p.m. Sunday, Feb. 6, 2022, at First Baptist Church, Pleasanton. Funeral services will be held at 11 a.m. Monday, Feb. 7, 2022, at First Baptist Church, 1356 Laurel St. Pleasanton.
OBITUARIES

Linn County News Published November 30, 2022 Mildred Irene Brandt, age 83, of Miami, Okla., formerly of Parker, Kan., passed away Nov. 21, 2022, at Integris Hospital, Miami, Okla. Irene was born Aug. 6, 1939, in Kansas, the daughter of Otis and Josephine (Ingram) Diehm.... [More]

Linn County News Published November 23, 2022 Christina A. Creighton Turner, 84, passed away Nov. 19, 2022. She was born Dec. 8, 1937 in Centerville, Kan., to Eva Shafer and Roy Bowman. On Dec. 18, 1955, she married John Creighton; they had four children together before his... [More]

Linn County News Published November 16, 2022 Edgar Wayne Moon, age 82 of La Cygne, Kan., passed away at his home on Saturday, Nov. 12, 2022. He was born the son of Chester and Evelyn (Van Liew) Moon on Aug. 14, 1940, in Lawrence, Kan. Edgar married Betty Talley on... [More]
More Obituaries
View All Obituaries
NEWS

Request options be brought to next meeting During the meeting on Monday, Nov. 28, Linn County Commissioners heard from Landfill Manager Al Doan regarding multiple issues with the Solid Waste Department ranging from the current contract with Arcadia for hauling from... [More]

The Pleasanton City Council reviewed and approved a new trespass policy as provided by City Attorney Burton Harding during the Nov. 28 meeting. The policy sets out parameters for what is considered to be trespassing, as well as appropriate reactions. It notes specifically... [More]

Market Street is a proposed path between La Cygne coal, Wolf Creek nuclear plants Representatives from a Kansas City engineering firm last week presented plans for an Evergy underground conduit-cased fiber optics cable preliminarily proposed to run through La Cygne.... [More]
More News
SPORTS

The 2022 high school football season concluded and it is time for the annual All Linn County football team. The team is decided by stats and watching the boys play. I also try to make the number of boys between schools as even as I can. This season was tough in deciding as... [More]

Ten days prior to their Linn County state border counterparts (including Valentine's Day opponent Pleasanton), Hume began another promising basketball season Nov. 22 with a split decision at Appleton City. The Lady Hornets outscored their hosts in the first three quarters,... [More]
More Sports

OBITUARIES POLICY
• May be mailed, e-mailed, faxed or hand delivered.
• Must be received by 9 a.m. on Tuesday morning in order to appear in that week's edition.
• Full obituaries submitted by individuals are required to be paid in advance.
• Obituaries submitted by funeral homes will be billed to the funeral home.
• Cost: $30 for 300 words or less. Each additional word over 300, 10¢. Photograph $5.
Call Barbara at 913-352-6235 or e-mail linncountynewsreporter@gmail.com