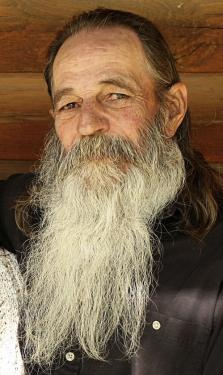 Donald R. (Don) Snow, 61 of Pleasanton, Kan., died at his home on Aug. 22, 2016, after a lengthy battle with lung disease. He was born March 3, 1955, in Fort Scott, Kan., to Robert L. and Dorothy Springer Snow.
He married Karen Wilcox on March 28, 1980 and they were the proud parents to two sons, Joshua and Kane. He was member of the RLDS Church. He started working for Linn County in 1985 and worked there for 27 years, he also worked for P&D Bonding until his health became too bad to continue.
Don had a great love for life and always had a story or joke to tell. He never met a stranger and most all people were "good people" in his eyes. He enjoyed riding motorcycles, spending time with family and friends, and most importantly, his two grandsons.
Don was preceded in death by his parents; his sister, Connie Bray; and a brother, Danny Snow.
He is survived by his wife Karen; his sons, Joshua R. Snow and wife Taylor, along with their two sons Sy and Jax of Pleasanton, and Kane R. Snow and wife Heather of Smith River, Calif.; a brother Robert E. Snow; and several nieces and nephews. In addition, he is also survived by his two best friends Paul Hamilton and Jerry Heiser, who were always there to help in any way they could.
Visitation will be held from 5- 7 p.m. Friday, Aug. 26, 2016, at the Schneider Funeral Home and Crematory, Pleasanton Chapel. The family suggests contributions to the Pleasanton Community Center. Online condolences for the family may be left at www.schneiderfunerals.com.
OBITUARIES

Linn County News Published April 21, 2021 Charles Robert Patterson, 79, Dwight, Kan., passed away April 16, 2021, at his residence. He was born March 25, 1942, in Amoret, Mo., the son of Claude and Phyllis (Mitchell) Patterson. He married JoAnn Norris on Feb.... [More]

Linn County News Published April 21, 2021 Floyd Arthur Holmes (or Arthur Floyd Holmes, it was never clear which) passed away peacefully at his residence at Grandwood Assisted Living in Grove, Okla., on Feb. 13, 2021, exactly one month after celebrating... [More]

Linn County News Published April 21, 2021 John William Woodburn, 76, died March 7, 2021 in Baxter Regional Medical Center in Mountain Home, Ark. Graveside services will be held on Saturday, April 24, at 2 p.m. at the Pleasanton Cemetery in Pleasanton, Kan.,... [More]
More Obituaries
View All Obituaries
NEWS

REVISED 4/22/2021 - The story of the murder of a Mound City woman, Dawn Rosso, began prior to her throat being cut on Saturday, June 20, 2020 – it actually began when her alleged murderer Dylan Parks-Maki broke her wrist and ribs; To see the full article, check out this... [More]

Following a 10-minute executive session for land acquisition on Monday, Pleasanton City Councilman Jake Mattingley said a representative of Family Dollar/Dollar Tree "chose us because of our location" to build a store. Mattingley said the corporation usually targets... [More]

Pleasanton City Administrator Teresa Whitaker introduced BG Consultants engineer Jason Hoskinson to the City Council Monday night, stating his job would be to "help the city out with the potential development project" and figure out where the engineering firm can... [More]
More News
SPORTS

The Pleasanton track team hosted their home track meet on April 13. The meet consisted of eight teams and the Jays placed fourth in both the boys and girls. The boys placed fourth with 79 points while the girls placed fourth with 58 points. Jayhawk-Linn won the meet for the... [More]

The Jayhawk-Linn track teams traveled to Pleasanton on April 13 to compete in the Pleasanton Invitational. Both the boys' and girls' teams did well as the boys won the meet with 124 points. The girls placed second with 96 points. Uniontown won the meet for... [More]
More Sports