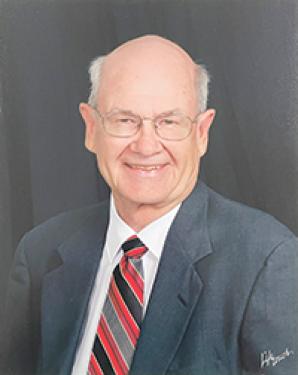 Linn County News
Published May 17, 2023
Donald Raymond Wier, age 82, of Denton, Texas, passed away on May 11, 2023. The
second child of Lloyd Elmer and Thelma Olan (Meek) Wier, Don was born on July 9, 1940, in Fort Scott, Kan., a farm kid who excelled in the classroom and on the
fields and courts of Blue Mound (Kansas) High School so much he earned a "This is
Your Life" pep rally as a senior (impressing a ninth grade girl in the stands enough
that she would remember it years later).
Don would midnight oil his way to a Bachelor's of Science at Kansas State University and a Master's of Science and a
Doctorate of Philosophy in soil chemistry at Iowa State University. In that time and the professional career that followed with what was then Phillips Petroleum Company
that farm kid, among many other things, would manage sizable teams of scientists and engineers and even sign his name to several patents (which the Internet preserves to
surprise grandchildren many years later). But Don himself would have told you that the smartest, if also the luckiest, thing he ever did was unite in marriage on July 23, 1966 to–you guessed it–that girl from the pep rally, Imogene Joy Ross.
Three sons – John, Dan, and Anthony – followed. He loved
his wife and family above everything, and reveled in the boys' endless sports
activities and academic pursuits. His country-strong physicality and athletic prowess would sneak out and wow those boys when he was fixing something in the shed or
working in his garden or playing a football game with them in the front yard. What really mattered beneath that brain and brawn, though, was a husband, father, grandfather, colleague, and boss who was wonderfully, unforgettably joyful, gentle, kind, and tender.
Don loved his Kansas City Royals (especially when George Brett hit that homer off
Goose Gossage in the '80 ALCS), his Kansas State Wildcats (not least when, after
years of trash talking from wayward sons, he was in the stands with his boys in Austin
when the 'Cats put it to John and Anthony's Longhorns), and later his Dallas
Cowboys.
A pulmonary embolism and a stroke in 1999 that put him in intensive care for a month should have killed him, but they did not stand a chance against that heart of his. He never got all his mobility back but he did join Kiwanis Morning Club, he became a Denton County Master Gardener, and most of all he lit up with pride and delight as grandchildren Margaret, Will, Caroline, Jake, Beckett, and Quincy came along to fill the post-stroke years with such joy and hope.
Don was preceded in death by his parents and his brother, Jimmie Allen Wier. He is
survived by his wife Imogene; their son John, his wife Yvette Carson, and children
Margaret and Will; their son Dan, his wife Hannah, and children Caroline and Jake;
their son Anthony, his wife Lori, and children Beckett and Quincy; and sisters-in-law
Deanna Wier and Irene Dodder.
Graveside funeral service will be at 11 a.m., Friday, May 19, at Sunny Slope Cemetery in Blue Mound, Kan. Visitation will be held from 5 to 7 p.m., Thursday, May 18, at the Schneider Funeral Home and Crematory, Mound City Chapel. Contributions are suggested to the Parkinson's Foundation.
OBITUARIES

Linn County News Published December 6, 2023 Robert W. VanWinkle, age 83, La Cygne, Kan., passed away Friday, Dec. 1, 2023. A service to celebrate Bob's life will be announced at a later date. Online condolences can be left at www.schneiderfunerals.com. ... [More]

Linn County News Published December 6, 2023 Jolene Moriconi, 87, of Lawrence, Kan., formerly of Paola, Kan., and Frontenac, Kan., passed away on Thursday, Nov. 30, 2023, at home surrounded by family. She was born May 24, 1936, in Frontenac, Kan., the daughter of... [More]

Linn County News Published Dec. 6, 2023 Perle David Patrick Jr., age 67, Osawatomie, Kan., passed away Sunday, Dec. 3, 2023. Funeral service will be held 2 p.m. Friday, Dec. 8, 2023, at the Schneider Funeral Home and Crematory, La Cygne Chapel. Burial... [More]
More Obituaries
View All Obituaries
NEWS

During the weekly meeting of the Linn County Commissioners on Monday, Dec. 4, Rich Morrell and Charlene Sims with the Linn County Planning Commission each addressed the commissioners in regard to the moratorium and the request to create a committee to work on Section 14. ... [More]

Linn County Clerk David Lamb presented the commissioners with documents to be signed by the commission chair during their weekly meeting on Monday, Dec. 4, in regard to the bond sale last Wednesday to refinance a portion of the original bond for the jail project. Lamb... [More]

Linn County Public Works Director Shaun West noted he had reached out to the fiber installers south of the power plant in reference to questions the commissioners had concerning undone road work. West stated he learned the connection comes into the project from the west and moves... [More]
More News
SPORTS

The Pleasanton basketball team hosted their home opener against Kansas City Christian (KCC) on Dec. 1. The Jays split the varsity games with the girls falling in their game 20-29 and the boys winning big in their game, 78-44. The girls' game started well as the Lady... [More]

Sophomore Brea Dawson scored 12 of her game-high 18 points in the fourth quarter, paving the way for Jayhawk Linn's girls to claim a 43-38 season-opening win at Cass-Midway, Mo., Friday night. Despite a game-high 23 points from junior Braeden Nation, the 'Hawk boys... [More]
More Sports
OBITUARIES POLICY
• May be mailed, e-mailed, faxed or hand delivered.
• Must be received by 9 a.m. on Tuesday morning in order to appear in that week's edition.
• Obituaries submitted by funeral homes will be billed to the funeral home.
• Full obituaries submitted by individuals are required to be paid in advance.
• Cost: $40 for 300 words or less. Each additional word over 300, 10¢. Photograph $5.
Call Barbara at 913-352-6235 or e-mail linncountynewsreporter@gmail.com
View Legals for Free