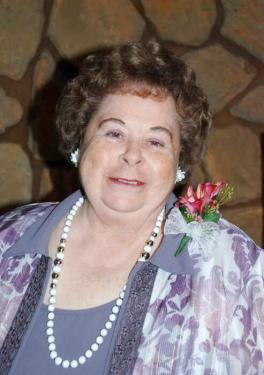 Linn County News
Published September 7, 2022
Ellen Mae Butts, age 85, of Kansas City, Mo., passed away Friday, Aug. 26, 2022, at her home at McCrite Plaza at Briarcliff surrounded by family.
She was born in Pleasanton, Kan., on Nov. 15, 1936 to Sam and Madge (Smith) Hayes. Ellen met her late husband, Richard, in high school and they married soon after on Sept. 25, 1954. In the early parts of their marriage, Ellen and Richard moved many places, including Milwaukee, Green Bay, and Minneapolis before settling in Kansas City, Mo.
In addition to being a homemaker, she was a clerk and librarian at Gracemor Elementary School. She was later a secretary for Automatic Sprinkler Company, where her husband was a salesman. Later in life, she and Richard retired to Cameron, Mo., where they built a new home and started their farm life. Ellen was a member of Harmony Vineyard Church, where she was baptized. Ellen had many interests: loving her grandchildren, fishing, and volunteering to help anyone in need. Ellen loved playing bingo and the excitement of chance found at casinos. In more recent years, she supported the endeavors of her children and grandchildren. Ellen habitually enjoyed watching the Price is Right and movies on the Hallmark Channel. She also loved her dogs. Ellen was a feisty woman not afraid to share what she thought. Ever a fighter, she beat cancer twice in her life.
She was preceded in death by her parents; her husband; her sister Dorothy Troth; brother Jack Hayes, and granddaughter Heather Thompson. She is survived by her son Jerrald Butts and wife Debbie; daughter Kathy James and husband Tom; and sister Margie Stroud. Ellen had five grandchildren; Laura, Phaedra, Kristina, Jerr, and Mackenzee; and six great-grandchildren; Ella, Dane, Anya, Caedmon, Aaron, and Ian.
Funeral services were held at 11 a.m. Tuesday, Aug. 30, 2022, at the Schneider Funeral Home and Crematory, Pleasanton Chapel with burial in the Brooklyn Cemetery, La Cygne, Kan. Visitation was held from 10 a.m. to service time at the Pleasanton Chapel.
Contributions are suggested to Ascend Hospice, 783 NE Anderson Land, Lee Summit, MO 64064.
Online condolences can be left www.schneiderfunerals.com.
OBITUARIES

Linn County News Published Sept. 28, 2022 James Randel "Randy" Leach, age 58, Mound City, Kan., passed away Sunday, Sept. 25, 2022. He was born in Iola, Kan., on Jan. 15, 1964, the son of James Paul and Sharon Leigh(Henson) Leach. He attended grade school... [More]

Linn County News Published Sept. 28, 2022 Kristina Dawn Weers-Colin, 42, of Parker, Kan., passed away Thursday, Sept. 22, 2022, at Advent Health Medical Center, Shawnee, Kan. Graveside services will be held at 11 a.m., Thursday, Sept. 29, 2022, at Bucyrus Cemetery, Bucyrus,... [More]

Linn County News Published Sept. 28, 2022 Norma Jane Johnson Surbaugh, age 80, of La Cygne, Kan., passed away on Monday, Sept., 26, 2022, in Louisburg, Kan. She was born the only child of Norman Everett and Alberta Frances Reed Johnson on Jan. 19, 1942, at the Trinity... [More]
More Obituaries
View All Obituaries
NEWS

General mid-term election, ballot set for Nov. 8 Advance voting will begin Oct. 25 and precinct polling locations will be open from 7 a.m-7 p.m. Nov. 8 for this year's mid-term general election. Oct. 18 is the in-person, online, and postmark if by mail deadline... [More]

During their meeting on Oct. 3, the Mound City Council discussed several water bill issues. The lead discussion was the water bill at 619 Main. City Clerk Shelby Murray stated that the property owner had rented it out and the tenant had left a bill of almost $500 and the owner... [More]

UPDATE: The original number for Linn County Veterinary Clinic has been restored. The staff there thanks everyone for their patience. The phone number for Linn County Veterinary Clinic has been compromised and they are awaiting new service. In the meantime,... [More]
More News
SPORTS

After the Jays' first loss of the season to Olpe last week, the Jays got back on track with a dominant performance against Southeast Cherokee. Pleasanton hosted Southeast on Sept. 30 for their Homecoming and had zero problems with the Lancers as they won the... [More]

The Prairie View football team hosted Girard on Sept. 30 for a district game against a very good Girard team. The Buffalos were outmatched by the Trojans and lost the game 41-8. Girard established their dominance early with a 21 point first quarter. The Trojans scored on... [More]
More Sports

OBITUARIES POLICY
• May be mailed, e-mailed, faxed or hand delivered.
• Must be received by 9 a.m. on Tuesday morning in order to appear in that week's edition.
• Full obituaries submitted by individuals are required to be paid in advance.
• Obituaries submitted by funeral homes will be billed to the funeral home.
• Cost: $30 for 300 words or less. Each additional word over 300, 10¢. Photograph $5.
Call Barbara at 913-352-6235 or e-mail linncountynewsreporter@gmail.com