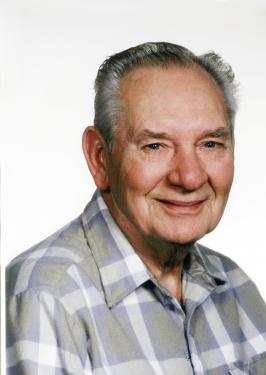 Elmer Henry Wayne passed away July 30, 2015, in Corpus Christi, Texas. He was born March 18, 1926, in Mound City, Kan.
He was preceded in death by his parents, Ina Cash Wayne and Ira Wayne; brothers, Walter Wayne, Harlan Wayne; and uncle, Sidney Wayne.
He served his country proudly during World War II; he was a tail gunner on a B-17 bomber, "Hikin' for Home." He was based in Kettering, England.
After returning to his parents' home after the war, Elmer tried different careers. He worked in Michigan for General Motors, in Washington as a student and forest ranger, and back in Kansas at the U.S. Post Office. During this time he met the love of his life, Mary Jo Forsyth. They married on Christmas Eve 1950. They lived in Pleasanton, Kan. Mary Jo began her teaching career.
They moved to Corpus Christi, Texas about 1952. Elmer began his 35-year career as a machinist with the Caller Times newspaper. Mary Jo taught at Carroll Lane Elementary, then at Calk Elementary until retiring in 1992.
Elmer was an avid outdoorsman; he and Mary Jo loved to go square dancing, traveling and to school and family reunions.
They raised three wonderful sons, Douglas, Hugh, and Bryn. They took their boys on many great family trips and raised them to be moral, upstanding young men.
Elmer lost his wonderful Mary Jo in 2003, after 53 years of marriage. A close family friend helped him through the hard times that followed. Dianne McCauley was the last great love of Elmer's life. On one of their last visits, he told her, "You get more beautiful every time I see you."
The Waynes and McCauleys became a loving extended family.
We will all miss Elmer Wayne.
A man true to his word, he never let a friend down. He offered love and support to those who needed it. The world will never see another of his kind.
Elmer is survived by Douglas Wayne (Susy), Hugh Wayne (Susan), Bryn Wayne (Soraya), Dianne McCauley, Sam and Sue McCauley, Mary and Wayland Barmore, Ann and Bobby Hagens, Kim and Jere Sanders, and Vicki and David McMinn, Orelia Herrera and Sarita Mendoza; four fantastic grandchildren, Melissa (Ivan) Jimenez, Heather (Jake) Blair, James Wayne and Larna Wayne, and the greatest great-grandchild, Jocelyn Jimenez.
Pallbearers will be Wayland Barmore, Sam McCauley, Melissa Jimenez, Bryn Wayne, Heather Blair, and Larna Wayne. Honorary Pallbearers are Sgt. Christopher McMinn, Joshua McMinn, Draven Wilkes, and Trey Wilkes.
To view tribute, please visit www.seasidefuneral.com.
OBITUARIES

Linn County News Published March 29, 2023 Debra Dale Wolf, age 68, Linn Valley, Kan., passed away Wednesday, March 22, 2023. Graveside funeral service will be held 2 p.m. Wednesday, March 29, 2023, at the Trading Post Cemetery. Memorial contributions... [More]

Linn County News Published March 29, 2023 Jessica Erin Cox, beloved daughter, and granddaughter, passed away at her home in Lawrence, Kan., March 20, 2023. Jessica was born Nov. 15, 1979, at the University of Kansas Medical Center. She was a graduate of Shawnee... [More]

Linn County News Published March 29, 2023 Larry Ray Oliver, age 69, Pleasanton, Kan., passed away on Wednesday, March 22, 2023. Funeral service will be at 6 p.m. on Saturday, March 25, 2023, at the Schneider Funeral Home and Crematory, Pleasanton Chapel. Visitation... [More]
More Obituaries
View All Obituaries
NEWS

Governor Laura Kelly issued a verbal declaration of disaster emergency this morning, March 31, due to the potential for wildland fires and severe storms in the state. The declaration will allow the state to preposition assets for a quicker response to any fires... [More]

During the latter part of the meeting on Monday, March 27, Linn County Commissioners discussed the walk-through on Wednesday, March 22 at the former Memaw's Kitchen located at 6th and Main Streets in Pleasanton. Economic Development Director Jessica Hightower read notes... [More]

"Positive ramifications" for the city Following a 15-minute legal session called by Linn Valley Mayor Cindy Smith at their Monday meeting, the mayor announced a preliminary agreement with Rural Water District #1 for water rights in Linn Valley. Smith... [More]
More News
SPORTS

The Prairie View Buffalos competed in the State Powerlifting meet on March 25. The meet had 285 total lifters and the Buffalos took 16 boys and nine girls to the event. Prairie View had two lifters place second in their respective weight divisions at the meet. Rhett Jackman,... [More]

The Jayhawk baseball and softball teams opened their 2023 season at home against Southeast Cherokee on March 27. Both softball and baseball teams played a double header and the boys split while the girls swept the Lancers. Baseball won their first game 3-0 but lost the second... [More]
More Sports

OBITUARIES POLICY
• May be mailed, e-mailed, faxed or hand delivered.
• Must be received by 9 a.m. on Tuesday morning in order to appear in that week's edition.
• Full obituaries submitted by individuals are required to be paid in advance.
• Obituaries submitted by funeral homes will be billed to the funeral home.
• Cost: $30 for 300 words or less. Each additional word over 300, 10¢. Photograph $5.
Call Barbara at 913-352-6235 or e-mail linncountynewsreporter@gmail.com