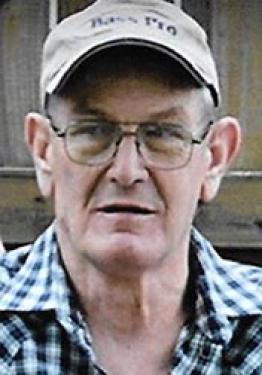 Linn County News
Published Oct. 13, 2021
George Junior Williams, 71, of La Cygne, Kan., died at 2:39 a.m. Monday, Oct. 11, 2021, at Promise Hospital in Overland Park, Kan.
He was born in Topeka, Kan., on Nov. 7, 1949, the son of Loren "Lee" and Ruby M. (Eiserman) Williams. He married Linda Kay (Stokes) Grizzle on April 2, 1979, in Miami, Okla. He worked for Wade's Quarries as a heavy equipment operator from 1975 to the early 1990s. He had to retire due to health issues.
He enjoyed getting out of the house, taking road trips. He enjoyed fishing for bass, catch and release only. He enjoyed riding his three wheel bicycle until he could no longer do that. Connie, Bonnie and Gale are grateful to George for being there when they needed him most.
George was preceded in death by his parents; his wife, Linda, on Dec. 18, 2014; one son, David Williams; and one brother, Michael Williams.
Survivors include two sons, Gale Grizzle (Jennifer) and John Williams (Janice); three daughters, Connie Curnette, Bonnie LaFoe (Michael) and Sharon Phillips (Steve); two brothers, Ernie Williams and Norman Williams; four grandchildren, Kyle Grizzle, Adam Grizzle, Amanda Curnutte, and Kayla Curnutte; and four great-grandchildren, Allie, Andie, Bishop and Raven.
Visitation will be held from 5-7 p.m. Thursday, Oct. 14, 2021, at Schneider Funeral Home and Crematory, La Cygne Chapel. Funeral services will be held at 2:30 p.m. Friday, Oct. 15, 2021, at Schneider Funeral Home, La Cygne Chapel. Burial will follow in La Harpe Cemetery, La Harpe, Kan.
The family suggests contributions to the Juvenile Diabetes Association for Low Income Families. Online condolences may be left at www.schneiderfunerals.com.
OBITUARIES

Linn County News Published Oct. 20, 2021 Michael Allen Bishop, age 74 of Grove, Okla., formerly of Blue Mound, Kan., passed away Saturday, Oct. 9, 2021. He was born the son of Jacob T. and Erma O. Giffin Bishop on Jan. 29, 1947, at Blue Mound, Kan. Mike... [More]

Linn County News Published Oct. 20, 2021 OraBelle Guilfoyle, age 89, Fort Scott, Kan., and formerly of Greeley, Kan., passed Oct. 13, 2021. Mass of Christian Burial will be 10 a.m., Saturday, Oct. 16, 2021, at St John the Baptist Catholic Church,... [More]

Linn County News Published Oct. 20, 2021 Richard "Rick" Eugene Courtois, age 74, Pleasanton, Kan., passed away Wednesday, Oct. 13, 2021. He was born in Pleasanton on Feb. 24, 1947, the son of Charles and Freda Johnson Courtois. He graduated from... [More]
More Obituaries
View All Obituaries
NEWS

Leaders contemplate 1920 permanent maintenance ordinance Prior to approving updated code regulations for Oak Lawn Cemetery, La Cygne municipal leaders have contemplated the monetary balance of a permanent maintenance fund adopted in 1920. At their regular meeting... [More]

Recently it seems as though every time we get on a social media site, someone is posting about someone in their family or knowing someone having COVID-19. It has also seemed as if cases in Linn County are on the rise, and perhaps our county is a hot spot. According to data... [More]

Director cites trucking, not supplies, as the issue During this fall's nationwide school-food crunch, having a contracted food vendor places the Prairie View schools in a more favorable position than others. So reported Beth Sandness, district food service... [More]
More News
SPORTS

Before Oct. 8, the Pleasanton football team had not won a game this season. That changed on Oct. 8 as the Jays hosted district foe Northern Heights on Homecoming night. Pleasanton had no problems as they won in a rout 67-16. The Jays moved the ball at will on offense all night.... [More]

For the first 18 minutes last Friday, Jayhawk-Linn stayed close to a Humboldt team yet to lose to a Kansas school. But the Cubs' size, speed and experience kicked in for five unanswered touchdowns to win the Class 2-A, District 2 contest, 62-18. Though his charges are... [More]
More Sports

OBITUARIES POLICY
• May be mailed, e-mailed, faxed or hand delivered.
• Must be received by 9 a.m. on Tuesday morning in order to appear in that week's edition.
• Full obituaries submitted by individuals are required to be paid in advance.
• Obituaries submitted by funeral homes will be billed to the funeral home.
• Cost: $30 for 300 words or less. Each additional word over 300, 10¢. Photograph $5.
Call Barbara at 913-352-6235 or e-mail reporter@linncountynews.net