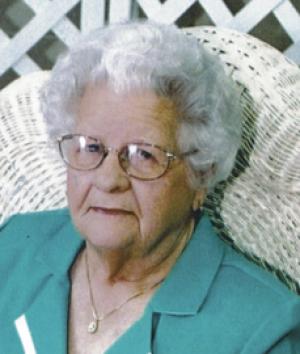 Glenda L. Reeves, 97, Pittsburg, passed away at 7:30 p.m., Friday, July 15, 2016, at Via Christi Village, Pittsburg.
She was born Aug. 14, 1918, at Erie, Kan., the daughter of Lillie (Smith) and Perry Yarnell.
Glenda was united in marriage to Fay E. Reeves in 1934 at Erie. They were married 45 years before divorcing.
She was a housewife and owned and operated Reeves Laundry in Erie. Glenda and Fay owned Reeves Furniture and Antiques in Erie before moving the business in 1961 to Pittsburg on north Broadway.
Glenda lived by her values of self-reliance, honesty, humility, hard work, respect for others and a strong belief in God and her family. The prayer warrior has met her savior. She is happy to be with him in his house.
She was a woman of faith and a believer in prayer. Glenda loved to cook everyone's favorite chicken and noodles, mac and cheese and peach cobbler. She was a quilter and handiwork lover. Watching her family grow was a real joy. She was always thinking of the other person.
Glenda was a 28-year resident of Highland Meadows in Pittsburg. She attended Trinity Baptist Church.
Glenda is survived by one son Eddie (Mary Jane) Reeves, Pittsburg; one daughter Carol (Ron) Nickelson, Mound City, Kan.; grandchildren Debi (Mike) Adam, Ronda (Frank) Carpino, Ricky (Mary) Reeves, Randy (Lori) Reeves, Sandee (Tom) Bennington all of Pittsburg, Jason (Dr. Jody) Nickelson, Overland Park, Kan., and Carrie (Tylor) Sims, Mound City, Kan., 21 great-grandchildren; 35 great-great-grandchildren; and two sisters Lucy Tredway and Nona Sanders of Erie, Kan.
She is preceded in death by five brothers, Virgil, Howard, Loyd, Eugene and Leon, and four sisters Gladys, Letha, Susie and Edmadora.
A special thank you to Dorothy Hennessy and Via Christi Village for giving her loving care.
A service for Glenda was held Tuesday, July 19, 2016, at the Brenner Mortuary, Pittsburg, with Ron Nickelson officiating. Burial followed the service in the East Hill Cemetery, Erie, Kan. Friends may also leave condolences online at www.brennermortuary.com. Arrangements were under the direction of the Brenner Mortuary, Pittsburg, Kan.
OBITUARIES

Linn County News Published April 21, 2021 John William Woodburn, 76, died March 7, 2021 in Baxter Regional Medical Center in Mountain Home, Ark. Graveside services will be held on Saturday, April 24, at 2 p.m. at the Pleasanton Cemetery in Pleasanton, Kan.,... [More]

Linn County News Published April 14, 2021 Cecil L. Fish, 89, Ottawa, Kan., and former longtime Labette County resident, passed away Thursday, April 8, 2021, at his home. Cecil was born the third child to Cecil Paige and Edna (Nickoley) Fish on Dec. 7, 1931, in... [More]

Linn County News Published April 14, 2021 William Michael McMillan, age 60, of St. Joseph, Mo., passed away on Thursday, April 8, 2021. He was born on Aug. 24, 1960, in Kansas City, Mo., the son of William McMillan and Virginia Russell McMillan. He... [More]
More Obituaries
View All Obituaries
NEWS

Linn County News Published April 21, 2021 Floyd Arthur Holmes (or Arthur Floyd Holmes, it was never clear which) passed away peacefully at his residence at Grandwood Assisted Living in Grove, Okla., on Feb. 13, 2021, exactly one month after celebrating his... [More]

The Mound City Council met by phone for a special meeting on Tuesday afternoon, April 6, for the purpose of determining whether or not to reopen the discussions on the sale of the city lake. During the course of that meeting, the council voted to go forward with the discussions... [More]

Customers are spared a billing shock La Cygne natural gas customers will not feel the burden of a high February supplier invoice. The unanimous decision by its council followed a 15-minute executive session for legal attorney-client privilege at its regular meeting... [More]
More News
SPORTS

Prairie View got contributions from many sources in their April 6 softball doubleheader sweep of Iola. Wins of 10-3 and 18-8 over the Fillies raised the Lady Buffalos' Pioneer League record to 4-0, 5-0 overall, to begin this week. The team will host a non-league twinbill... [More]

The Jayhawk JV golf team did well last week. On April 5 they traveled to Erie and on April 6 they went to Fort Scott for a tournament hosted by Uniontown. In the Erie tournament they only brought three golfers so they could not place as a team, but at the Uniontown tournament... [More]
More Sports