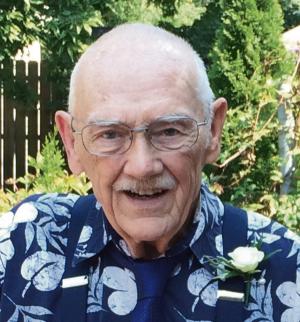 Linn County News
Published Sept. 27, 2017

Harold Dean Pease, 83, Linn Valley, Kan., passed away Sept. 21, 2017, as a result of an automobile accident. Harold was one of seven children born to Glenn and Alice Pease, lifelong residents of La Cygne, Kan.
He graduated from La Cygne Rural High School, where his interests were football, track (especially hurdles) and music. He had a passion for hunting and fishing. He accepted Jesus at a young age and joined the Calvary Baptist Church.
Harold attended Ottawa University one year before joining the Air Force, serving four years. During that time (September 1954), he married his high school sweetheart, Norma Lee Keith. He graduated from Kansas State University in 1960 with an electrical engineering degree.
His first job was with Western Electric Field Engineering on the Titan One Missile Project. He worked on the ground guidance radar system. The missile sites were in different states requiring several moves by the family. He took a new position with the Naval Defense while in California. The naval project was shipboard anti-air defense missiles. After 10 years, he accepted a position in Arlington, Va., close to Washington, D.C. There he was a budget analyst for Naval Defense.
Upon retirement, the family moved back to the La Cygne area on the lake in Linn Valley, where he enjoyed his lifelong passions for hunting, fishing and golf. Fishing was made easy as he only had to go out his back door and catch them from his own dock.
Harold and Norma re-joined Calvary Baptist Church, where he faithfully served until his death. He enjoyed doing Meals on Wheels representing the church.
Harold was preceded in death by his parents; a brother, Kenneth Lee Pease; a sister, Lorene Ellen Allee; and brother Don Pease.
He is survived by his wife of 63 years, Norma; four children: Janet Bardin and husband Randall, Rodney Pease, Randy Pease and Jeff Pease; eight grandchildren: Ellis Bardin and wife Kaitlin, Christian Bardin and husband Brant, Tyler Pease and wife Liz, Carter and Cameron Pease, and Weston, Noah and Mylee Pease; sisters Nadine Fritts-Kenney, Ruth Ann Potts and husband Lyle, and Kathryn Nicholson; as well as a host of extended family and friends.
Funeral service will be held at 11 a.m. Friday, Sept. 29, 2017, at the Calvary Baptist Church in La Cygne. Burial will be in the Oak Lawn Cemetery. Visitation will be held from 5:30-7 p.m. Thursday at the Schneider Funeral Home and Crematory, La Cygne Chapel.
The family suggests contributions to the Calvary Baptist Church. Online condolences for the family can be left at www.schneiderfunerals.com.
OBITUARIES

Linn County News Published December 6, 2023 Robert W. VanWinkle, age 83, La Cygne, Kan., passed away Friday, Dec. 1, 2023. A service to celebrate Bob's life will be announced at a later date. Online condolences can be left at www.schneiderfunerals.com. ... [More]

Linn County News Published December 6, 2023 Jolene Moriconi, 87, of Lawrence, Kan., formerly of Paola, Kan., and Frontenac, Kan., passed away on Thursday, Nov. 30, 2023, at home surrounded by family. She was born May 24, 1936, in Frontenac, Kan., the daughter of... [More]

Linn County News Published Dec. 6, 2023 Perle David Patrick Jr., age 67, Osawatomie, Kan., passed away Sunday, Dec. 3, 2023. Funeral service will be held 2 p.m. Friday, Dec. 8, 2023, at the Schneider Funeral Home and Crematory, La Cygne Chapel. Burial... [More]
More Obituaries
View All Obituaries
NEWS

During the weekly meeting of the Linn County Commissioners on Monday, Dec. 4, Rich Morrell and Charlene Sims with the Linn County Planning Commission each addressed the commissioners in regard to the moratorium and the request to create a committee to work on Section 14. ... [More]

Linn County Clerk David Lamb presented the commissioners with documents to be signed by the commission chair during their weekly meeting on Monday, Dec. 4, in regard to the bond sale last Wednesday to refinance a portion of the original bond for the jail project. Lamb... [More]

Linn County Public Works Director Shaun West noted he had reached out to the fiber installers south of the power plant in reference to questions the commissioners had concerning undone road work. West stated he learned the connection comes into the project from the west and moves... [More]
More News
SPORTS

The Pleasanton basketball team hosted their home opener against Kansas City Christian (KCC) on Dec. 1. The Jays split the varsity games with the girls falling in their game 20-29 and the boys winning big in their game, 78-44. The girls' game started well as the Lady... [More]

Sophomore Brea Dawson scored 12 of her game-high 18 points in the fourth quarter, paving the way for Jayhawk Linn's girls to claim a 43-38 season-opening win at Cass-Midway, Mo., Friday night. Despite a game-high 23 points from junior Braeden Nation, the 'Hawk boys... [More]
More Sports
OBITUARIES POLICY
• May be mailed, e-mailed, faxed or hand delivered.
• Must be received by 9 a.m. on Tuesday morning in order to appear in that week's edition.
• Obituaries submitted by funeral homes will be billed to the funeral home.
• Full obituaries submitted by individuals are required to be paid in advance.
• Cost: $40 for 300 words or less. Each additional word over 300, 10¢. Photograph $5.
Call Barbara at 913-352-6235 or e-mail linncountynewsreporter@gmail.com
View Legals for Free