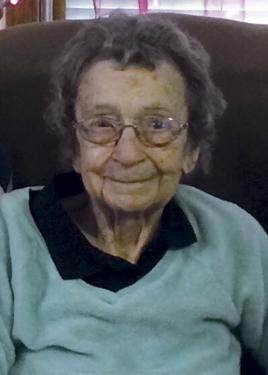 Linn County News
Published Feb. 28, 2018
Helen Marie (Dunnington) Murrow, age 94, Blue Mound, Kan., passed away on Saturday, Feb. 24, 2018, at the Fort Scott Manor. She was born on Jan. 21, 1924, east of Prescott, Kan., the daughter of Fredrick Otto and Ethel Cordell Shaler Dunnington.
She married Vernon Edwin Murrow on Aug. 29, 1945, at Iola, Kan. They lived south of Blue Mound all their married life of 56 years. He preceded her in death on May 17, 2002.
She was also preceded in death by her parents; a son, Leon Murrow, in 2007; and three sisters, Anna Twamley, Verna Caldwell and Ruby Earnest.
She is survived by a son, William Murrow and his children with Ronda: Marci Fox and husband Mickey, Lisa Hemby, Nikki Burks and husband Joe, Debbie Sharkawi and husband Tarek, and Chad Murrow and wife Misty; a daughter, Donna Casner and husband Mark and children: Matheau Casner and wife Regi, Jason Casner and wife Rochelle, and Michael Casner and wife Amanda; daughter-in-law Sandy Murrow and children: Scott Murrow and wife Gretchen, and Brian Murrow and wife Megan; and 30 great grandchildren: Kylie and Emily Fox, Nathan, Ryan, Caleb and Trenton Hemby, Taryn and Katie Burks, Kass, Max and Lexi Sharkawi, Corbin and Easton Murrow, Hannah, Luke, Allison and Elizabeth Casner, Jeremiah, Isaiah and Elias Casner, Gracie and Olivia Casner, Alex, Ashley, Joe, Cole, Isabelle and Kirstyn Murrow, Marley Murrow and Hunter Dunn.
Helen loved her family with all her heart. She worked at the Chicken Shack. She enjoyed reupholstering furniture, embroidering tea towels and making quilts for the family.
A private family funeral service was held. Burial was in the Boulware Cemetery.
The family suggests contributions to Fort Scott Manor. Online condolences for the family can be left at www.schneiderfunerals.com.
OBITUARIES

Linn County News Published March 29, 2023 Larry Ray Oliver, age 69, Pleasanton, Kan., passed away on Wednesday, March 22, 2023. Funeral service will be at 6 p.m. on Saturday, March 25, 2023, at the Schneider Funeral Home and Crematory, Pleasanton Chapel. Visitation... [More]

Linn County News Published March 22, 2023 Bud Lindsay, age 88 of Prescott, Kan., passed away peacefully at his home Wednesday, March 15, 2023. He was born the son of Esler Roy and Bessie Clara (Deckard) Lindsay at Lebanon, Mo. Bud loved racing, working on old... [More]

Linn County News Published March 22, 2023 Vance Laverne Bruner, age 63, Mound City, Kan., passed away Friday, March 17, 2023, at his home. Memorial service will be held 2 p.m. Friday, March 24, 2023, at the Schneider Funeral Home and Crematory, Mound... [More]
More Obituaries
View All Obituaries
NEWS

MIAMI & LINN COUNTY – On Wednesday morning, the Kansas Bureau of Investigation (KBI), the Miami County Sheriff's Office, the Linn County Sheriff's Office, the Osawatomie Police Department, and the Pleasanton Police Department arrested six individuals... [More]

After meetings discussing the Linn County Comprehensive Plan and where the county should be as to allowing wind turbines, the Linn County P&Z said no 5-3 to allowing any turbines in the county. P&Z Commission Chair Richard Morrell brought the subject up after several... [More]

The Linn County Planning & Zoning Commission met Tuesday evening with the first speaker on the agenda recognized from Heartland Rural Electric Cooperative (REC). Tony Washington introduced himself and said Heartland REC is interested in building a solar field in Linn County;... [More]
More News
SPORTS

The season for the Linn County high school boys' basketball teams is over and it's time for this year's All County Boys' Basketball team. This year, there is a first and second team with five players on each team from the three local high schools, Prairie... [More]

The season for the Linn County high school girls' basketball teams is over and it's time for this year's All County Girls' Basketball team. This year, there is a first and second team with five players on each team from the three local high schools,... [More]
More Sports

OBITUARIES POLICY
• May be mailed, e-mailed, faxed or hand delivered.
• Must be received by 9 a.m. on Tuesday morning in order to appear in that week's edition.
• Full obituaries submitted by individuals are required to be paid in advance.
• Obituaries submitted by funeral homes will be billed to the funeral home.
• Cost: $30 for 300 words or less. Each additional word over 300, 10¢. Photograph $5.
Call Barbara at 913-352-6235 or e-mail linncountynewsreporter@gmail.com