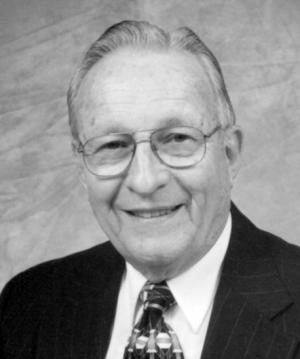 Howard Lindley Cox, of Wichita, Kan., 95, known as Lindley, passed away peacefully on March 12, 2017, in Wichita. He was born Nov. 30, 1921, in Mound City, Kan., to Howard Braxton ("H.B.") Cox and Blanche (Bearly) Cox, the youngest of six children.
Lindley grew up on the family farm in Goodrich, Kan. (3 miles south of Parker), and graduated from Parker High School in 1939. He began college at Kansas State Teacher's College of Pittsburg (now Pittsburg State University) in the fall of that year. World War II interrupted his college education as he enlisted in the Army Air Corps, Cadet Training Program, and was called up in January 1943. He trained as a bombardier on B-17 bombers and was shipped to Foggia, Italy, in February 1945 with the 15th Air Force. Following the end of WW II, he remained in Italy as a supply officer and traffic investigation officer until he returned to the U.S. for discharge in August 1946. After his discharge, Lindley returned to Pittsburg and received his B.S. degree in 1947 and an M.S. in 1948.
He wed Margaret Claire Bower of Parsons, Kan., in 1949. They were married for 60 years and raised four children together – Sara, Joel, Jeff and Jeremy.
Lindley held several jobs in the 1950s before settling in Wichita where he taught vocational arts at South High School for several years. He then served as Supervisor of Student Services at the Wichita Area Vocation-Technical School until his retirement in 1986.
He also served in the U.S. Air Force Reserves, including 11 years as a Liaison Officer for the Air Force Academy, retiring with the rank of Lieutenant Colonel.
Lindley Cox loved all members of his extended family unconditionally and took great joy in sharing their achievements with anyone he met. He was a skilled handyman and greatly enjoyed doing chores for friends and relatives. He had a great wit and an unmatched ability to tell extended stories that seemed to never end.
Lindley and Margaret were longtime members of East Heights United Methodist Church, where he was a beloved Sunday School teacher for many years.
Lindley Cox was predeceased by his parents; five siblings; and by his wife, Margaret.
He is survived by daughter Sara, of Wichita, and husband Steve; son Joel, of Fort Collins, Colo., and wife Karen; son Jeff, of Tulsa, Okla., and wife Cris; son Jeremy, of Fort Collins, and wife Jennifer; seven grandchildren; eight great-grandchildren; sister-in-law Doris (Bower) Toomey of Wilmington, Del.; and numerous nieces and nephews who have many fond memories of their Uncle Lindley.
Lindley's children are extremely grateful for the kindness shown by the staff and residents of Brookdale East Wichita assisted-living facility where he spent his last three years.
A memorial service will be held at a later date. In lieu of flowers, please consider a donation to the Alzheimer's Association (alz.org).
OBITUARIES

Linn County News Published March 29, 2023 Larry Ray Oliver, age 69, Pleasanton, Kan., passed away on Wednesday, March 22, 2023. Funeral service will be at 6 p.m. on Saturday, March 25, 2023, at the Schneider Funeral Home and Crematory, Pleasanton Chapel. Visitation... [More]

Linn County News Published March 22, 2023 Bud Lindsay, age 88 of Prescott, Kan., passed away peacefully at his home Wednesday, March 15, 2023. He was born the son of Esler Roy and Bessie Clara (Deckard) Lindsay at Lebanon, Mo. Bud loved racing, working on old... [More]

Linn County News Published March 22, 2023 Vance Laverne Bruner, age 63, Mound City, Kan., passed away Friday, March 17, 2023, at his home. Memorial service will be held 2 p.m. Friday, March 24, 2023, at the Schneider Funeral Home and Crematory, Mound... [More]
More Obituaries
View All Obituaries
NEWS

MIAMI & LINN COUNTY – On Wednesday morning, the Kansas Bureau of Investigation (KBI), the Miami County Sheriff's Office, the Linn County Sheriff's Office, the Osawatomie Police Department, and the Pleasanton Police Department arrested six individuals... [More]

After meetings discussing the Linn County Comprehensive Plan and where the county should be as to allowing wind turbines, the Linn County P&Z said no 5-3 to allowing any turbines in the county. P&Z Commission Chair Richard Morrell brought the subject up after several... [More]

The Linn County Planning & Zoning Commission met Tuesday evening with the first speaker on the agenda recognized from Heartland Rural Electric Cooperative (REC). Tony Washington introduced himself and said Heartland REC is interested in building a solar field in Linn County;... [More]
More News
SPORTS

The season for the Linn County high school boys' basketball teams is over and it's time for this year's All County Boys' Basketball team. This year, there is a first and second team with five players on each team from the three local high schools, Prairie... [More]

The season for the Linn County high school girls' basketball teams is over and it's time for this year's All County Girls' Basketball team. This year, there is a first and second team with five players on each team from the three local high schools,... [More]
More Sports

OBITUARIES POLICY
• May be mailed, e-mailed, faxed or hand delivered.
• Must be received by 9 a.m. on Tuesday morning in order to appear in that week's edition.
• Full obituaries submitted by individuals are required to be paid in advance.
• Obituaries submitted by funeral homes will be billed to the funeral home.
• Cost: $30 for 300 words or less. Each additional word over 300, 10¢. Photograph $5.
Call Barbara at 913-352-6235 or e-mail linncountynewsreporter@gmail.com