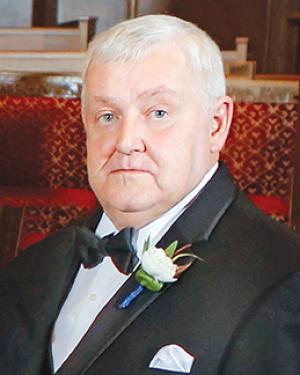 Linn County News
Published July 28, 2021
James Allen Johnson, age 72, of Pleasanton, Kan., passed away on Saturday, July 24, 2021, at the University of Kansas Medical Center in Kansas City, Kan., after a brief illness.
Allen was born on July 7, 1949, at Moran, Kan., the son of Leroy Robert Raymond Johnson and Ruby Matilda (Nelson) Johnson. He grew up in the Elsmore, Kan., area and attended Elsmore Grade School and graduated from Marmaton Valley High School in 1967. Allen was an outstanding athlete and played football, basketball and baseball. He graduated from Allen County Community College and received a bachelor of education degree from Pittsburg State University. He taught and coached in various schools in Kansas for many years. After his teaching career, he worked in sales and manufacturing.
Allen married Terri Lynne Wilson on Oct. 25, 1987, in Elsmore. They were blessed with two sons, Daniel Joseph and Samuel Dean. Allen loved his family and was so proud of his sons and their families. He loved his grandchildren, Kipling Alan, Ivy May and Olivia Ann. Allen was always an unwavering supporter of his wife and always stood by her side.
Allen was a sports fan, particularly of the Kansas City Chiefs and Kansas City Royals. He was very interested in world events and enjoyed watching the History Channel and Fox News. He also loved visiting with friends and family and in recent years particularly enjoyed going to the Elks Lodge in Nevada, Mo., with friend Richard Perry.
Allen is preceded in death by his parents; brothers Raymond Lorraine, Charles Dean, Robert Lee and Raymond Edward; and sisters Phyllis Jean and Amaryllis Ann.
He is survived by his wife, Terri; his sons, Daniel and his wife Stephanie of South Amboy, N.J., and Samuel and his wife Lauren of Leawood, Kan.; sisters Pauline JoAnn Wolfe of Savonburg, Kan., and Donna Arlene Franklin and husband Robert Franklin of Shawnee, Kan.; sisters-in-law Judith Wilson, Kandi Wilson and Patricia Johnson of Chanute, Kan.; brothers-in-law William Wilson of Walnut, Kan., William Otto and wife JoNita of LeRoy, Kan., and Thomas Breiner of Knightdale, N.C.; three grandchildren, Kipling Alan Johnson, Ivy May Johnson and Olivia Ann Johnson; and numerous nieces and nephews.
Rev. Kevin Moyers and Pastor Ralph Peters will conduct funeral services at 11 a.m. Friday, July 30, at the Elsmore United Methodist Church. Burial will follow in the Elsmore Cemetery. The family will receive friends from 5-7 p.m. Thursday at the Cheney Witt Chapel. Memorials are suggested to the Elsmore United Methodist Church and may be left in care of the Cheney Witt Chapel, 201 S. Main, P.O. Box 347, Fort Scott, Kan. 66701.
OBITUARIES

Linn County News Published Aug. 17, 2022 Dean Brown, age 91, a resident of Fulton, Kansas, passed away Wednesday, August 10, 2022, at the Olathe Medical Center in Olathe, Kan. He was born Oct. 7, 1930, in Uniontown, Kan., the son of Durward "Duke" Brown and Pearl... [More]

Linn County News Published Aug. 17, 2022 Arthur Carl Hetzke, age 91, Mound City, Kan., passed away Wednesday, Aug., 10, 2022. He was born on Aug. 5, 1931, in Newton, Kan., the son of Arthur and Elizabeth (Breck) Hetzke. He served his country in the United States Air Force... [More]

Linn County News Published Aug. 17, 2022 William John Adair, Sr., age 74, La Cygne, Kan., passed away Tuesday, Aug. 9, 2022. Funeral service will be 2 p.m. Monday, Aug. 15, 2022, at the Schneider Funeral Home and Crematory, La Cygne Chapel. Visitation will be held from... [More]
More Obituaries
View All Obituaries
NEWS

Two of three rodeo horses were killed or had to be put down following an accident early Saturday morning. Undersheriff Bobby Johnson said that rodeo performer Donald Culpepper, Poulan, Ga., had made a make-shift electric fence for his horses at the Linn County Fairgrounds.... [More]

The city of Parker will be contacting Linn County about concrete surfacing assistance at an intersection that receives heavy truck traffic. At last Thursday's monthly council meeting, Mayor Cody Adams responded to a patron complaint that asphalt surfacing at the intersection... [More]

Approves a change to the tax incentive program The Pleasanton City Council took several policies and policy changes under consideration at their Aug. 15 meeting. The first of these policies is the Neighborhood Culvert Replacement Program (NCRP) which would grant... [More]
More News
SPORTS

The Linn County Farm Bureau Association hosted the annual pedal pull for kids age 4 to 12 at the Linn County fairgrounds on the evening of Aug. 12. Trophies were given to the top three pullers in each age group along with the opportunity to compete in the Kansas State Pedal... [More]

Kansas Department of Wildlife and Parks fish biologist Don George once again assisted with hosting the annual fishing derby at the Linn County fairgrounds on the morning of Aug. 13. Like in the past, the derby was divided into three age groups, 4-7, 8-10, and 11-16. Awards... [More]
More Sports

OBITUARIES POLICY
• May be mailed, e-mailed, faxed or hand delivered.
• Must be received by 9 a.m. on Tuesday morning in order to appear in that week's edition.
• Full obituaries submitted by individuals are required to be paid in advance.
• Obituaries submitted by funeral homes will be billed to the funeral home.
• Cost: $30 for 300 words or less. Each additional word over 300, 10¢. Photograph $5.
Call Barbara at 913-352-6235 or e-mail linncountynewsreporter@gmail.com