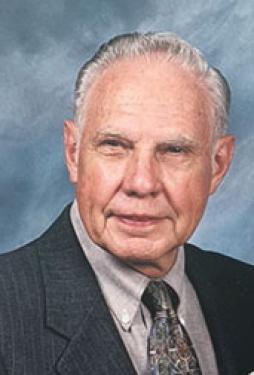 Linn County News
Published May 10, 2023
James Francis Ptacek, 94, of Parker, Kan., died on Saturday, April 1, 2023, at Kansas City Hospice House, in Kansas City, Mo.
Jim was born on Oct. 1, 1928, in Emporia, Kan., to Antone and Martha (Rezac) Ptacek. He attended schools near Miller, Kan., until his family moved to Wichita, where he graduated from Wichita East High School. While working, Jim began studying at Wichita State University. On June 14, 1950, he married the love of his life, Mima Jeanne Hunt at Eastside Methodist Church in Wichita, Kan. They were married for 69 years before she passed away. Jim proudly served his country in the United States Air Force during the Korean War stationed at Keesler Air Force Base, Biloxi, MS. After his enlistment, Jim enrolled in Kansas State University where he pursued a degree in electrical engineering, graduating in 1957 with his Bachelor's of Science.
His career as an electrical engineer was with three companies in the Kansas City area: Vendo, Alfa Laval, and Labconco. Jim was a true do-it-yourselfer who spent hours using his resourcefulness to improve his home and repair anything from Audi 5000s to refrigerators to lawn mowers. He could often be found helping his boys or his neighbors and friends repair their vehicles. His grandchildren and great-grandchildren called him "Opa." He was proud of his Czech heritage. For many years, he was active in Linn County Republicans and the Richland Grange. He was a member of the Mound City United Methodist Church where he served in various positions and used his knowledge to upgrade the church electrical wiring and to install the sound system.
Jim was preceded in death by his wife, Mima Jeanne Ptacek; one son, Larry Ptacek; one daughter-in-law, Karen Ptacek; one grandson, Richard Francis Ptacek; two brothers, Louis and Tom; and one sister, Marjorie.
He is survived by two sons, Steve Ptacek and Richard Ptacek and his wife Joannie; five grandchildren, Shannon Kay Kreienheder, Shelby Rae Ptacek, Mary Lee Deaver, Robert James Ptacek, and Gina Nicole Ptacek; and three great-granddaughters, Raegan Kaylyn and Scarlett Ann Kreienheder, and Gemma Moon Stone.
A memorial service will be at 11 a.m. on Saturday, May 20, 2023, at the Mound City United Methodist Church with a luncheon to follow. Private family interment will take place in Graceland Cemetery, Burlington, Kan. The family suggests memorial contributions be made to Kansas City Hospice House or Mound City United Methodist Church in care of Schneider Funeral Home, 319 Chestnut, Mound City, Kansas 66056.
OBITUARIES

Linn County News Published May 24, 2023 Gene Raymond Mitchell, 84 years, passed away on November 24, 2022 in his home Grand Rapids, Mich. He was born in Kansas City, Kan., the third child of Otto and Ruby Mitchell. Preceded in death by his parents and brother,... [More]

Linn County News Published May 17, 2023 Richard Scott Secrest, age 93 of Nevada, Mo., formerly of Pleasanton, Kan., passed away on Tuesday, May 16, 2023. He was born the son of Ancil and Beulah (Jackson) Secrest on May 29, 1929, at Edgerton, Kan. Richard married... [More]

Linn County News Published May 17, 2023 Donald Raymond Wier, age 82, of Denton, Texas, passed away on May 11, 2023. The second child of Lloyd Elmer and Thelma Olan (Meek) Wier, Don was born on July 9, 1940, in Fort Scott, Kan., a farm kid who excelled in... [More]
More Obituaries
View All Obituaries
NEWS

A health and cancer screening event is planned for 11 a.m. to 2 p.m. on June 3 at the Pleasanton United Methodist Church, 751 Main Street. This event will have prostrate and skin cancer screenings, take-home colorectal cancer screening kits, blood pressure readings, tobacco... [More]

This year's Thunder on the Street event, set for June 3 on Main Street in Pleasanton, promises several activities for all ages. The wall of death is back this year, only under a new company - Ives Brothers Wall of Death and promises tons of gravity defying entertainment.... [More]

Saturday, May 27 Linn Valley Memorial Day ceremony at the memorial at 10 a.m. Prescott Cemetery Memorial Day ceremony at 10:30 a.m.; a potluck lunch will follow at the Community Building in Prescott with the city providing the meat, drinks and table service.... [More]
More News
SPORTS

The Prairie View track team traveled to Wichita May 26-27 to compete in the 3A State track championship and brought home some hardware to say the least. The girls' team earned the school's first State track championship as they scored 41.5 points to win the 3A girls'... [More]

The Jayhawk-Linn track team traveled to Wichita on May 26-27 to compete in the 2A State track championship. The Hawks were well represented this year as they sent a total of 13, seven girls and six boys, to State. The boys' team earned multiple medals at the meet. Gus... [More]
More Sports

OBITUARIES POLICY
• May be mailed, e-mailed, faxed or hand delivered.
• Must be received by 9 a.m. on Tuesday morning in order to appear in that week's edition.
• Full obituaries submitted by individuals are required to be paid in advance.
• Obituaries submitted by funeral homes will be billed to the funeral home.
• Cost: $30 for 300 words or less. Each additional word over 300, 10¢. Photograph $5.
Call Barbara at 913-352-6235 or e-mail linncountynewsreporter@gmail.com