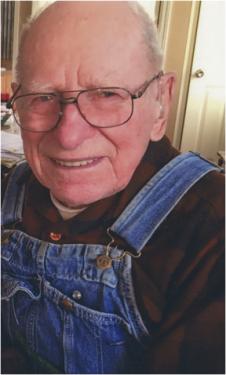 Linn County News
Published Dec. 12, 2018
John Harold Rieder, 103, of Pleasanton, Kan., passed away Dec. 6, 2018.
John Harold was born on July 29, 1915, in Rosedale, Kan., at 4408 Mission Road in Wyandotte County. His parents, Gottlieb Rieder and Emma Suter, were born in Switzerland. His father was a dairyman. In the early 1920s he moved from Rosedale, Kan., to 79th and Quivera in Johnson County. By the time he was in high school, he joined his older brother in milking cows by hand, as they had no milking machine. He graduated from Shawnee Mission High School in 1933. By 1935, he took over his father's milk route and delivered milk house to house in Wyandotte and Johnson counties.
He met his wife Grace in January 1937 when she was at Emporia's Teachers College and a dear friend of his sister Louise. Grace was his blind date, and they began to correspond with one another. Grace taught school in a one-room school for two years, and they were married at the Lenexa Methodist Church on May 21, 1939.
Through the ministry of a Bible class on Tuesday nights at Lenexa Methodist, both Grace and John accepted the Lord Jesus Christ as their Lord and Savior, and they were born again, as Jesus spoke of in the Gospel of John in John 3:1-8.
In September 1942, they felt the call to prepare for full-time missionary ministry, so they enrolled at the Moody Bible Institute in Chicago, Ill. In July 1943, he was called into the U.S. Navy in the Second World War and did his boot camp in Farragut, Idaho. In early 1944 he joined his ship, a destroyer Escort, in Hawaii. They did not have enough people on board to have a chaplain, so with the captain's permission he was allowed, as it was, to be their pastor. They met in the mess hall on Sunday mornings.
Grace graduated in the spring of 1944 and had children's ministry among the migrant people in the valley of Turlock, Calif., as she awaited John's release from the Navy. They had received a call from foreign missionary work before he joined the Navy.
He was released from the Navy at the end of December 1945. In January 1946 they returned to Moody Bible Institute for more preparation for the mission field, and in September 1946 they joined their mission, WEC, the Worldwide Evangelization Crusade. In 1947 they were led of the Lord to join their mission workers in Ivory Coast, West Africa, to work in the Gouro tribe. After five month's study of French in Montreal, Canada, they sailed for Ivory Coast and landed there on their ninth wedding anniversary in 1948. They spent 36 years ministering to the Gouro people and saw many churches established. They were asked by their mission to establish a Bible school in the Gouro language, which they did. John did everything necessary to plant churches such as evangelism, Bible teaching, taking teams to evangelize and helping to build their churches. Grace's greatest ministry was to help translate the complete Bible in Gouro. Ivory Coast had more than 60 languages, and they had the first complete Bible in an Ivory Coast language, so in 1980 they had seven celebrations for it; the final one was in the capital.
They left their work in Ivory Coast in 1984 to take over the Shalom ministry on the farm where Grace grew up. They had 28 years of wonderful ministry at Shalom until God sent his angels to take Grace home to her rest in Heaven on Feb. 19, 2012. In May 2012 John went to spend time with the Fredrickson family at Heartland Ministries Int'l near Bethel, Mo. Heartland is a wonderful deliverance center for youth and adults, and he was very blessed of the Lord to have been there. Upon leaving Heartland, he returned to Linn County for the last six years of his life, living with the Shillito family at the Shalom Retreat Center and spending his final days at Prescott Nursing Home and The Residencies at Pleasanton.
The Lord is the Alpha and the Omega, the beginning and the end, and John's sentiments at the end of his life cannot be more appropriately described than through the words of the apostle Paul in Philippians 1:23-24 – "For I am in a strait between two, having a desire to depart, and to be with Christ; which is far better: Nevertheless to abide in the flesh is more needful for you." To God be the glory!
Visitation will be from 1-2 p.m., with the funeral service at 2 p.m. Friday, Dec. 14, at the First Christian Church, 613 Main St., Pleasanton. Burial will be at Wesley Chapel Cemetery.
Condolences may be left at www.charterfunerals.com. Arrangements: Charter Funerals, 816-921-5555.
OBITUARIES

Linn County News Published December 7, 2022 Anna Mae Carrel, 98, Nevada, Mo., passed away on Sunday, Dec. 4, 2022, at Menorah Medical Center in Overland Park, Kan. Anna was born Nov. 4, 1924, in Mound City, Kan., to Fred M. and Mary C. (Hollister) Smith. She was united in... [More]

Linn County News Published December 7, 2022 Kathryn Elaine "Kathy" Newcome passed away Thursday Dec. 1, 2022. Funeral service will be 2 p.m. Monday, Dec. 5, 2022, at the Schneider Funeral Home and Crematory, Pleasanton Chapel. Burial in the Richland Cemetery. Visitation will... [More]

Linn County News Published December 7, 2022 Linda S. Rios, age 63, of Mound City, Kan., passed away in Olathe, Kan., on Nov. 14, 2022. There are no services scheduled. Online condolences may be left at www.schneiderfuneral.com.
More Obituaries
View All Obituaries
NEWS

NOTICE: There will be a blood drive at the Catholic Hall in Mound City from 1 to 5 p.m. on Tuesday, Dec. 13

In a sentencing hearing set for Friday, Dec. 2, Robert Woody III appeared in Linn County District Court in front of Judge Andrea Purvis, but instead of sentencing being handed down, the defense requested a continuance. Defense counsel Craig Cole noted his client had just brought... [More]

Discussions at Monday's Linn County Commissioner's meeting turned to the landfill issue and the fact that, as it currently sits, the landfill is only a year and half out from closing. During Monday's discussions, Linn County Public Works Administrator Shaun... [More]
More News
SPORTS

The Prairie View wrestling team traveled to Pleasant Hill on Dec. 2 and 3 to compete in the Steve Leslie Invitational. The boys' team had three wrestlers place in the top four while the girls' team had two wrestlers place in the top four. Kimmy Eastwood wrestled... [More]

Pleasanton basketball teams began their season Friday with a split varsity decision at Prairie Village-Kansas City Christian (KCC), the girls winning 39-19 while the boys took a 60-31 loss. Both teams now have two games upcoming at this week's early-season round-robin... [More]
More Sports

OBITUARIES POLICY
• May be mailed, e-mailed, faxed or hand delivered.
• Must be received by 9 a.m. on Tuesday morning in order to appear in that week's edition.
• Full obituaries submitted by individuals are required to be paid in advance.
• Obituaries submitted by funeral homes will be billed to the funeral home.
• Cost: $30 for 300 words or less. Each additional word over 300, 10¢. Photograph $5.
Call Barbara at 913-352-6235 or e-mail linncountynewsreporter@gmail.com