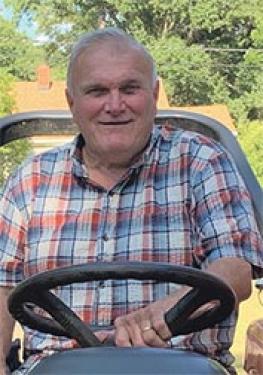 Linn County News
Published Sept. 8, 2021
Kevin Leon Wade, age 69, of Anderson, S.C., went to be with his Lord and Savior on Wednesday, Sept. 1, 2021.
He was born July 20, 1952, in La Cygne, Kan., and was the son of Evelyn Miller Wade and the late Norman Wade.
Mr. Wade held a bachelor's degree in plastic technology as well as a degree in seminary. He worked in the family business in Kansas for 17 years and pastored for 10 years in South Carolina. After moving to Anderson, he and his wife were the owners of Concord Produce Market for 21 years, serving the citizens of his community with the best local produce around as well as the best selection of Christmas trees. Mr. Wade loved people, never met a stranger and always enjoyed a good conversation. He was a history buff and sports fan, especially cheering on the Kansas Jayhawks. His family was his pride and joy, and he loved spending as much time as he could with them.
Left to cherish his memory are his loving and devoted wife of 48 years, Daleine Gaylord Wade; mother, Evelyn Wade; children, Stephanie Brougher (Jeremy), Danae Sellers (Nathan), Jenna Wade and Caleb Wade; grandchildren, Jordan Wade, Elliana Brougher, Zane Brougher, Camilla Sellers and Leon Sellers; brother, Mark Wade (Jenise); sister, Roxanne Martin (David); and sister-in-law, Vicki Wade (Greg).
In addition to his father, he was preceded in death by his brother, Greg Wade.
The funeral service was held Sunday, Sept. 5, 2021, in the chapel of The McDougald Funeral Home with Pastor Butch Moore and Rev. Mark Pollard officiating. Burial followed at Memory Gardens in Clemson.
Flowers will be accepted, and memorial contributions may be made to Gateway International Missions, Inc., P.O. Box 667, Taylorsville, N.C. 28681; and Joyce's Kids Vickery School for the Deaf, Baptist International Outreach, P.O. Box 587, Jefferson City, TN 37760.
Messages of condolence may be left for the family by visiting The McDougald Funeral Home website,www.mcdougaldfuneralhome.com.
OBITUARIES

Linn County News Published Nov. 29, 2023 Larry Wayne Miller, age 65 of Pleasanton, Kan., passed away, Sunday, Nov. 26, 2023, in Fort Scott, Kan. A visitation will be held from 5 to 7 p.m., Thursday, Nov. 30, 2023, at the Schneider Funeral Home and Crematory,... [More]

Linn County News Published Nov. 22, 2023 Vernon Earl McGee, 78, resident of Wichita, Kan., passed away at St. Francis Via Christi Hospital on Tuesday, Nov. 7, 2023. He was born at home in Goodrich, Kan., on Oct. 7, 1945, to Earl J. McGee and Jennie Irene (Adams)... [More]

Linn County News Published Nov. 15, 2023 Vicki A. Capp, age 69 of Mapleton, Kan., passed away on Monday, Nov. 6, 2023, at the Olathe Hospice House. She was born the daughter of Frank E. and Claudeane (Shaw) Craig on Aug. 8, 1954, at Fort Lewis, Wash. ... [More]
More Obituaries
View All Obituaries
NEWS

During the Nov. 27 meeting of the Linn County Commissioners, County Counselor Gary Thompson requested a 15-minute executive session for legal matters to review the resolution he had drafted, in response to and to set in place, the moratorium that was decided on by a 2-1 vote... [More]

At the direction of its board of education, Unified School District 362 administration will be seeking information from school districts now utilizing a four-day school week. Hearing at the board's regular monthly meeting Nov. 21 that most districts using the four-day... [More]

Joey McLiney with McLiney and Co., a division of SAMCO Capital, spoke to commissioners on Monday, Nov. 27, noting they are ready to go public on the sale of the bond refinance that was previously approved by commissioners. McLiney noted that they had been waiting to do so in... [More]
More News
SPORTS

The high school football season has concluded and it is time for this year's All County high school football team. This year there were plenty of good players to choose from as all three local teams, Pleasanton, Jayhawk Linn, and Prairie View, had winning seasons. ... [More]

The start of the competitive basketball season is still more than a week away for the three Linn County schools, but across the Missouri state line, the Miami girls' squad has already equaled its on-court victory total from last year. Rebuffing a Hermitage second-half... [More]
More Sports
OBITUARIES POLICY
• May be mailed, e-mailed, faxed or hand delivered.
• Must be received by 9 a.m. on Tuesday morning in order to appear in that week's edition.
• Obituaries submitted by funeral homes will be billed to the funeral home.
• Full obituaries submitted by individuals are required to be paid in advance.
• Cost: $40 for 300 words or less. Each additional word over 300, 10¢. Photograph $5.
Call Barbara at 913-352-6235 or e-mail linncountynewsreporter@gmail.com
View Legals for Free