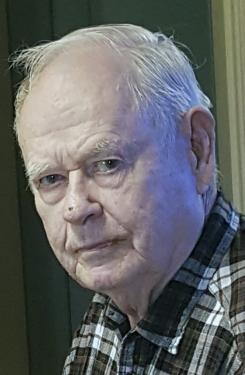 Linn County News
Published May 1, 2019
Lawrence Olin Tinsley, 91, of Paola, Kan., died Friday, April 19, 2019, surrounded by family. He was born July 31, 1927, in Bronson, Kan., the second of four children, to Charles Samuel Tinsley and Leota May (Williams) Tinsley.
He graduated from Parker High School in 1945. He attended Fort Scott Junior College.
He met the love of his life, Jacqueline Marie (Day) Tinsley, while studying at Fort Scott, Kan. Lawrence and Jackie married on June 5, 1950, in Fort Scott.
He proudly served first in the United States Maritime Service and then in the U.S. Army, for over four years. Lawrence served two years in Manila, Philippines. He was called back into service from the Army Reserves after he and Jackie were married, serving another 10 months and 20 days in Korea during the early months of the war. His units included the X Corps and the 24th Infantry Division. He was awarded the Commendation Medal, the WWII Victory Medal, the Korean Service Medal with Three Bronze Service Stars, and a medal from the president of the Republic of Korea. He was honorably separated from active duty on 29 October 1951 with the rank of master sergeant.
Lawrence graduated with a bachelor's degree in business from Pittsburg State College in 1954. He and Jackie became parents of three children, Mark Charles, Lawrence Kenton and Randall James. Lawrence's career included being an accountant and owner/operator of a bowling alley, a family affair, with the help of his spouse, parents, sister and sons. His longest career was his work for Kansas Department of Social and Rehabilitation Services, primarily in Miami County and Crawford County, Kan.
When he retired from social work in 1987, he and Jackie became "Winter Texans" in Zapata for approximately 10 years. His joys were golfing, bowling and his children, Mark (Cindy) and Larry (Mary), and his grandchildren, Heidi Nichole (Tinsley) Shulista (Bob), Nathaniel S.S. Tinsley (Jennifer), Micheal Lawrence Tinsley (Kayla) and Raechelle Marie Tinsley. His greatest joy was the love of his precious wife, Jackie.
After retirement Lawrence enjoyed genealogy research, during which he discovered very interesting ancestral members that he treasured. Most especially, there were 17 Branstetter cousins, one of whom was Lawrence's great grandfather, Thomas L. Branstetter, who enlisted together in the Missouri Union Cavalry on April 19, 1863, in a cause for freedom. His great, great grandfather, Wheeler Branch Southwick, died while serving with the Union Army of the Potomac in 1864 during the Civil War. As much as he was proud of his ancestral history of freedom fighting and his own, Lawrence espoused the belief that the "love" of war should never become a family value. He also found that one of his grandmothers, Emma Jane Williams, was a descendant of Lawrence and Cassandra Southwick, who as Quakers endured seizure of their Peabody, Mass., homestead and glass factory, along with being exiled from the mainland due to the greed and religious persecution of the early 1600s.
Lawrence was preceded in death by his parents; his two siblings, Lloyd Author and Catherine Charlene; his son, Randy; and his spouse of 65 years, Jackie.
He is survived by his sons, Mark (Cindy) and Larry (Mary); his sister, Charlotte (Tinsley) Earley (Gary); and his four grandchildren, 14 great grandchildren and one great, great grandchild, along with many nieces, nephews and other friends and relatives.
The family requests, in lieu of flowers, donations to be made to VFW in Paola.
A memorial service and military honors will be held at 6 p.m. Saturday, July 13, 2019, at Dengel & Son Mortuary, 305 N. Pearl St., Paola. Burial of ashes will be at a later date in Fort Scott National Cemetery, Fort Scott.
To leave a special message for the family online, please visit www.DengelMortuary.com. Dengel & Son Paola Chapel, 305 N. Pearl St., Paola, KS 66071, 913-294-2372.
OBITUARIES

Linn County News Published Oct. 11, 2023 Our dear father, Victor Gene Clark, passed away at his home in Mound City, Kan., on Monday, Oct. 2, 2023. Vic was 85 years old. Vic was born in Medicine Lodge, Kan., on Aug. 23, 1938, to parents Mary Jane (Sharp)... [More]

Linn County News Published Oct. 11, 2023 On the afternoon of May 28, 2023, LaVerne C. Nelson (nee Smith), with her steadfast daughter Renee' by her side, succumbed to the ravages of dementia just a few weeks shy of her 88th birthday. This determined woman... [More]

Linn County News Published Oct. 4, 2023 Vanetta Carol (Hardy) Sabine passed away peacefully at Freeman Hospital in Joplin, Mo., at 5:42 a.m. on Friday, Sept. 29, 2023. She was born June 27, 1944, in Garnett, Kan., to William Orland and Ella Bernice "Margaret"... [More]
More Obituaries
View All Obituaries
NEWS

2-0 vote occurs after Commission chairman departs Linn County commissioners have agreed to return comprehensive-plan solar farm regulations to its Planning and Zoning (P&Z) board for further consideration that will include a yet-to-be-determined open-hearing public... [More]

The Pleasanton Council's normal every-other-week meeting began with a sales tax initiative hearing so patrons could ask questions of the council concerning the one-cent sales tax proposal coming on November's ballot. No questions were asked from the small crowd;... [More]

Celebration theme is "Back to Our Roots" The annual General Pleasonton Days celebration is set for this coming Saturday and Sunday and in many ways is stepping back. The theme for this year's event is "Back to Our Roots" and with that... [More]
More News
SPORTS

Prairie View's Buffalos have put Class 3-A, District 2 football on notice. They are in it to win it. In the shadow of their own goal posts thrice in the first half, the Buff defense each time held Girard from scoring and ignited a 21-0 road win over the district-favorite... [More]

The Pleasanton football team traveled to Cherokee on Sept. 29 to play Three Rivers League foe Southeast Cherokee. Pleasanton had no problems with the Lancers as they won the game 42-6. The Jays scored a total of six touchdowns on Cherokee. The first touchdown was a 27 yard... [More]
More Sports
OBITUARIES POLICY
• May be mailed, e-mailed, faxed or hand delivered.
• Must be received by 9 a.m. on Tuesday morning in order to appear in that week's edition.
• Obituaries submitted by funeral homes will be billed to the funeral home.
• Full obituaries submitted by individuals are required to be paid in advance.
• Cost: $40 for 300 words or less. Each additional word over 300, 10¢. Photograph $5.
Call Barbara at 913-352-6235 or e-mail linncountynewsreporter@gmail.com
View Legals for Free