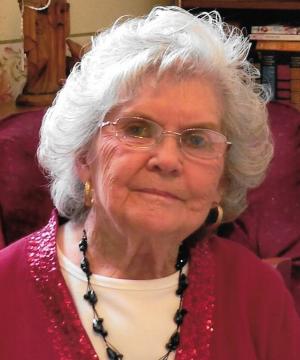 Lois "Jean" Johnston, 86, formerly of Amsterdam, Mo. passed away Tuesday, Aug. 4, 2015. She was born near Butler, Mo., the daughter of Homer and Agnes McElwain Dixon. She attended school in Amoret, Mo. where she enjoyed playing basketball.
She married Clifford LeVaun Johnston April 3, 1945. He preceded her in death June 9, 2003. Jean held many jobs during her time working. She started as a teenager catching the train in Amoret to work at a candy store in Kansas City. She later worked for Barney Kropp Feed Store in the late 1950s, as a bus driver for Miami-R1 from 1960 to 1983, ran the concession stands at Middle Creek Riding Club and the La Cygne Saddle Club, owned and operated the Amsterdam Cafe from 1976 to 1979, and worked at Bass Buster. Jean had a love for horses. Didn't matter if it was riding horseback or in a wagon. Her strong work ethic and fondness of horses was surpassed only by her love for her family.
She was a member of the Merwin Christian Church and was a founding member of the Amsterdam Jubilee which began in 1976. She was also preceded in death by an infant son, Donald, a son Doug, and a sister Freeda Judd.
She is survived by two sons, Jerry Johnston and wife Kathy, Kip Johnston and wife Sandy; two daughters, Connie McGinnis and husband John, and DeAnna Hutton and husband Robin; 15 grandchildren, 37 great-grandchildren; thirteen great-great-grandchildren; and other extended family and friends, five of whom are her namesake.
Funeral service was held at Saturday, Aug. 8, 2015 at the Merwin Christian Church. Burial was in the Mulberry Cemetery. Contributions are suggested to Mulberry Cemetery or Merwin Christian Church. Online condolences can be left at www.schneiderfunerals.com. Arrangements: Schneider Funeral Home & Crematory, La Cygne, Kan.
OBITUARIES

Linn County News Published Aug. 10, 2022 Larry Sumners, age 68, of Centerville, Kan., passed away on Monday, Aug. 1, 2022, at the Overland Park Regional Medical Center in Overland Park, Kan. Laurence A. Sumners was born on Aug. 16, 1953, at McPherson,... [More]

Linn County News Published Aug. 10, 2022 It is with great sadness to announce the passing of Michael Ekkehard Reinsch, a beloved brother, father, uncle and grandfather. Michael passed away on Wednesday, June 22, 2022, at Augusta University Medical Center. Michael... [More]

Linn County News Published Aug. 10, 2022 Rosetta May Beard, age 99, La Cygne, Kan., passed away Wednesday, Aug. 3, 2022. Graveside funeral service will be 10 a.m. Monday, Aug. 8, at the Oak Lawn Cemetery, La Cygne, Kan. Memorial contributions are suggested... [More]
More Obituaries
View All Obituaries
NEWS

Following the governor's recent approval of legislation created to show when taxing entities are increasing mill levies, additional costs to taxpayers are coming to the forefront, despite some holding taxes to the same level using revenue neutral rates. Kansaspolicy.org... [More]

Following opening statements at Monday's Pleasanton City Council meeting, public speaker Mike Higgins took the podium and told the council that he was talking to former Olive's Hope building owner Brandon McGinnis concerning the sale of the building to a family that... [More]

Two of the county departments geared toward public safety are now under new direction. Missy Lancaster took over the Linn County Health Department as well as the position of Public Health Officer in November of last year and has made a few changes to the department since... [More]
More News
SPORTS

Linn County has a new competitive softball team, Total Effect Softball, which will be based out of Mound City. Jayhawk-Linn head softball coach Kris Holt started the team and will be the head coach of Total Effect. Holt had multiple reasons on why he wanted to start a competitive... [More]

Fishing has slowed down since the last reports on June 27, but fish are still being caught and can be even better in the coming weeks with some cooler weather and more rain. All the reports were last updated on July 18. La Cygne Lake Catfish, largemouth and crappie are the... [More]
More Sports

OBITUARIES POLICY
• May be mailed, e-mailed, faxed or hand delivered.
• Must be received by 9 a.m. on Tuesday morning in order to appear in that week's edition.
• Full obituaries submitted by individuals are required to be paid in advance.
• Obituaries submitted by funeral homes will be billed to the funeral home.
• Cost: $30 for 300 words or less. Each additional word over 300, 10¢. Photograph $5.
Call Barbara at 913-352-6235 or e-mail linncountynewsreporter@gmail.com