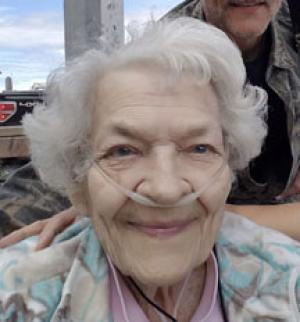 Linn County News
Published Oct. 19, 2016
Marjorie Therese Fisler, age 85, Pleasanton, Kan., passed away on Friday, Sept. 30, 2016, at the Olathe Hospice House. She was born on May 27, 1931, at Lyons, Ill., the daughter of Thomas Frank and Helen Amelia Adamski Kuras.
She married Jack Emerson. To this union two children were born, Thomas Kyle and Jacquelyn Irene. She later married Benjamin Harrison Fisler. He preceded her in death in 2001.
Marjorie worked in the banking industry as a bookkeeper and later as a secretary at United Airlines. She was a member of the Pleasanton First Christian Church.
She was preceded in death by her parents and a sister Bernadine Cerny.
Marjorie is survived by a son Thomas Kyle Emerson; a daughter Jacquelyn Taylor; a grandson Kyle Walker and wife, Berenice; two sisters Barbara Miller and Rita Misek; and numerous nieces and nephews.
Marjorie enjoyed sewing and gardening and loved communing with Mother Nature. She appreciated a spin through the Overland Park Arboretum several weeks before her death and mentioned several times how beautiful this world was.
She was a loving mother and grandmother and good friend to several. She regretted outliving many of her friends and loved her family to the end.
A memorial service will be held Saturday, Oct. 22, 2016, at the Schneider Funeral Home and Crematory, Pleasanton Chapel. Visitation will be held from 1:30 p.m. to service time at 2 p.m. at the chapel. The family suggests contributions to The Residencies Activity Fund. Online condolences for the family may be left at www.schneiderfunerals.com. Arrangements: Schneider Funeral Home and Crematory, Pleasanton Chapel.
OBITUARIES

Linn County News Published Aug. 17, 2022 Dean Brown, age 91, a resident of Fulton, Kansas, passed away Wednesday, August 10, 2022, at the Olathe Medical Center in Olathe, Kan. He was born Oct. 7, 1930, in Uniontown, Kan., the son of Durward "Duke" Brown and Pearl... [More]

Linn County News Published Aug. 17, 2022 Arthur Carl Hetzke, age 91, Mound City, Kan., passed away Wednesday, Aug., 10, 2022. He was born on Aug. 5, 1931, in Newton, Kan., the son of Arthur and Elizabeth (Breck) Hetzke. He served his country in the United States Air Force... [More]

Linn County News Published Aug. 17, 2022 William John Adair, Sr., age 74, La Cygne, Kan., passed away Tuesday, Aug. 9, 2022. Funeral service will be 2 p.m. Monday, Aug. 15, 2022, at the Schneider Funeral Home and Crematory, La Cygne Chapel. Visitation will be held from... [More]
More Obituaries
View All Obituaries
NEWS

Two of three rodeo horses were killed or had to be put down following an accident early Saturday morning. Undersheriff Bobby Johnson said that rodeo performer Donald Culpepper, Poulan, Ga., had made a make-shift electric fence for his horses at the Linn County Fairgrounds.... [More]

The city of Parker will be contacting Linn County about concrete surfacing assistance at an intersection that receives heavy truck traffic. At last Thursday's monthly council meeting, Mayor Cody Adams responded to a patron complaint that asphalt surfacing at the intersection... [More]

Approves a change to the tax incentive program The Pleasanton City Council took several policies and policy changes under consideration at their Aug. 15 meeting. The first of these policies is the Neighborhood Culvert Replacement Program (NCRP) which would grant... [More]
More News
SPORTS

The Linn County Farm Bureau Association hosted the annual pedal pull for kids age 4 to 12 at the Linn County fairgrounds on the evening of Aug. 12. Trophies were given to the top three pullers in each age group along with the opportunity to compete in the Kansas State Pedal... [More]

Kansas Department of Wildlife and Parks fish biologist Don George once again assisted with hosting the annual fishing derby at the Linn County fairgrounds on the morning of Aug. 13. Like in the past, the derby was divided into three age groups, 4-7, 8-10, and 11-16. Awards... [More]
More Sports

OBITUARIES POLICY
• May be mailed, e-mailed, faxed or hand delivered.
• Must be received by 9 a.m. on Tuesday morning in order to appear in that week's edition.
• Full obituaries submitted by individuals are required to be paid in advance.
• Obituaries submitted by funeral homes will be billed to the funeral home.
• Cost: $30 for 300 words or less. Each additional word over 300, 10¢. Photograph $5.
Call Barbara at 913-352-6235 or e-mail linncountynewsreporter@gmail.com