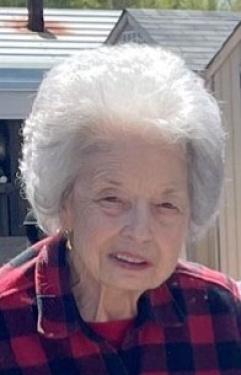 Linn County News
Published November 30, 2022
Mildred Irene Brandt, age 83, of Miami, Okla., formerly of Parker, Kan., passed away Nov. 21, 2022, at Integris Hospital, Miami, Okla.
Irene was born Aug. 6, 1939, in Kansas, the daughter of Otis and Josephine (Ingram) Diehm. She grew up in the Parker area and graduated from Parker High School in 1957.
She was united in marriage to Ralph Brandt on May 16, 1959, at Paola, Kan. They became the parents of one daughter. They made their home in Parker for a few years and then moved to Osawatomie. Irene and Ralph moved back to Parker when Irene's mother's health was declining and lived there for 30 years. They moved to Miami, Okla., in 2012.
Irene worked at the Osawatomie State Hospital as a licensed psychiatric aide for 34 years.
She loved her dogs. She always had a house dog. Pomeranians and Yorkies were her favorite breeds, she had several of them over the years. She also liked to cook. Going out to eat at restaurants was something else she enjoyed. Flea markets and swap shops were frequently on her schedule.
She was preceded in death by her parents; her brother Otis J. Diehm; and her sister Maxine Painter.
She is survived by her husband Ralph of the home; daughter Debra Choate (Jeff) of Geary, Okla.; two grandchildren, Sara Lee (Jason) and Melissa Howard (Larry); one great-grandchild, Cash Lee; and many other relatives and friends.
Graveside services will be held at 10:30 a.m., Wednesday, Nov. 30, 2022, at Parker Cemetery under the direction of Dengel & Son Mortuary, 305 N. Pearl St., Paola, KS, 66071.
Family and friends are encouraged to post their memories and condolences on Irene's tribute wall at www.dengelmortuary.com.
OBITUARIES

Linn County News Published January 25, 2023 Randall "Randy" James Rogers, age 72, La Cygne, Kan., passed away Thursday, Jan. 19, 2023. Funeral service will be 1 p.m. Tuesday, Jan. 24, 2023, at the Schneider Funeral Home and Crematory, La Cygne Chapel. Burial... [More]

Linn County News Published January 25, 2023 Amanda Locke Johnson passed away on Oct. 21, 2022, at her home in Blue Mound, Kan. A memorial service is planned for Jan. 28, 2023, at the Blue Mound Federated Church with visitation to be held from 11 a.m. to 12 p.m.... [More]

Linn County News Published January 25, 2023 Freeda Belle Brady, age 88, Osawatomie, Kan., formerly of La Cygne, Kan., passed away Wednesday Jan. 18, 2023. Mass of Christian Burial will be 10:30 a.m. Monday, Jan. 23, 2023, at Our Lady of Lourdes... [More]
More Obituaries
View All Obituaries
NEWS

Seniors say they do not want to move The Pleasanton Senior Meals site has been an ongoing topic of discussion in both the Linn County Commissioners and Pleasanton City Council meetings for several months now with no resolution to the issue in sight. The topic first... [More]

On Thursday, Jan. 19, 2023, the Linn Valley Police Department took a burglary report in the area of Holiday Drive in Linn Valley. The victim reported his garage had been broken into and several items were stolen that included a 2020 Harley Davidson motorcycle, tools, household... [More]

Anyone that travels across Kansas from time to time may have witnessed bicycles traveling west to east along busy routes or desolate routes; riders were most likely entered into the Biking Across Kansas (BAK) event held once a year. It begins at various points on the west side... [More]
More News
SPORTS

The Prairie View girls' basketball team traveled to Uniontown on Jan. 17, 19 and 20 to compete in the Kenny Holt Memorial Tournament. The Lady Buffs performed well in the tournament and went 3-0 to become the tournament champions. Prairie View first faced Jayhawk on... [More]

The Pleasanton boys' and girls' basketball teams hosted their Midseason Basketball Tournament Jan. 17-20. The boys went 0-3 in the tournament but the girls won the tournament going 3-0. Pleasanton first played Northeast Kansas and the Lady Jays won a defensive... [More]
More Sports

OBITUARIES POLICY
• May be mailed, e-mailed, faxed or hand delivered.
• Must be received by 9 a.m. on Tuesday morning in order to appear in that week's edition.
• Full obituaries submitted by individuals are required to be paid in advance.
• Obituaries submitted by funeral homes will be billed to the funeral home.
• Cost: $30 for 300 words or less. Each additional word over 300, 10¢. Photograph $5.
Call Barbara at 913-352-6235 or e-mail linncountynewsreporter@gmail.com