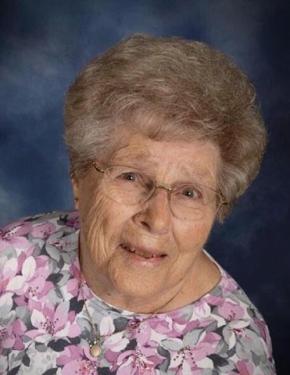 Linn County News
Published Dec. 15, 2021
On Dec. 8, 2021, Naomi Ione (Pruitt) Cosens left this world to join her beloved husband, Floyd. This day was the eighth anniversary of Floyd's passing, thus completing the best love story that's ever been lived.
On July 30, 1924, Naomi was born to Pleasant and Myrtle Pruitt. She was the second child and first girl. Naomi was a smart cookie. She attended school in Prescott and after graduating high school went on to study at Fort Scott Community College in the secretarial program. While in high school, Floyd caught her eye because "he was the most handsome boy in town!" She must have caught his eye too. They were married Dec. 29, 1943, the first marriage in Sacred Heart Church in Mound City, Kan. They loved each other deeply, and from this union came four daughters, Janie (Bill) Noel, Laurie (Jack) Moore, Connie (L.M.) Krull, and Julie (Bob) Tholen. They have 15 grandchildren, 37 great-grandchildren, and later this month, a great-great-grandbaby will be born. These families will carry on the family traditions.
She was a proud member of the American Legion Ladies Auxiliary and an active member of Sacred Heart Catholic Church Altar Society. During the girls' time in school, Naomi held several offices in the PTA. Once all the girls were in school, she worked side by side with Floyd at the lumber yard, keeping his books. Besides making most of the girls' clothes, she spent hours hand sewing quilt blocks. It was rumored she could have been one of the best quilters this side of Kansas City. Each daughter has one of the quilts, which they cherish. For the grandchildren, she made a baby quilt for their first child. Naomi loved shopping, and Christmas was her favorite season of the year. She was an avid gardener who had a secret for growing the best corn known to man. She loved to can all vegetables, and the ketchup she made is a treasured family recipe.
Throughout the past several years, Naomi was cared for by Carolyn Whitten in her own home. Carolyn was a blessing and became part of their family.
She was preceded in death by her parents; brother, John; and her beloved Floyd. She is also survived by her sister, Peggy Pruitt. She lived a long and fruitful life, touched many people with her kindness and will be deeply missed by all who knew and loved her.
Mass of Christian Burial will be 10:30 a.m. Saturday, Dec. 18, 2021, at Sacred Heart Catholic Church, Mound City, Kan. Burial will be in Sacred Heart Cemetery. The rosary will be prayed 5:30 p.m. Friday, Dec. 17, followed by visitation until 8 p.m. at the Schneider Funeral Home and Crematory, Pleasanton Chapel.
Contributions are suggested to Sacred Heart Catholic Church or Good Shepherd Hospice, c/o Schneider Funeral Home, P.O. Box 525, Pleasanton, Kan. 66075. Online condolences can be left at www.schneiderfunerals.com.
OBITUARIES

Linn County News Published Oct. 11, 2023 Victor Gene, "Vic" Clark, age 85, Mound City, Kan., passed away Monday, Oct. 2, 2023. Graveside service will be 10 am Friday, Oct. 6, 2023, at the Woodland Cemetery in Mound City, Kan. Memorial contributions are suggested... [More]

Linn County News Published Oct. 4, 2023 Vanetta Carol (Hardy) Sabine passed away peacefully at Freeman Hospital in Joplin, Mo., at 5:42 a.m. on Friday, Sept. 29, 2023. She was born June 27, 1944, in Garnett, Kan., to William Orland and Ella Bernice "Margaret"... [More]

Linn County News Published September 20, 2023 Daniel Glen Needham took the long way home on Sept. 6, 2023, after fighting a long battle against cancer. We are sure he had to stop along the way and check out all the new fishing holes and visit with everyone he met... [More]
More Obituaries
View All Obituaries
NEWS

Information was recently disseminated via Facebook concerning potential ground leases that may come before the Linn County Planning and Zoning Commission; the information was part of an online petition to try to stop solar fields. With that, solar companies answered several questions... [More]

Letter from KDWP discussed during meeting During the public comment segment of the commissioner's weekly meeting on Monday, several people in the audience again spoke regarding the current zoning regulations for commercial solar farms. Public comment... [More]

Move solves one of three financial issues Monday night's Unified School District 362 approval at a special meeting of the sale of a vocational-education construction house in La Cygne has solved what appeared to be an impending financial concern. However, two... [More]
More News
SPORTS

The Prairie View football team hosted Burlington on Sept. 22 for their Homecoming game. Homecoming is so much better with a win and the Buffalos provided that as they fought their way to a 44-19 victory. One of the things that won this game for the Buffalos were big runs by... [More]

The Pleasanton cross country team traveled to Prairie View to compete in the Humboldt Invitational on Sept. 19 and then the Ramsey Invitational at Prairie View on Sept. 21. Both junior high and high school runners competed for the Jays at the Humboldt Invitational. Kei-Mahni... [More]
More Sports
OBITUARIES POLICY
• May be mailed, e-mailed, faxed or hand delivered.
• Must be received by 9 a.m. on Tuesday morning in order to appear in that week's edition.
• Obituaries submitted by funeral homes will be billed to the funeral home.
• Full obituaries submitted by individuals are required to be paid in advance.
• Cost: $40 for 300 words or less. Each additional word over 300, 10¢. Photograph $5.
Call Barbara at 913-352-6235 or e-mail linncountynewsreporter@gmail.com
View Legals for Free