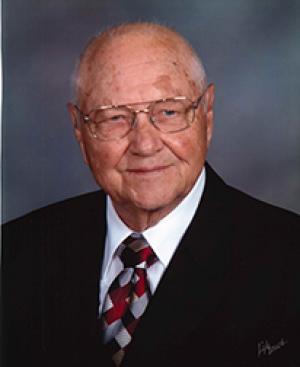 Linn County News
Published Nov. 4, 2020
Orville J. Cole, age 92, passed away on Nov. 7, 2020, at Olathe Medical Center.
He was born in Garnett, Kan., on March 4, 1928, the son of Ray D. Cole and Edna Mae (Reinfeld) Cole. He spent his entire life in Anderson County, Kan., with the exception of the years he attended college in Pittsburg and Topeka, Kan., and two years in the Army in Germany.
Orville and LaVerne K. Klingenberg were married on Dec. 26, 1953, in Concordia, Mo. To this union were born one daughter, Kathryn E. Cole and two sons, John W. Cole and Thomas M. Cole.
Orville graduated from Washburn University School of Law in Topeka in 1951. He was admitted to practice law in state and federal courts in Kansas and in the United States Supreme Court. After his army service, he returned to Garnett in 1953, where he practiced law until he retired in 1990.
He was a lifelong member of the First Christian Church in Garnett and served as a deacon and chairman of the board. He served as Anderson County Attorney from 1958 to 1962. Over the years, he also served as a scoutmaster, chairman of the Fourth Judicial District Bar Association, and chairman of the Anderson County Republican Central Committee. He was a member of the VFW, Masonic Lodge, Scottish Rite and Shrine.
Orville was preceded in death by his parents; two brothers Roy L. Cole and Claron G. Cole; and his grand-daughter Brittany Wales.
He is survived by his wife of 67 years, LaVerne K. Cole of the home; his daughter Kathryn E. (Cole) Harvey and her husband, James, of Richmond Hill, Geo.; his son John W. Cole and his wife, Stephanie, of Gardner, Kan.; his son Thomas M. Cole of Lawrence, Kan.; and three grandchildren, Ashley Grosshuesch and husband, Ty, of Spring Hill, Kan.; Lacey Enriquez and husband, Rhett, of Overland Park, Kan.; and Nicholas Wales of Phoenix, Ariz.
Due to COVID-19 restrictions, a "Celebration of Life" service will be held at 11 a.m., on Thursday, November 12, 2020, at the Garnett Cemetery. Kindly be mindful of COVID-19 protocols if attending the graveside service.
In lieu of flowers, memorial contributions may be made to the First Christian Church of Garnett, Kan. Condolences may be left for the family at www.feuerbornfuneral.com.
OBITUARIES

Linn County News Published Dec. 2, 2020 Rubie Mae Blackman Scott, age 91, Mound City, Kan., passed away Nov. 29, 2020. She was born Feb. 6, 1929, to Zenas Andrew and Sylvia Estilla Bruce Blackman in Pleasanton, Kan. She attended all 12 years of school in the Pleasanton schools,... [More]

Linn County News Published Dec. 2, 2020 Phyllis Lorraine Halverson Green, age 77, Mound City, Kan., passed away Wednesday, Nov. 25, 2020. She was born on March 22, 1943, in Marshalltown, Iowa, the daughter of Howard and Iva Kiser Halverson. She was united in marriage to Robert... [More]

Linn County News Published Dec. 2, 2020 Charles Edward Jones, 74, passed away Nov. 21, 2020. Visitation was Friday, Nov. 27, from 5 to 7 p.m. at Penwell-Gabel Funeral Home, Olathe, Kan. Private funeral service will be held. Burial will be in the Olathe Memorial Cemetery.... [More]
More Obituaries
View All Obituaries
NEWS

Just a reminder that our offices are closed from 12 p.m. (Noon) today through the weekend. We will see you all on Monday morning, Nov. 30, at 8 a.m. Wishing you all a very Happy Thanksgiving!

Gov. Laura Kelly's executive order 20-68 will require face-coverings to be worn inside public spaces, health care facilities, in line for public transportation and outdoors where social distancing is not possible. The mandate goes into effect at 12:01 a.m. on Wednesday,... [More]

The FBI continues to seek information regarding the 2004 suspicious death of Alonzo Brooks in La Cygne, Kansas. The investigation into this cold case was initiated in 2019 and a reward of up to $100,000 for information was announced at a press conference on June 11, 2020. ... [More]
More News
SPORTS

The Jayhawk-Linn and Pleasanton football seasons are over and the annual Three Rivers All Teams are out. The Hawks and Jays had multiple members make the first team and honorable mention team. Jayhawk had Trace Compton make the first team offense at wide receiver while Cade... [More]

The season has ended for the Jayhawk and Pleasanton volleyball teams, and both teams had multiple players receive end of season honors on the Three Rivers All League teams. Jayhawk had three girls make All League this season, and the top honor went to Jenna Holt as she made... [More]
More Sports