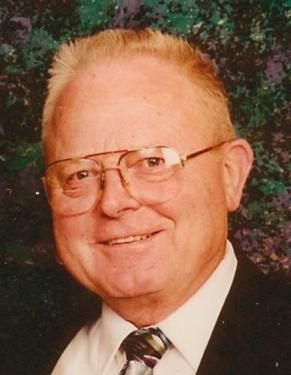 Richard Butts
06-04-1935 to 02-05-2020
Linn County News
Published Feb. 12, 2020
Richard Butts, age 84, of Kansas City, Mo., passed away peacefully at NorthCare Hospice House with family by his side on Wednesday, Feb. 5, 2020. He was born on June 4, 1935, in La Cygne, the youngest son of the late Earnest Butts and Fadelma Conley Butts. Since Fadelma passed away when Richard was a young child, he was raised by the late Nancy "Mom" Williams.
In 1954, Richard married the love of his life Ellen Mae Hayes, and to this union two beautiful children were born, each uniquely special to him.
He worked for Automatic Sprinkler Corp. for over 40 years, working his way up from a designer to regional manager. He went where his job took him relocating to Milwaukee, Minn., Green Bay, Wis., and Minneapolis, Minn. After the young family moved again and again, they finally landed in Kansas City, Mo., in about 1966.
Before retiring to his farm in Cameron, Mo., he did some consultant work. After retirement, Richard realized a lifelong dream of returning to the farm to live in the home he designed and had built on his 248-acre farm in Cameron, Mo. When health issues became a challenge, Richard together with Ellen moved into McCrite Plaza at Briarcliff, Kansas City, Mo., over Christmas 2019.
Richard was a member of the North Kansas City Businessmen's Breakfast Club. He was passionate about gardening and tending his fruit trees prompting Ellen to nickname him "Farmer Butts." A true outdoorsman, fishing and hunting and training his bird dogs were favorite hobbies. To know Richard was to love him; he was a great judge of character and to be invited to hunt or fish with him was an honor. He was a wonderful neighbor, sharing his homegrown produce with any who wanted it and could be described as kind and thoughtful. Family and close friends knew he would always be available when needed.
In addition to his parents, Richard was preceded in death by mother Nancy "Mom" Williams, four sisters and a granddaughter, Heather Thompson.
Richard is survived by Ellen Mae (Hayes), wife of over 66 years. He was the loving father of Jerrald (Debbie) Butts of Liberty, Mo., and Kathy (Tom) James of Kansas City, Mo.; proud grandfather of Laura James, Phaedra Bier, Kristina Salisbury, Jerr Butts and MacKenzee Butts; and honored great grandfather to six, Ella, Dane, Anya, Caedmon, Aaron and Ian. He will be fondly remembered by several cousins, nieces and nephew and a host of friends.
Arrangements have been entrusted to the Schneider Funeral Home, Pleasanton, Kan. Graveside service was held Sunday, Feb. 9, 2020, at the Brooklyn Cemetery, La Cygne.
The family suggests contributions to NorthCare Hospice House in lieu of flowers.
OBITUARIES

Linn County News Published September 20, 2023 Daniel Glen Needham took the long way home on Sept. 6, 2023, after fighting a long battle against cancer. We are sure he had to stop along the way and check out all the new fishing holes and visit with everyone he met... [More]

Linn County News Published September 20, 2023 Phyllis Irene Best, age 75, Grain Valley, Mo., passed away Thursday, Sept. 14, 2023. A graveside funeral service will be held 11 a.m. Wednesday, Sept. 20, 2023, at the Curry Cemetery. Visitation will be... [More]

Linn County News Published September 20, 2023 Jean Frances Patterson (nee Ward) 86, of St. Louis, Mo., passed away Monday Sept. 11, 2023 in Mercy Hospital. She was a resident of St. Louis for 60 years but remained loyal to her native Kansas where she was born... [More]
More Obituaries
View All Obituaries
NEWS

A full room greeted seven of nine members of the Linn County Planning and Zoning Commission last Tuesday at their normally scheduled meeting. The crowd attended in response to apparent contracts being circulated through locations in the county asking landowners to lease property... [More]

Field questions from local residents on regulations Following an executive session for legal matters, County Counselor Gary Thompson explained to the commissioners and those attending the meeting that he had reached out to three different attorneys who have extensive... [More]

Parker city leaders have given its police force the go-ahead to purchase two body camera/taser systems. The 3-0 vote, with Kandice Higgins and Jerry Summers not present, came during last Thursday's monthly council meeting but only after city leaders agreed that this year's... [More]
More News
SPORTS

The Jayhawk Linn football team is now 3-0 after a 56-0 thrashing of Uniontown on the evening of Sept. 15. It was all Jayhawk in their home opener as the Hawks dominated in all three phases of the game. The first offensive play from scrimmage resulted in points as Jayhawk quarterback... [More]

The Pleasanton volleyball team was certainly busy this past week as the team hosted Rich Hill on Sept. 11, hosted a Three Rivers League quad on Sept. 12, and traveled to Humboldt for a tournament on Sept. 16. The Lady Jays played a best out of five matchup against Rich Hill... [More]
More Sports
OBITUARIES POLICY
• May be mailed, e-mailed, faxed or hand delivered.
• Must be received by 9 a.m. on Tuesday morning in order to appear in that week's edition.
• Obituaries submitted by funeral homes will be billed to the funeral home.
• Full obituaries submitted by individuals are required to be paid in advance.
• Cost: $40 for 300 words or less. Each additional word over 300, 10¢. Photograph $5.
Call Barbara at 913-352-6235 or e-mail linncountynewsreporter@gmail.com