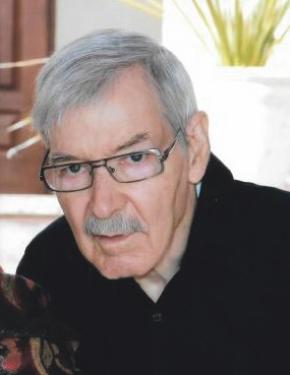 Linn County News
Published Jan. 12, 2022
Richard Kenneth Wade was born in a home in La Cygne, Kan., on April 29, 1934, to Ray Valentine and Letha Pearl Hensley Wade. He was the 10th child in the family.
He attended elementary and high school in La Cygne and La Cygne Rural High School, graduating in the class of 1952. He attended the University of Kansas and graduated from its Pharmacy school in 1957. He was inducted directly in the U.S. Army and spent two years there. On Oct. 17, 1959, he married Elsa Jane Prike. At that time, he was a pharmacist with Osco Drug Co. in Kansas City and Topeka. He was recalled into the army in 1961, was released in August 1962 and then he began to work at Meeks drug store in Osawatomie, Kan., then bought the drugstore. After selling Meeks he worked as a pharmacist for the Veterans Administration and retired in 2006. He lived on the family farm for 57 years.
He is the father of two children, Michelle Marie Wade (Leon Searl) and Michael Alan Wade (Christine) and grandfather to Dominic and Isabella. His fame in LRHS was being a star basketball player. He was quick and agile and still remembered every game. You couldn't stump him on a quiz of college mascots. KU basketball was his favorite sports team. He enjoyed following and discussing the stock market. The ultimate DIY guy, he was known for driving timeworn vehicles that he worked hard to keep running. The perfect time to begin work on a carburetor was 10 p.m. at night on the dining room table. He loved long road trips and enjoyed the adventure of camping in out of the way places. He loved chocolate. While in the nursing home, the nurse wanted to trim his eyebrows. He would only let her do it in exchange for a piece of chocolate cake, which wasn't on the doctor-prescribed diet. She found a piece of chocolate cake, and the deal was made.
Graveside funeral service was to be 2 p.m. Tuesday, Jan. 11, 2022, at the Riverview Cemetery, La Cygne, Kan. Individual respects and guest registry could be made from 9 a.m.-4 p.m. Monday, Jan. 10, at the Schneider Funeral Home and Crematory, La Cygne Chapel.
The family requests that remembrances be made in the form of contributions to the La Cygne Good Samaritan Fund, c/o Schneider Funeral Home, P.O. Box 304, La Cygne, Kan. 66040 or to the Parkinson's Foundation Heartland (either c/o Schneider Funeral Home, P.O. Box 304, La Cygne, Kan. 66040, or directly online at https://www.parkinson.org/heartland). Online condolences can be left at www.schneiderfunerals.com.
OBITUARIES

Linn County News Published Jan. 26, 2022 Douglas Leonard Whitcraft, son of the late Donald Francis Sr. and Bernice Rose (Benson) Whitcraft, was born on Dec. 5, 1958, in Cleveland, Mo., and began his eternal journey with his Lord and Savior, Jesus Christ, on... [More]

Linn County News Published Jan. 26, 2022 Sandra Louise "Sandy" Hagman, age 80, Mound City, Kan., passed away Friday, Jan. 21, 2022. Funeral service will be 2 p.m. Wednesday, Jan. 26, 2022, at the Schneider Funeral Home and Crematory, Mound City... [More]

Linn County News Published Jan. 26, 2022 Kathryn N. Kite McGee, age 92, Centerville, Kan., passed away, Jan. 18, 2022, at the Residential Living Center in Garnett, Kan. Kathryn was born, June 7, 1928, the daughter of Chester and Velma (Lee) Kite,... [More]
More Obituaries
View All Obituaries
NEWS

Property involved is at Industrial Park La Cygne has annexed 12.5 acres of Linn County property. At their regular meeting last Wednesday, Jan. 19, the city's council voted 4-0, with Thomas Capp not present, to adopt Ordinance No. 1498 that makes the Industrial... [More]

Question comes with recusal of council member on wife's contract The first meeting of the year was held On Jan. 3 with three Pleasanton council members present: Joe Whitaker, Jake Mattingley and Melanie Staton. As recorded in notes from that meeting in the Jan.... [More]

Defendant may be on 160 acres, but no driving A Parker man charged with the second-degree vehicular murder of his mother will be allowed to access a 160-acre contiguous square residential plot in Franklin County as part of a bond condition. At a state's motion... [More]
More News
SPORTS

The Pleasanton basketball teams hosted their Midseason Tournament this past week as six teams competed: Pleasanton, Jayhawk, Osawatomie, Oswego, Northeast (Topeka) and Heritage Christian. The Jays started on Jan. 17 against Jayhawk. The girls won their game 47-17 while the... [More]

Prairie View's boys' and girls' basketball teams traveled to Uniontown this past week to compete in the Kenny Holt Memorial Tournament. The tournament featured four teams, Uniontown, Prairie View, Kansas City Christian (KCC) and Altoona Midway. Both the boys'... [More]
More Sports

OBITUARIES POLICY
• May be mailed, e-mailed, faxed or hand delivered.
• Must be received by 9 a.m. on Tuesday morning in order to appear in that week's edition.
• Full obituaries submitted by individuals are required to be paid in advance.
• Obituaries submitted by funeral homes will be billed to the funeral home.
• Cost: $30 for 300 words or less. Each additional word over 300, 10¢. Photograph $5.
Call Barbara at 913-352-6235 or e-mail linncountynewsreporter@gmail.com