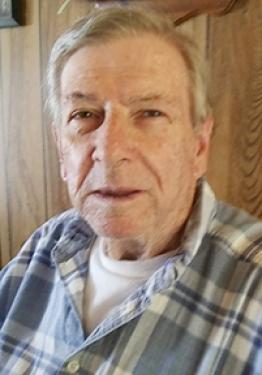 Linn County News
Published July 20, 2022
Robert Edward Shryer 79 of Prescott, Kan., passed peacefully July 13, 2022, surrounded by loved ones.
He was born Oct. 30, 1942, the only child to Vernon E. Shryer and Waunita E. Miller of Kansas City, Kan.
Robert enlisted into the U.S. Army May of 1968 until May 1970, and was enlisted in the Army Reserves until 1974.
Early in February, 1976, he met Agnes E. Willyard in Kansas City, Kan., later marrying Aug. 25, 1976.
After his departure from the Army, Robert became a firefighter for Kansas City Kan. He would continue this service through to retirement in 1995.
Better known to family and friends as Bob, he spent most of his life surrounded by anything that had to do with a hot rod, or race car, and even took up racing the dirt track himself, against the better judgment of his mom. If it had tires, or a motor you could guarantee Bob wanted a part of it. Whether he was helping a friend work on it, or getting it ready for a car show or a track to race as his own. As his love for racing and working on cars followed him through the years, so would his eagerness to teach his children, and grandchildren; often spending time with any of them tinkering on the next car, in the garage. Family was the only thing to trump his need for speed.
Bob is preceded in death by his wife; father; mother; and daughter, Bobbie Jean.
He is survived by two daughters, Debbie Gibson (Danny), Vicki Gwinn (Ronnie) bonus son, Larry Senter; four granddaughters, Stefanie Shryer, Tiffanie Plummer Kaylee Shryer, and Veronica Gwinn; two grandsons Logan and Ean Gwinn; and bonus grandson, Micheal Plummer; along with six great- grandchildren, Kenneth, Madisann, Sidnie, Leah, Danica and Cale.
Family asks in lieu of flowers any contributions be made to Show Me Vintage Racing, christysheppard7@yahoo.com, smvr.net.
Funeral Ceremony will be held at 1 p.m., Saturday, July 23, 2022, at the Schneider Funeral Home and Crematory, Pleasanton Chapel. Visitation will be from 12 p.m. until service time at the chapel. Online condolences may be left at www.schneiderfunerals.com.
OBITUARIES

Linn County News Published March 29, 2023 Debra Dale Wolf, age 68, Linn Valley, Kan., passed away Wednesday, March 22, 2023. Graveside funeral service will be held 2 p.m. Wednesday, March 29, 2023, at the Trading Post Cemetery. Memorial contributions... [More]

Linn County News Published March 29, 2023 Jessica Erin Cox, beloved daughter, and granddaughter, passed away at her home in Lawrence, Kan., March 20, 2023. Jessica was born Nov. 15, 1979, at the University of Kansas Medical Center. She was a graduate of Shawnee... [More]

Linn County News Published March 29, 2023 Larry Ray Oliver, age 69, Pleasanton, Kan., passed away on Wednesday, March 22, 2023. Funeral service will be at 6 p.m. on Saturday, March 25, 2023, at the Schneider Funeral Home and Crematory, Pleasanton Chapel. Visitation... [More]
More Obituaries
View All Obituaries
NEWS

Governor Laura Kelly issued a verbal declaration of disaster emergency this morning, March 31, due to the potential for wildland fires and severe storms in the state. The declaration will allow the state to preposition assets for a quicker response to any fires... [More]

During the latter part of the meeting on Monday, March 27, Linn County Commissioners discussed the walk-through on Wednesday, March 22 at the former Memaw's Kitchen located at 6th and Main Streets in Pleasanton. Economic Development Director Jessica Hightower read notes... [More]

"Positive ramifications" for the city Following a 15-minute legal session called by Linn Valley Mayor Cindy Smith at their Monday meeting, the mayor announced a preliminary agreement with Rural Water District #1 for water rights in Linn Valley. Smith... [More]
More News
SPORTS

The Prairie View Buffalos competed in the State Powerlifting meet on March 25. The meet had 285 total lifters and the Buffalos took 16 boys and nine girls to the event. Prairie View had two lifters place second in their respective weight divisions at the meet. Rhett Jackman,... [More]

The Jayhawk baseball and softball teams opened their 2023 season at home against Southeast Cherokee on March 27. Both softball and baseball teams played a double header and the boys split while the girls swept the Lancers. Baseball won their first game 3-0 but lost the second... [More]
More Sports

OBITUARIES POLICY
• May be mailed, e-mailed, faxed or hand delivered.
• Must be received by 9 a.m. on Tuesday morning in order to appear in that week's edition.
• Full obituaries submitted by individuals are required to be paid in advance.
• Obituaries submitted by funeral homes will be billed to the funeral home.
• Cost: $30 for 300 words or less. Each additional word over 300, 10¢. Photograph $5.
Call Barbara at 913-352-6235 or e-mail linncountynewsreporter@gmail.com