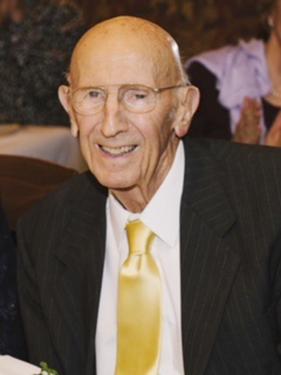 Linn County News
Published Aug. 8, 2018
Robert F. Bruce, 86, of Overland Park, Kan., went to be with his Lord on Aug. 4, 2018. Bob was the only son to Jessie (Brown) and Delbert Bruce, born Feb. 9, 1932, at their home in Mound City.
Following his graduation from Mound City High School in 1950, Bob attended the University of Kansas where he proudly graduated with a degree in civil engineering in 1955.
He served as a lieutenant in the Air Force from October 1955 to October 1957 at Clinton-Sherman AF Base, Oklahoma.
Bob's first and only professional job was with HNTB (1955), where he enjoyed an outstanding 45-year career, retiring in 2001. After starting in Kansas City, his career with HNTB sent him and his family to several states, including Louisiana, Texas and California. Bob and Helen would eventually return to Overland Park, where they had raised their young family and built lifelong friendships.
Bob married the love of his life, Helen (Murray) Bruce in 1955, at Mound City. Bob and Helen's proudest accomplishment was raising their three children, Jack, Charles (Chuck) and Julia (Julie).
Bob was a loving father and husband and is survived by his sister, Mary Ann Jamison (Fort Scott, Kan.); his wife of 62 years, Helen Bruce; and his three children and their spouses, Jack and Stephanie Bruce of Jacksonville, Fla., Chuck and Kayla Bruce of Leawood, Kan., and Julie and Alvie Nichols of Pflugerville, Texas. Bob was a caring grandfather to his five grandchildren, Rebecca Comeaux, Robert Bruce, Anne Heart, Kimmie Bruce and Danny Bruce; and his four great grandchildren, Olivia Bruce, Dylan Bruce, Jove Heart and Estelle Comeaux.
Bob will be remembered for his professional accomplishments in designing highways, bridges and airports throughout the U.S. as well as his dedicated service to Faith Chapel Assembly of God Church, the Gideons International (Johnson County South Camp) and Boy Scouts of America.
Bob was simply a great man. He was a compassionate, caring person, focused on ways so he could be helpful to others. He was always positive, looking for the bright side of any situation. There was no role he enjoyed more than leading his family as father, grandfather, brother, uncle and husband. Above all else, he will be remembered for his abiding faith in God, his kind spirit, generosity and his thoughtfulness. He remains a model of humility, loyalty and optimism for so many. The world is truly a better place because he was in it.
Bob Bruce, you were a good and faithful servant to God. Enter into the joy of your Lord!
Funeral Service will be held at 11 a.m. Friday, Aug. 10, at Faith Chapel Assembly of God Church in Overland Park. Visitation will be held from 10 a.m. to service time at the church. Burial will be at Woodland Cemetery in Mound City at 3 p.m.
The family suggests contributions to Faith Chapel Assembly of God or Gideons. Contributions may be sent in care of the funeral home to Schneider Funeral Home and Crematory P.O. Box J, Mound City, KS 66056. Online condolences may be left at www.schneiderfunerals.com.
OBITUARIES

Linn County News Published Nov. 24, 2021 Kristina Diane Roth, age 43, of Hesston, Kan., entered her heavenly home on Sunday, Nov. 21, 2021. Kris was born March 11, 1978, the daughter of Robert (Bob) and Diane Burnett in Garnett, Kan., and lived with her family in... [More]

Linn County News Published Nov. 24, 2021 Neta Lee Leonard, age 69, of Pleasanton, Kan., passed away Friday, Nov. 19, 2021. She was born on July 2, 1952, at Lincoln, Kan., the daughter of Dee and Delores Hall Montgomery. Neta was a nurse over the years. She enjoyed doing genealogy,... [More]

Linn County News Published Nov. 24, 2021 George Herbert Eaton, age 83, La Cygne, Kan., passed away Thursday, Nov. 18, 2021. He was born on April 18, 1938, in El Reno, Okla. He graduated from El Reno High School and attended Johnson County Community College obtaining certification... [More]
More Obituaries
View All Obituaries
NEWS

The sweet smell and feel of a hometown feed store was apparent at the new location of Miller Feed & Farm inside of Stainbrook's Auto, Farm & Home in La Cygne. Shoppers who need feed for their dogs and cats, goats, horses, cattle and more will find a large selection... [More]

There are some people that seem like they've always lived in a community, and Cary and Debbie Coffey are two of those people. But, they've only been in Pleasanton since June 2016, and now they're headed to Virginia in June 2022. "A year ago, the Lord... [More]

An almost six-month process of grant writing, planning and now construction is providing the Pleasanton Lincoln Library a new telehealth room for both job seekers and those wishing to visit with their doctor via computer. Pleasanton Librarian Wendy Morlan said that the grant... [More]
More News
SPORTS

The 2021 high school football season has concluded, and the three Linn County high school football teams had multiple players make their respective All League football teams. The Prairie View Buffalos had multiple players on this year's All-Pioneer League team. Colton... [More]

The 2021 volleyball season has concluded, and so it is time for the Linn County News' All County Volleyball teams. All the girls on the Prairie View, Jayhawk and Pleasanton volleyball teams played their best, but some players stood out in their excellence. These All County... [More]
More Sports

OBITUARIES POLICY
• May be mailed, e-mailed, faxed or hand delivered.
• Must be received by 9 a.m. on Tuesday morning in order to appear in that week's edition.
• Full obituaries submitted by individuals are required to be paid in advance.
• Obituaries submitted by funeral homes will be billed to the funeral home.
• Cost: $30 for 300 words or less. Each additional word over 300, 10¢. Photograph $5.
Call Barbara at 913-352-6235 or e-mail reporter@linncountynews.net