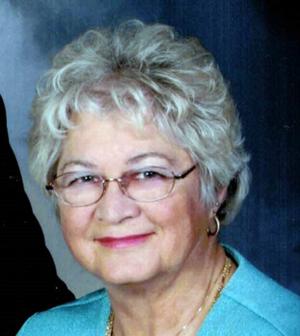 Linn County News
Published Feb. 27, 2019
Roma Elaine Shroyer, age 75 of Prescott, Kan., passed away at her home on Thursday, Feb. 21, 2019. She was born Oct. 17, 1943, in Uniontown, Kan., the daughter of Alvin and Suda Edwards Post.
She married Jack Shroyer on May 28, 1961, in Prescott, and to this union two children were born, a son, Gary, and daughter Cheryl.
Elaine had worked for Western Insurance, State Farm Insurance, the City of Prescott and Prescott Grade School. She attended nursing school at Fort Scott, graduating in 1983, and went to work at Mercy Hospital, Prescott Country View Nursing Home, and Linn and Bourbon County Health Departments until she retired in 2005.
She was an active member of Prescott United Methodist Church, teaching Sunday school and in the United Methodist Women's group. She also was on the Library and Cemetery Board. She also loved playing music.
Elaine was preceded in death by her daughter, Cheryl Shroyer, in 1982; her parents; three brothers, Duane, Raymond and Richard Post; and one sister, Florence Post.
She is survived by husband Jack; son Gary Shroyer and wife Kelly of Prescott; two sisters, Carol Oakes and husband William, and Kathy Williams and husband David; granddaughter Nicole Burns and husband Patrick of Fulton, Kan.; grandson Brian Shroyer and wife Melissa of Mound City, Kan.; four great grandchildren, Taylor and Jordyn Burns, and Brynna and Brendan "Howie" Shroyer; along with several nieces and nephews.
Funeral service was held Monday, Feb. 25, 2019, at the Prescott United Methodist Church. Burial was in the Prescott Cemetery.
The family suggests contributions to M.A.D.D. Online condolences for the family may be left at www.schneiderfunerals.com.
OBITUARIES

Linn County News Published Nov. 29, 2023 Larry Wayne Miller, age 65 of Pleasanton, Kan., passed away, Sunday, Nov. 26, 2023, in Fort Scott, Kan. A visitation will be held from 5 to 7 p.m., Thursday, Nov. 30, 2023, at the Schneider Funeral Home and Crematory,... [More]

Linn County News Published Nov. 22, 2023 Vernon Earl McGee, 78, resident of Wichita, Kan., passed away at St. Francis Via Christi Hospital on Tuesday, Nov. 7, 2023. He was born at home in Goodrich, Kan., on Oct. 7, 1945, to Earl J. McGee and Jennie Irene (Adams)... [More]

Linn County News Published Nov. 15, 2023 Vicki A. Capp, age 69 of Mapleton, Kan., passed away on Monday, Nov. 6, 2023, at the Olathe Hospice House. She was born the daughter of Frank E. and Claudeane (Shaw) Craig on Aug. 8, 1954, at Fort Lewis, Wash. ... [More]
More Obituaries
View All Obituaries
NEWS

During the Nov. 27 meeting of the Linn County Commissioners, County Counselor Gary Thompson requested a 15-minute executive session for legal matters to review the resolution he had drafted, in response to and to set in place, the moratorium that was decided on by a 2-1 vote... [More]

At the direction of its board of education, Unified School District 362 administration will be seeking information from school districts now utilizing a four-day school week. Hearing at the board's regular monthly meeting Nov. 21 that most districts using the four-day... [More]

Joey McLiney with McLiney and Co., a division of SAMCO Capital, spoke to commissioners on Monday, Nov. 27, noting they are ready to go public on the sale of the bond refinance that was previously approved by commissioners. McLiney noted that they had been waiting to do so in... [More]
More News
SPORTS

The high school football season has concluded and it is time for this year's All County high school football team. This year there were plenty of good players to choose from as all three local teams, Pleasanton, Jayhawk Linn, and Prairie View, had winning seasons. ... [More]

The start of the competitive basketball season is still more than a week away for the three Linn County schools, but across the Missouri state line, the Miami girls' squad has already equaled its on-court victory total from last year. Rebuffing a Hermitage second-half... [More]
More Sports
OBITUARIES POLICY
• May be mailed, e-mailed, faxed or hand delivered.
• Must be received by 9 a.m. on Tuesday morning in order to appear in that week's edition.
• Obituaries submitted by funeral homes will be billed to the funeral home.
• Full obituaries submitted by individuals are required to be paid in advance.
• Cost: $40 for 300 words or less. Each additional word over 300, 10¢. Photograph $5.
Call Barbara at 913-352-6235 or e-mail linncountynewsreporter@gmail.com
View Legals for Free